This article, written by Gia Castello, is third in a series from Chicas Poderosas ("Powerful Girls" in English), a global community that promotes female leadership and generates knowledge. Read the first and second articles, and follow Chicas Poderosas on Twitter, Instagram and Facebook.
One of the most difficult things for journalists and media producers is adjusting to new ideas and new methodologies in a fast-paced environment, especially when managing a team remotely. (And the deadline always seems like it was yesterday.) 
Having co-workers all over the world while trying to stay on top of day-to-day activities is made more difficult without the right tools, or if these tools are not adapted for our needs. 
I am the project manager of Chicas Poderosas, a community of women in media spread across 18 countries in Latin America. 
Project management is the practice of initiating, planning, controlling and executing the work of a team to achieve specific goals. In other words, I organize resources and activities into timelines to make things happen. 
In this article, I'll present some tips, tools and methodologies you can use if you are a project manager looking to ease some pain and achieve your remote team's goals. 
Brainstorming
When brainstorming a story or a project with your team, you can use remote visual boards like Jamboard. Jamboard has virtual post it notes, and allows your team to simultaneously create text boxes, write comments and even draw. 
Adopting new tools
There are tons of tools and methodologies out there that promote better organization and project management, but it's critical to always make tweaks and adapt them to the nature of your team. There is no single methodology that can be adapted to all organizations. It is your responsibility to make it perfect for your team.

The best tool is not the latest, or the most complex and automated. The best tool is always the one that is more natural for your team, the project and any other involved stakeholders.
If you do find a new tool that you want to implement, always take the time to schedule on-boarding sessions so that your team can practice using it, ask questions and share their challenges. 
Tracking tasks and timelines
During initial planning sessions, it is important to make a list of all the resources and the activities that need to accomplish that you can later set on a timeline. I always make a Gantt chart for long-term projects. Gantt charts are visual tools that help to illustrate the expected dedication of time for different tasks or activities for a specific project. You can make it as complex or as detailed as you need or want. I always like to keep it simple. 
We recently hosted a Chicas Poderosas Mediathon. Mediathons are two-day events during which 100 journalists, designers and developers get together to work collaborativelyon underreported stories using innovative platforms. 
Planning the event was a six-month project that looked like this: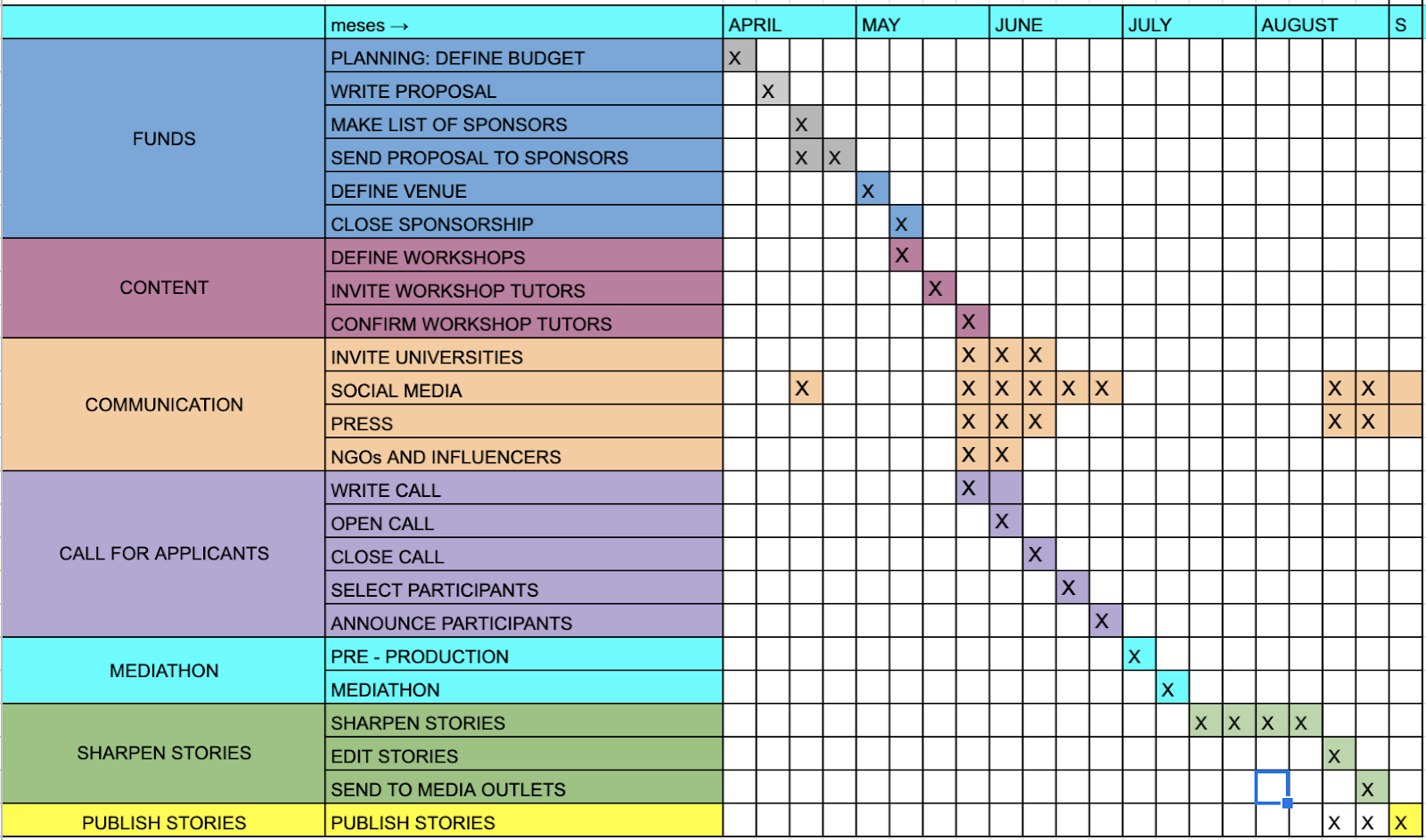 To keep track of the individual activities in the chart, another tool I love is Trello. Each task is its own card, which can be assigned to a team member, and can include deadlines and alerts. Trello has integrations with other tools such as Google Drive. 
In our Chicas Poderosas weekly calls, we update the Trello board, checking up on what each Chica did, and we create and take ownership of new tasks for the next week. 
Communicating regularly
When executing a project, communication is key. Set up periodic meetings with your team — weekly or biweekly. You can have them on Hangouts, Skype, or my personal favorite, Appear.in. 
A good practice is to always schedule them on the same day and at the same time, since it is important that everyone can attend. If you need to switch times, Doodle can help you schedule in different timezones. 
Another key tool for day-to-day communication is Slack. You can set up messaging channels for teams, and set them as private or open.  
Tracking impact
Finally, measure the impact of every project. There are several ways to measure impact, and it will depend on the nature of your organization or project to determine which is best. For journalists, it could be shares on social media, article or video views, comments received from the readers or direct social change. 
Whatever it is, take into account that data always helps us make better decisions. Strategize with your team to determine the type of impact you want your organization to track. Then, make a list of possible ways to measure that impact, and develop a strategy and process for achieving it. 
Start planning, building and making things happen!
---
Main image CC-licensed by Unsplash via Eric Rothermel.