对于记者和媒体制作人而言,最大的困难之一是在快速发展的环境中,调整适应新想法和新术语,尤其是远程领军一个团队的时候。(并且截止日期永远感觉像是昨天)
在全世界都有协同工作的同事,同时又在试图保持日常工作,没有合适的工具就会更困难,或者这些工具不适合我们的需求。
我是编辑拉美18个国家的女性媒体社群Chicas Poderosas的项目经理。
项目管理是一种启动、计划、控制以及执行一个团队的工作以达成特定目标。换句话说,我按时间线组织资源和活动,使得工作顺利进行。
在这篇文章中,我将阐述一些贴士、工具和术语,如果你是希望解决一些困难、成功管理远程团队的项目经理,你可以在工作中使用。
头脑风暴
当和你的团队头脑风暴一个报道或者一个项目,你可以使用远程视频板,比如Jamboard。 Jamboard有视觉帖,允许你的团队同时生成文字盒,写评论甚至图画。
采用新工具
有非常多的工具和术语,能够提升更好的组织和项目管理,但是永远作出调整,使之适应团队情况很重要。没有单一的术语能够被适用于所有的组织,你的责任在于使之适应你的团队。

最佳的工具不是最新的,最复杂的和最自动化的。最佳的工具永远都是对你的团队、项目以及其他参与者来说最自然的。
如果你确实找到了新的希望发展的工具,记得花时间安排上手课程,以便你的团队可以联系使用它,问问题以及分享挑战。 
追踪任务和时间线
在起初的计划课程中,During initial planning sessions, it is important to make a list of all the resources and the activities that need to accomplish that you can later set on a timeline. I always make a Gantt chart for long-term projects. Gantt charts are visual tools that help to illustrate the expected dedication of time for different tasks or activities for a specific project. You can make it as complex or as detailed as you need or want. I always like to keep it simple. 
We recently hosted a Chicas Poderosas Mediathon. Mediathons are two-day events during which 100 journalists, designers and developers get together to work collaborativelyon underreported stories using innovative platforms. 
Planning the event was a six-month project that looked like this: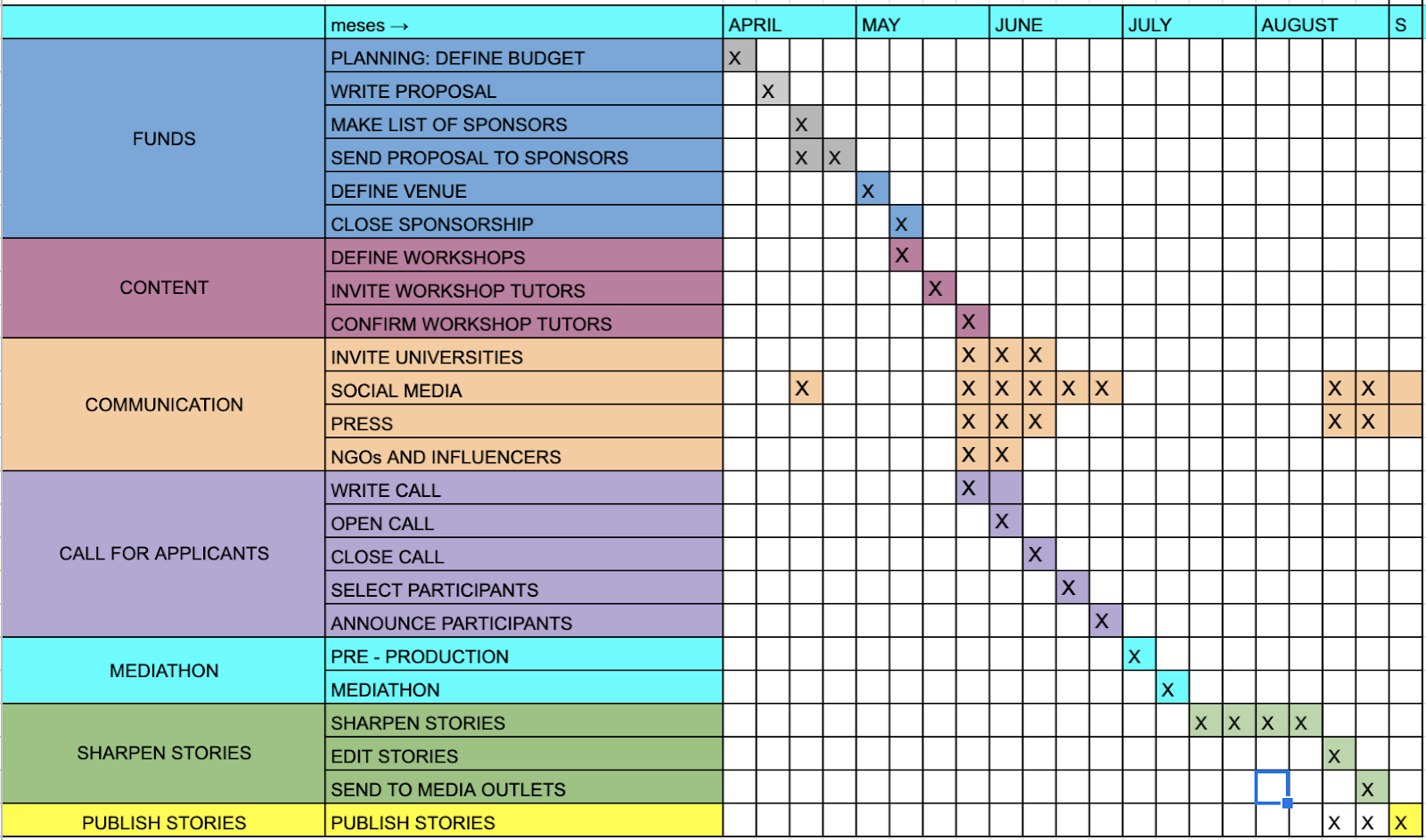 To keep track of the individual activities in the chart, another tool I love is Trello. Each task is its own card, which can be assigned to a team member, and can include deadlines and alerts. Trello has integrations with other tools such as Google Drive. 
In our Chicas Poderosas weekly calls, we update the Trello board, checking up on what each Chica did, and we create and take ownership of new tasks for the next week. 
Communicating regularly
When executing a project, communication is key. Set up periodic meetings with your team — weekly or biweekly. You can have them on Hangouts, Skype, or my personal favorite, Appear.in. 
A good practice is to always schedule them on the same day and at the same time, since it is important that everyone can attend. If you need to switch times, Doodle can help you schedule in different timezones. 
Another key tool for day-to-day communication is Slack. You can set up messaging channels for teams, and set them as private or open.  
Tracking impact
Finally, measure the impact of every project. There are several ways to measure impact, and it will depend on the nature of your organization or project to determine which is best. For journalists, it could be shares on social media, article or video views, comments received from the readers or direct social change. 
Whatever it is, take into account that data always helps us make better decisions. Strategize with your team to determine the type of impact you want your organization to track. Then, make a list of possible ways to measure that impact, and develop a strategy and process for achieving it. 
Start planning, building and making things happen!
---
Main image CC-licensed by Unsplash via Eric Rothermel.