Chances are, you've probably received a newsletter from one of your favorite news outlets — and if you're reading this, maybe this means IJNet's own weekly newsletter. Chances are, too, that you've received these newsletters in your email inbox.
Email, after all, is a convenient — and under-utilized — way for news outlets to reach readers, according to The New Yorker's Director of Newsletters, Dan Oshinsky.
"Email is one of the biggest opportunities in the digital space, and most people aren't talking about it," Oshinsky told a group of 14 local publishers from across Germany and Austria at Facebook's Germany Reader Revenue Accelerator Program in May, which aims to help local publishers build their revenues from digital subscriptions.
Yet, while many local publishers are, indeed, implementing successful email campaigns, one local news publisher in Germany, inFranken.de, has decided to forgo email for newsletter distribution altogether. Instead, the publisher opts to reach its readers via the popular messaging app, WhatsApp — and others in the country have followed suit.
Based in Bamberg, Germany, and falling under the umbrella of Mediengruppe Oberfranken, inFranken.de publishes content from the five local newspapers its parent company produces across the central German region of Franconia. The digital news publisher has long utilized daily newsletters featuring roundups of articles to reach and engage its readers, and up until five years ago they carried this out exclusively through email. Then, they decided to experiment.
During a two-week period in 2014, 440 volunteers registered with inFranken.de to receive their newsletters via WhatsApp. Following this trial, 90 percent of volunteers said they would like to continue receiving their local news roundups this way.
Given the positive response, inFranken.de opened the service to the public in December, 2014.
At the outset, they had to manually craft the daily newsletters from a smartphone to send out to readers. Service providers, however, have since emerged to facilitate the process. Today, inFranken.de uses MessengerPeople, which allows the publisher to send out its newsletters more easily via WhatsApp, and if it wanted, Telegram and Facebook Messenger, too.
Still, along the way WhatsApp hasn't been the friendliest platform for journalists and publishers like inFranken.de to distribute their news.
"WhatsApp never supported mass newsletter publication and they still don't," Lena Stich, an editor at inFranken.de who pioneered the novel approach for the publisher five years ago, explained. "Even now that the WhatsApp Business Solution API is available, this function is simply not included. So, it's always been a bit of an uphill battle for us to get our service going and keep it running smoothly."
Now, too, the messaging app is working to phase out all newsletter production on its platform by the end of the year. WhatsApp recently announced it would be cutting down on the use of "automated or bulk messaging" on its platform. Beginning December 7th, sending newsletters out via WhatsApp will no longer be possible, and could be met with legal action. What this announcement means moving forward for inFranken.de and their newsletter strategy is unclear.
Today, inFranken.de sends out three to five daily newsletters via WhatsApp to 12,500 registered subscribers — twice as many subscribers as they had for their email newsletter when they discontinued it in January, 2018. They are also reaching a younger audience than before, as many newsletter readers are under the age of 20.
The success was unexpected.
"WhatsApp is a very personal channel where you chat with your mother and your partner and your football team, and I honestly didn't think people would want a brand anywhere near that," Stich said.
"But, surprisingly that has never been an issue," she continued. "Feedback we have gotten numerous times is that people love having news 'delivered' to them without having to actively search for it, or install a separate app."
The success caught on, too. Shortly after starting the service, one of Germany's leading newspapers, Deutsche Presse-Agentur, published an article about the initiative.
"After that, a number of colleagues from all over the country reached out to us. WhatsApp was something a lot of journalists wanted to tap into, but were unsure about the technical aspect of it. The feedback was so enormous that we organized a little conference back in January 2015 where we shared our insights and tips. After that, some of the participants started their own WhatsApp push services," Stich said.
It's not just the convenience for readers that makes this service work, either. For one, inFranken.de is able to be more casual with the newsletters.
"We make an introduction, and say goodbye. When it's possible we use emojis, we try to personalize the newsletters. And we address our users by name, in more or less a friendly tone," Alexander Kroh, another inFranken.de editor, and one of the publisher's representatives attending Facebook's Accelerator Program, told IJNet.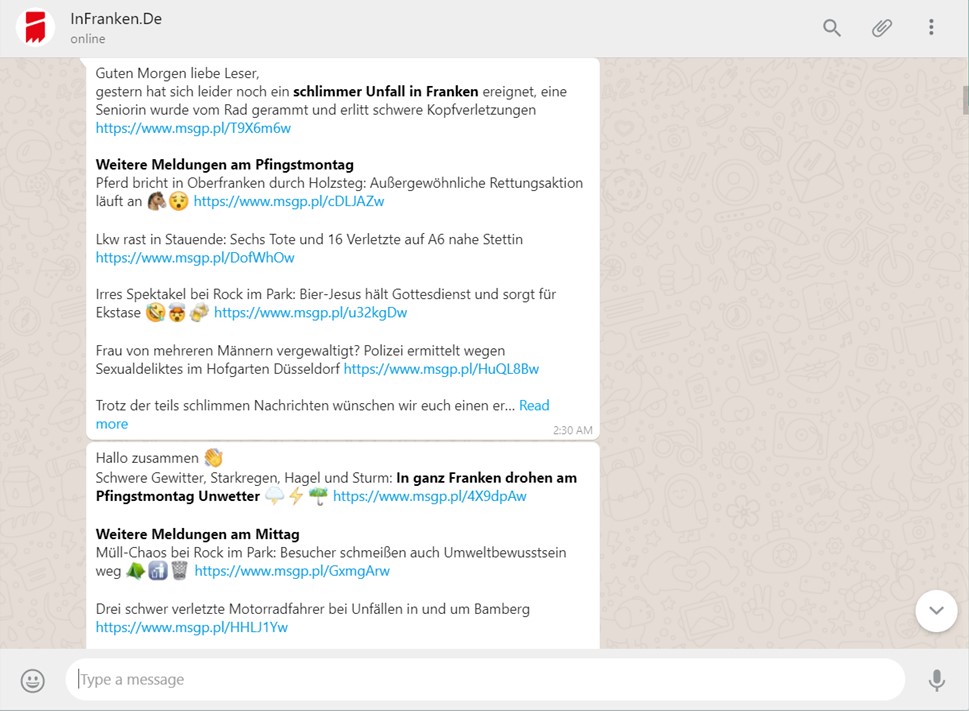 Example of a newsletter sent out via WhatsApp by inFranken.de.
They are also able to interact more with newsletter recipients, strengthening readers' personal connections to the newsrooms — though this comes with its challenges, too.
"Because it's so easy to chat, [readers] send a lot of information back," Kroh noted. "You get a lot of feedback and other questions, and it's not always about the WhatsApp newsletter. Like, 'Oh, there was an accident in this city, do you know anything about it?' Or they just want to chat, 'Are you a bot or are you a real person?' 'How is the weather going?' 'How are you doing?' We've seen nearly everything."
Keeping this line of communication open, despite more spam-like messages, is a priority for Kroh, however.
"It would be nice if you could write everyone back, but it's not possible. For the loyalty and personal connection to the newsroom and company, [responding is] a positive thing. You just have to have the time," he said.
What began in 2014 as an ambitious two-week experiment for inFranken.de has now become a reliable method to reach readers — messaging services, if leveraged well, can provide news outlets a unique frontier for reaching and engaging readers.
And yet, there is uncertainty around the future of the approach.
After discussing WhatsApp's announcement with MessengerPeople, the publisher believes one option it may be left with is to send news via the messaging app only to readers who actively message asking for it — within 24 hours of the request.
"Our next steps will be: discuss if we believe our users would act like this, so that we still gain traffic on our website through our WhatsApp service," Kroh said. "But for now I have no idea what our decision will look like."
In light of the development, perhaps it's reassuring to hear that inFranken.de hasn't left email completely in the rearview mirror.
"After the [Facebook] Accelerator, we're also thinking about getting back to some email newslettering," Kroh said. "It's one of our grand goals. We'll see if we can achieve it."
---
Main image CC-licensed by Unsplash via Maliha Mannan. 
---