The World Health Organization (WHO) reports that approximately 15% of the global population, or 1 billion people, have some form of disability.
However, there are no relevant statistics available for how many journalists live with disabilities. But the absence of statistical data does not equal the absence of people whose stories play a critical role both in understanding the industry and envisioning a more inclusive future. 
The stories of journalists with disabilities tell not only the challenges they encounter, but also their success working in the world of media despite limitations that exist.
IJNet interviewed journalists from Eastern Europe and the South Caucasus about their work. Their stories are below. 
Maxim Miftakhov
Chisinau, Moldova
"Once, my walking stick was stolen," says Maxim Miftakhov, a journalist from Chisenau, Moldova. "In the police report, they wrote that I am a 'disabled person.' I corrected them, saying 'special needs person.'"
"'Disabled' sounds offensive to me," he adds. "It is for us to decide."
Miftakhov began his career in 2014, at the Russian online media Sputnik as a news reporter. Today, he works as an independent journalist and covers social issues for Komsomolskaya Pravda, a publication in Moldova.
Miftakhov has a mild form of cerebral palsy, which makes it difficult for a person to control their movements. All over the world, more than 17 million people live with the same diagnosis.
"The most important thing is that you want to open up your potential," he says. "I know colleagues from Uzbekistan and Ukraine whose situation is worse. And still, they work. Of course, there will be mistakes and there will be leers. Don't pay any attention. If the person is biased, it's their problem."
Outside work, Miftakhov practices competitive ballroom dancing. He is a two-time prize winner of the European championships for competitive ballroom dancing.
"Don't look up to anyone," he says. "Journalism is a great motivator in itself. It even helps to overcome difficult moments in life."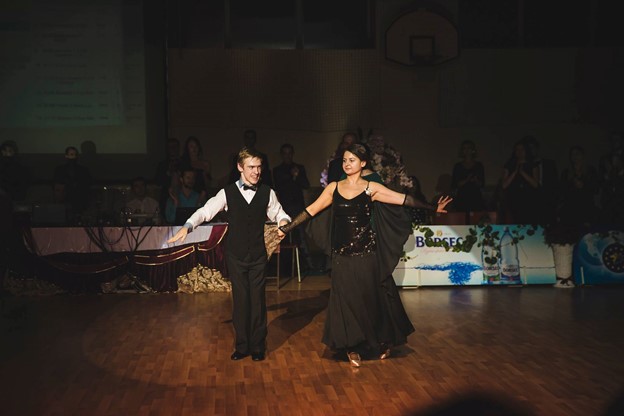 Marina Stashina-Neymet
Ukraine
Unlike Miftakhov, Ukrainian journalist Marina Stashina-Neymet prefers to call herself a "person with a disability."
"A 'special need' may be a desire to drink coffee," says Stashina-Neymet, describing why she prefers not to use the term. She prefers person-first language because, "The person should be front and center."
Marina was born in eastern Ukraine. She worked at Zakarpattya.net and the Karpatsky Observer, and she now works as a freelancer.
Her eyesight problems began when she was still an infant. Her right eye only perceives surrounding light, while her left eye works well, and she uses it to read and write.
WHO data suggests that about 2.2 billion people live with some sort of visual impairment or blindness, but there are no official statistics in Ukraine. A rough estimate suggests over 70,000 Ukrainians have some level of visual impairment.
"The difficulties I encounter are in the outside world," says Stashina-Neymet. "In Ukraine, the world is poorly adapted to my needs. We have no culture of inclusive public events, for example."
After she was first hired in the media industry, she immediately adapted the computer to her needs. In particular, she increased the zoom and added contrast to better be able to work with websites and documents.
"I use the screen magnifier to work with photos," Stashina-Neymet explains. "This tool is available for all Windows-compatible devices. My husband, who is blind, has a harder time working with photographs and PDF documents. For him, I convert PDF to Word and describe the images in words."
"If you are discriminated against at work, speak out and talk to organizations that protect the rights of journalists and the rights of people with disabilities," she says. "Don't give up."
Vladimir Pyrig
Lviv, Ukraine
"I have loved to listen to the radio since I was small. In third grade, I asked what the people who work there are called. I was told that they are journalists. That's how I knew what I should study," says Vladimir Pyrig, a news editor from Lviv, Ukraine.
Pyrig simply calls himself a "blind journalist."
He never worked on the radio because he chose online journalism. Since 2014, he's been working at one of Ukraine's most popular regional websites, Zaxid.net.
Additionally, Pyrig is translating the Be My Eyes program to Ukrainian, which allows blind people to receive remote assistance from volunteers with vision.
"I can call the volunteers at any time and whoever is online at the moment receives a notification," he explains. "Sometimes I ask them to help me take the reading of the electric meter. With the help of my camera, the volunteer can see everything that's happening around me."
Pyrig recommends many programs to other blind journalists, including Voice Aloud Reader, which uses a voice synthesizer to read books and files in any format and any language; Lazarillo GPS navigator, which informs the user about everything in their surroundings; Seeing Assistant, a Polish app that scans barcodes, QR codes and checks for brightness; CashReader to identify money and Vision Bot to work with photographs. 
Social media presents difficulties because each site is a little different. According to Pyrig, the challenge is that you have to memorize the combinations of keys that give access to the computer's various functions and master all of the instruments offered by each specific social media platform. 
"Every site has its own specific layout," says Pyrig. "The user should study the site's layout like they study the furnishings of their home: what sections there are, where they are located, which headings go with the news stories. Don't be afraid to experiment."
Amid Gasanguleev
Baku, Azerbaijan
"I just didn't think something like this could happen to me. I completed my studies at the law faculty, served in the army, got my first TV job and then there was a car accident," says Amid Gasanguleev, TV host and chief graphic designer for ARB TV channel. "It's been ten years already. The car accident changed my life completely."
Since age 28, the Baku, Azerbaijan-based journalist has been using a wheelchair. According to WHO, 75 million people in the world use a wheelchair on a daily basis — that's 1% of the world's population. 
Gasanguleev has used his platform as a journalist to share stories about people with disabilities as the host of his own TV program, Biz Birik. 
"I talk about their disabilities," he says. "My guests know that I understand them."
But, he adds, sometimes even as the host of the show he encounters challenges. "Sometimes I go to the shoot, and there's a staircase in the building. I can't go up, even though I'm the host," says Gasanguleev. "I never once allowed myself to think that I'll give up my job over situations like this. If there's something I can't do, I just ask for help."
He does a lot of the work for his show himself, looking for guests, shooting and editing. He advises other visual journalists, "Learn to control the environment in your head, as if you are already editing the story. It all comes with practice."
In addition to journalism, Amid is a professional athlete. He is the head coach of Azerbaijan's Paralympic cycling team and is working to develop the sport in the country.
"I was on a boulevard in Baku, when I saw a child in a wheelchair who looked on as other kids were riding their bikes. That's when I decided to establish a cycling organization for disabled people. I bought the components and using a diagram made Azerbaijan's first para-cycling bike. I used it to take part in the marathon, 'running' 25 km with my arms. I plan to buy several professional para-cycling bikes for public use, so that people can ride them free of charge."
---
Romaniia Gorbach is a Ukrainian journalist and media coach who has worked on the radio, in printed and online media.
Top photograph: Amid Gasanguleev at work, courtesy of Gasanguleev.
---