When COVID-19 hit Uruguay in 2020, everything changed for 17-year-old Milagros Costabel. Both her parents lost their jobs, so she decided to look for work in the one place she knew she could: journalism. She jumped in head first with little knowledge about what she was doing, but determined to succeed.
Rejection after rejection, Costabel wouldn't let the "no's" stop her. She landed her first opportunity in April 2020, writing about the inaccessibility of COVID-19 information for people who are visually impaired for Model View Culture.
Costabel is a young reporter, but it's not just her age that sets her apart in the industry — she is also completely blind. Although this means she has to do some things differently, it doesn't hinder her ability to succeed. 
"The industry has given the ability of different voices to tell stories," she said. 
Resources like IJNet have helped Costabel continue to develop her journalism skills, even in the midst of a pandemic. Just last year she was selected to attend the UNICEF Youth Mediathon, where she discussed youth issues and received mentorship. She also received a scholarship from Disabled Writers to attend online courses through Poynter. 
Since she began, Costabel has been published in the HuffPost, The Daily Beast and Business Insider. She has covered disabilities and COVID-19, and in July, she started working with Foreign Policy, reporting on politics in Latin America and the U.S. 
Throughout the year, Costabel has attended conferences, interviewed physicians from Uruguay and Argentina and helped cover the 2020 U.S. presidential elections. 
"That was a start for a different world of journalism that I never expected I would be able to access," Costabel said. She was accustomed to reporting mainly on disability and being a voice for her community.
"We can, and have to, report on things that we are really passionate about beyond our own conditions," Costabel said, "Foreign policy, for example, was always one of my main fields of interest, and while I started out writing about disability — both reporting and opinion pieces — it was also nice to be able to find my own niche outside of who I am." 
Not only is it critical for journalists with disabilities to be covering every beat, it's just as important that conversations about disabilities don't rely solely on disabled journalists, said Costabel. "It's important that fair and accurate reporting on disability is everyone's job, journalists both disabled and able-bodied," she said.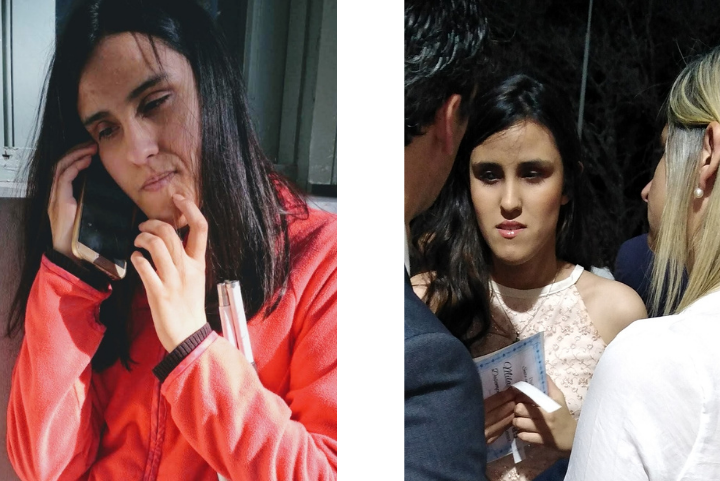 Technological advances have helped open doors for people who are visually impaired. Many people who are blind or visually impaired rely on screen readers, which take the text from the screen and share it through speech synthesizers or braille displays. 
"I feel lucky to be here and live in a digital age where technological advances open more doors for the visually impaired than ever before," Costabel wrote in an article for Lacuna Voices. "But for people like me, tech has also created a problem of its own." 
Images and video, which don't have text, can't be translated by screen readers unless they include "alt text," which gives a brief description of the visual. Without alt text, there are no descriptions for Costabel and other visually impaired people to understand. A funny meme, inspirational quote or uncaptioned video can cause her to feel left out, which makes alt text critical for anyone producing digital content.
Costabel was recently accepted into Harvard University and plans to study political science. As the first person in her family to attend college, she has reached new goals and continues to set more. "I'm starting to change my perspective of the future and trying to realize I have an opportunity to continue to develop myself in the journalism field," she said. 
Studying at Harvard is an opportunity for Costabel to develop her skills and help her achieve her goal of becoming an investigative journalist. "I think it's very rewarding to be able to bring the hidden, bad things in the world to light, and see how that can instigate positive change," she said.
For other young journalists interested in breaking into the field, Costabel said it's important to look for every opportunity to develop your skills, through reporting and training opportunities that come your way.  "Don't wait for things to come," she added. "Throw yourself out there and start."
---
Naomi Ludlow is an intern with IJNet.
All images courtesy of Milagros Costabel.