Before the Taliban's return to power in Afghanistan last year, journalist Faisal Karimi spent nearly 20 years as a reporter and assistant journalism professor at his alma mater, Herat University, in Western Afghanistan. He also spent six years serving as the director of the Afghanistan Institute for Research and Media Studies (AIRMS), which he founded in 2015. Shortly after the Taliban took over Kabul, Karimi and the rest of  the AIRMS' team—25 people and their families—evacuated the country. 
"[Leaving Afghanistan] was very difficult," said Karimi. "All of our colleagues left with just one backpack to go to Kabul Airport. We had to leave our relatives, our families; some didn't get to say goodbye to their parents. We miss our family. We lost our country. We lost everything."
Despite having to relocate to California, Karimi continues to excel in journalism and research. He's currently a research fellow at San Jose State University; a regional coordinator at the Global Forum for Media Development and a lead researcher at Internews. Aside from his recent success, Karimi still considers his biggest accomplishment to be founding AIRMS.
Though most of Karimi's current roles are in research and management as opposed to reporting in the field, he is still heavily involved in the publishing process. "Because of the lack of human resources, sometimes I have to write stories, translate stories or manage social media," he said.
What is AIRMS?
The Afghanistan Institute for Research and Media Studies is actually three media institutions in one, but most of our focus, because of the shortage of resources, is on the Afghanistan Women's News Agency.
I also established Kaashi Digital Media in 2019, for social entertainment and sports content for the youth in Afghanistan. We're still working on this agency, but because of the lack of resources, we work very slowly and can't produce too much these days.
There are many restrictions for local media, so one of our jobs is to translate global media covering Afghan women's life into Pashto and Farsi and publishing it on the website and social media. We also receive content from citizen journalists inside of the country.
[AIRMS] is doing research to identify the challenges of journalists on the ground and monitor what's going on with the media in Afghanistan, like what the Taliban's rules and policies about the media are. So we're monitoring and researching the situation, and hopefully we'll release our results.
Why did you start the Afghanistan Women's News Agency?
In 2015, when I was a professor, I saw that young female journalism students faced many limitations and restrictions. They start with challenges at home, struggling with parents and relatives to be a journalist. Then there are challenges with Taliban threats and from the extremist society in western Afghanistan.
That's why I decided to establish a news platform for women, by women, to cover women's issues in Afghanistan. There's not enough content about women's challenges, taboos and opportunities, and there is not any video or news platform for them in Afghanistan. I established the Afghanistan Women's News Agency [because] all of us want to increase the capacity of female journalists in journalism.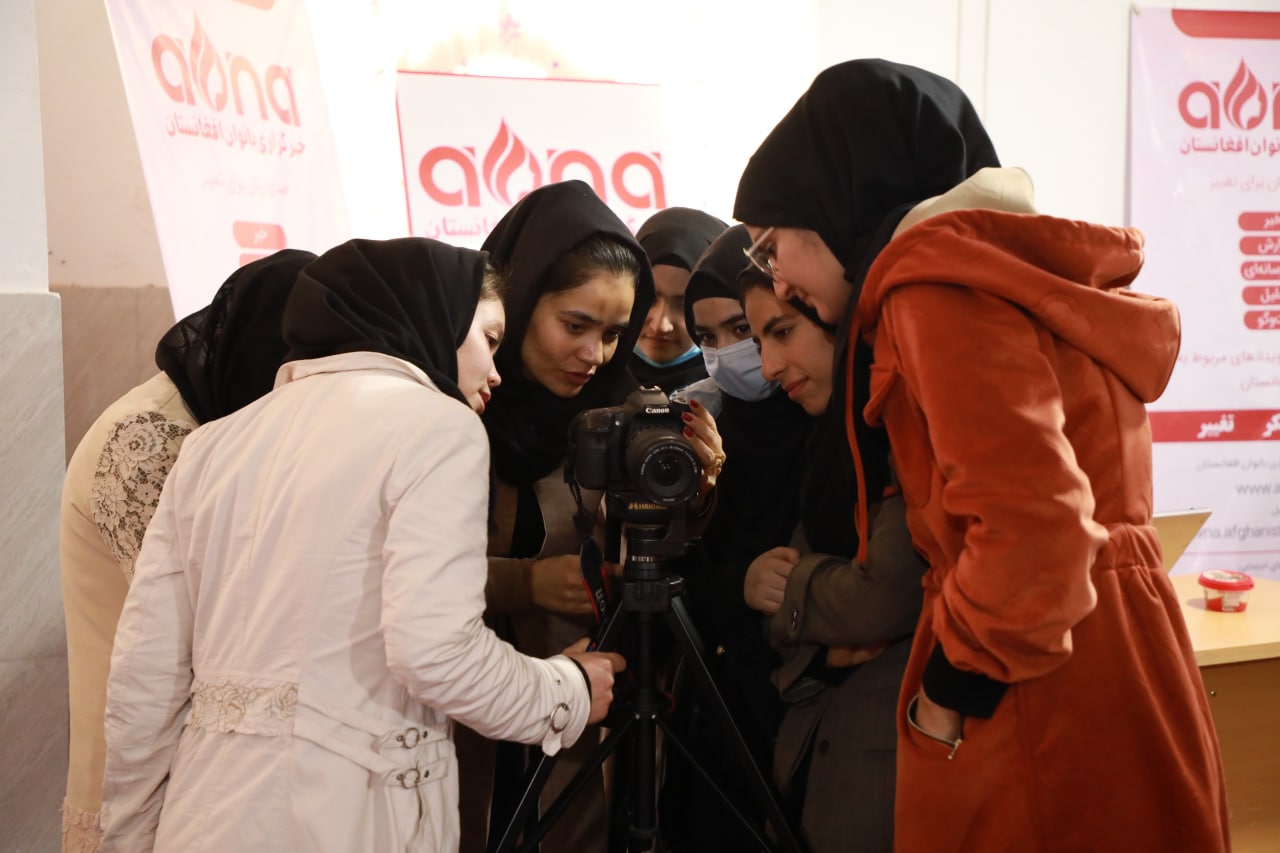 Was making the initial decision to leave Afghanistan difficult?
It was terrible. I never thought that I'd leave Afghanistan, but I had to.
We've been working and living in different challenging situations in Afghanistan for the last seven years. We've been fighting traditional society, conservative society, extremist groups, religious groups—not even including the terrorists groups, [such as] the Taliban and ISIS.
Since the Taliban retook over the country, my employees' (specifically female journalists') lives are in danger. Over the past seven years, we produced dozens of stories against the Taliban ideology and criticized their policies against women on YouTube and social media. So as the head of a [women's] news agency, I had to tell my colleagues to leave the office and work remotely.
Since the Taliban took over, with the support of our donor, the National Endowment for Democracy, we were able to evacuate all of my staff from a very dangerous situation.
What about after you left the country?
[We went to a] refugee camp in Albania. We had lost our fund; there was no salary. But even so, we had a social responsibility to Afghan people, specifically women, so we continued our jobs to empower women's voices and to amplify them under Taliban rule.
We were in Albania for seven months, continuing our news agency websites: holding weekly roundtables online and livestreaming on social media. We received many stories from users, especially women on the ground and village protesters. We received video and photos from inside the country and after verification and follow-up with the sources, we published them.
It was very difficult. Mentally and psychologically our colleagues were badly affected, but they continued because of their commitment to the country and social responsibility. 
Right now, we are happy and safe with our family, but there are still relatives that remain in Afghanistan, and colleagues who must continue their jobs under a pseudonym.
How has IJNet helped your career?
Since I was a journalism student, I've been a subscriber of IJNet's newsletter. At that time, I received many materials that improved and updated my knowledge regarding new journalism [techniques]. I also received many opportunities from IJNet. I did a two-week seminar for young journalists from South Asian countries at the Asian College of Journalism in Chennai, and I learned a lot from that.
IJNet also supported my establishment of a women's news agency. I saw a fund announcement on IJNet from the National Endowment for Democracy and I applied for it.
As a journalism professor, I recommended IJNet to students and tried to persuade them to join IJNet's newsletter and find opportunities. I included some material [from the website] in my textbook to teach my students. It is an inspiring source to update professional knowledge and to learn new things and trends regarding journalism.
What advice would you give Afghan journalists working in the country?
Their priority should be to save their lives and their families.
I know that there's many restrictions and limitations from the Taliban side, but do not leave journalism. Please continue. Journalists face many financial issues, Taliban restrictions and threats on their lives, but they should try to continue their jobs, even if they have to write under a pseudonym or anonymously. We need information to produce information. We need to know what's going on in the country, and publish it globally, to petition international communities.
[These reporters should] save their lives, try to continue their jobs and try to upgrade their skills: to learn some cybersecurity and digital measures to stay safe physically and digitally.
---
All photos courtesy of Faisal Karimi.
---