The Taliban's recent takeover of Afghanistan following the departure of U.S. forces has been detrimental to the Afghan public. The group it has affected the most is Afghan women, who are denied many of their basic rights. 
Despite assurances to the contrary from the Taliban, women are prohibited from attending schools and universities, and from working — the intent being to leave half of the country's population in the shadows of society. 
The Taliban threatened media workers even before rising to power. In the months since, they have cracked down on members of the press, threatening many for their coverage, ordering journalists to stop working for Western media outlets and to refrain from critical reporting. 
More than a dozen news outlets, radio and TV stations, websites and magazines focused on women's issues had been active in Afghanistan before the Taliban regained control, according to journalist Hossein Ahmadi. The Taliban have since forced many to shut down. One left behind, however, is the weekly Nimrokh Media, for which Ahmadi is the managing editor and publisher. 
Launched in the capital city of Kabul in August 2017, Nimrokh reports on violence against women and the need to eradicate it, gender equality, women's presence in society, and the importance of teaching women about their rights. It circulates 2,000 copies of its print edition each week in seven provinces of Afghanistan, and Kabul, reaching an average of 2.6 million views each month, according to Ahmadi. It also maintains an active social media presence on Facebook, Twitter, and Instagram, as well as channels on YouTube and Telegram.  
Following an editorial meeting on August 15, Nimrokh closed its offices at a time when many other independent media outlets in the country did the same — in the course of a week, Kabul was silenced and stunned. 
In the face of heightened fears for the lives of their employees, financial concerns, and censorship, Nimrokh continues its reporting today. Following the Taliban recapture of Afghanistan, they are more determined than ever today to continue to publish. 
I recently spoke with Ahmadi and Fatima Roshanian, Nimrokh's founder and license-holder, about Nimrokh and its uncertain future, the heightened fear journalists now operate under in Afghanistan, and the especially challenging circumstances women face in the country. The two spoke with me in spite of their vulnerable position in a turbulent situation. 
IJNet: How have your work conditions changed since the Taliban have come into power?
Fatima Roshanian: Women do not feel safe at all. The Taliban have taken away all rights from women and girls; the rights to study, work, and any societal participation.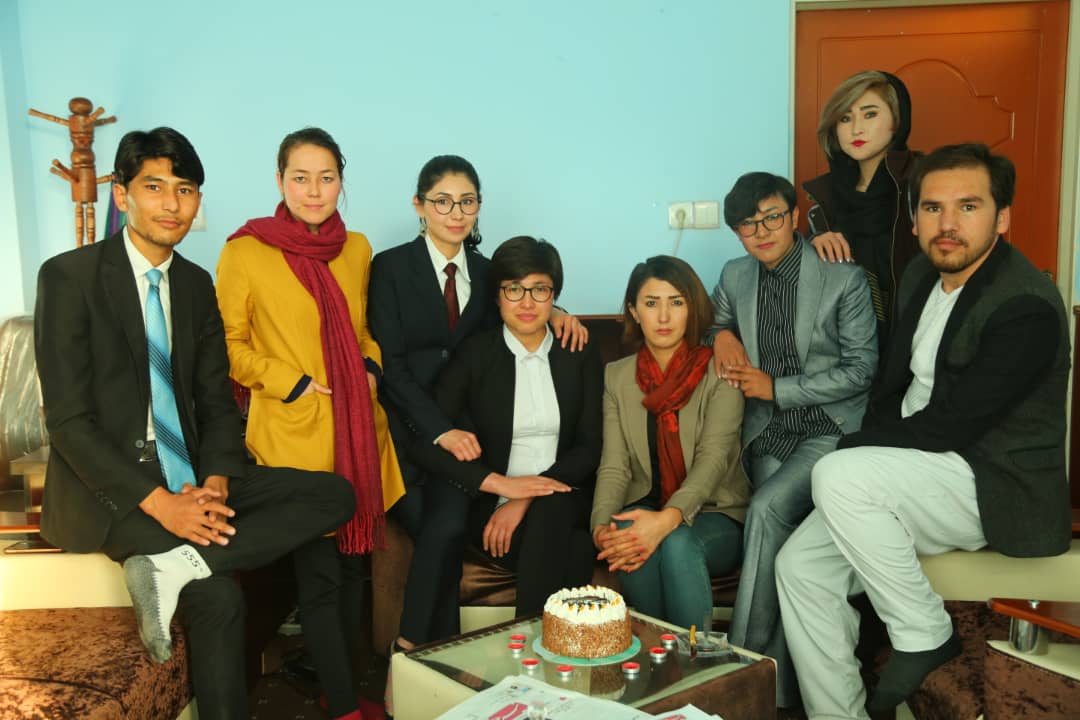 At Nimrokh, our passion has been women's issues, trying to enlighten men about women's rights, and make women more aware of what they are entitled to: their human rights and civil rights. We have been teaching women what their rights are. This is what our managing editor, Mariam Shahi, has always strived for. 
We have taught girls about their periods, self-care, marriage and pregnancy, among many other issues. Men who think like the Taliban have always wanted us to limit ourselves to discussing the home, housekeeping, cooking and raising children in women's publications. We wanted more and thought differently — we went beyond that. The Taliban want to keep us in a dark dungeon. 
Hossein Ahmadi: Our current problem is not just the fact that we cannot go to our offices, and that we have to be extra careful if we arrange to meet each other at a café. Our problem is that we cannot pursue our passion without fear. According to the Taliban, only the kitchen is an appropriate place to work, to be, for women. This is what threatens our society, and us. All of us here at Nimrokh are facing active security threats. 
The fact is that 70% of the country's media outlets were shut down after the Taliban took over, which means many other journalists are enduring what we are facing, or worse. 
To what extent are Afghan women's problems cultural rather than political? 
Roshanian: Although the Taliban did not hold power until a few months ago, many Afghan men have had the same beliefs as the Taliban, and could not tolerate educated women or working women. Many fathers have suppressed their daughters, and are now in agreement with the Taliban's idea of womanhood. 
How much of what the world saw of Afghanistan — which contained women's active participation in the country's affairs — was true and real? 
Roshanian: What the world saw over the past two decades — what was shown to the world, rather — was somewhat different from the reality on the ground. These 20 years provided an opportunity for girls like me to pursue an education, travel and work, and not be forced to wed. Not every girl had that possibility, however. While the government would not create obstacles for women, a large part of Afghan girls' fates were decided by their fathers in the past two decades. 
A lot of what was demonstrated over these past 20 years, however, was done to get grants and financial aid, and to achieve other monetary goals. Many parts of the reality of Afghanistan did not attract the attention of global media.   
What kind of a future do you envision for women under the Taliban?
Ahmadi: A dark one. The Taliban want nothing but regression and repression. The Taliban dictate Shariah [law], using it to their benefit, and to rule. Afghan women have been very active in different arenas, and in many major peace projects across the country. Forcing them to stay home spells tragedy for half of the country's population.
How do you overcome financial difficulties at Nimrokh?
Ahmadi: Since inception, we were able to fund the publication's activity through ads and membership fees. Last January, however, the ads and membership dues stopped amid the worsening status of society, leaving us empty-handed. From January 2020 through March 2021, the Open Society Foundation helped us cover our expenses, and to pay what we owed. We were also able to hire 12 staff members with the money. 
Roshanian: A few women's rights activists started an online fundraising campaign for us with the goal of gathering $15,000 to cover our expenses and dues, and what we have owed since March. However, the campaign has not been successful so far. We are now at a total financial impasse.
---
Photos courtesy of Mehrnaz Samimi.
This article was updated on November 16, 2021.
---