When listening to the podcast named Washington D'ici, French-speaking people across the world not only learn about American politics, they can also discover new French words used by speakers from other countries. Canadians can discover that Belgian and the Swiss people use a different word — "nonante" — to say ninety. European listeners now know that in Québec, a podcast is called "balado."
"We play around with that a lot," says Raphaël Grand, Washington correspondent for RTS (Radio Télévision Suisse). "We've all become big fans of using "balado," a term none of us knew before. We're all about celebrating our differences."
More than 500,000 downloads
Washington D'ici was created about a year ago and brings together the voices of Washington correspondents from Swiss, French, Belgian and Canadian public radio. It has already been downloaded more than 500,000 times.
Every two weeks, journalists Grégory Philipps of France Info, Raphaël Grand of RTS, Raphaël Bouvier-Auclair of Radio-Canada, Sonia Dridi of Radio Télévision Belge Francophone (RTBF) and Anne Corpet of Radio France Internationale (RFI) find time in their busy schedules to give listeners an inside look into the goings-on in the White House. In the run-up to the U.S. election day, the show airs weekly.
"We were very motivated. We made it a point to make ourselves available every two weeks," explains Dridi of RTBF. "One of the benefits of having this podcast is we can use material that doesn't fit in our usual reporting."
The five journalists see the linguistic and cultural diversity of their team as a strength as European and North American audiences don't necessarily have the same content expectations. "What makes it easier is that our subject matter is equally relevant to all of these countries," says  Grand. "Raphaël Bouvier-Auclair, who's from Canada, has a different vantage point than we do in Europe."
Born over a beer at an airport bar
The project emerged thanks to a chance encounter at the Denver airport in Colorado. Grand, who had a podcast project and was looking for an original way to produce it, met Phillips of Radio France. One beer into their conversation, Washington D'ici was born. Shortly after, Grand scrolled through his phone and contacted Bouvier-Auclair, whom he'd never actually met, and they were all excited by the idea. On top of bringing together French-speaking voices in each episode, the podcast brought these journalists closer through their common language.
"We've become a team of friends and buddies," says Grand. "When you're a correspondent, especially in radio, you're often traveling alone. This podcast was created by a fun group of people and we hope that comes through in what you hear.
[PODCAST] : la semaine 🇺🇸 a été folle avec un POTUS hospitalisé, puis subitement guéri et qui reprend sa campagne. C'est dimanche, en - de 30 minutes, rattrapez ça avec les correspondants des 📻 publiques francophones. #24 du podcast @DiciWashington 🇺🇸🎙📻 https://t.co/eOYhP7rTCf pic.twitter.com/Br9jF9dwRW

— WashingtonDici (@DiciWashington) October 11, 2020
Every two weeks — now weekly with the upcoming election — the reporters discuss the most recent news in order to prepare listeners for the 2020 U.S. presidential election. In the past weeks, they've discussed the passing of Supreme Court Justice Ruth Bader Ginsburg, aired a biography of vice presidential candidates Mike Pence and Kamala Harris and debriefed through the infamously cacophonous first presidential debate between Donald Trump and Joe Biden. 
Producing an episode each week is a lot of work for these correspondents who record all the material on top of their regular work hours. "To be fair, news moves so fast, we could probably go daily now," jokes Grand.
"We've found the time and have a nice rhythm"
Preparing the podcast usually means patching one of them in through WhatsApp when he or she is on a reporting trip, or waiting for another to finish their live broadcast for their respective national media. They've had to be very flexible but up until now, it's been a success. 
"We're a team of five, very busy journalists, but we've managed to find the time and now have a good rhythm. No one feels left out, everyone contributes how they can. If they already have their hands full one week, they can do less," says Dridi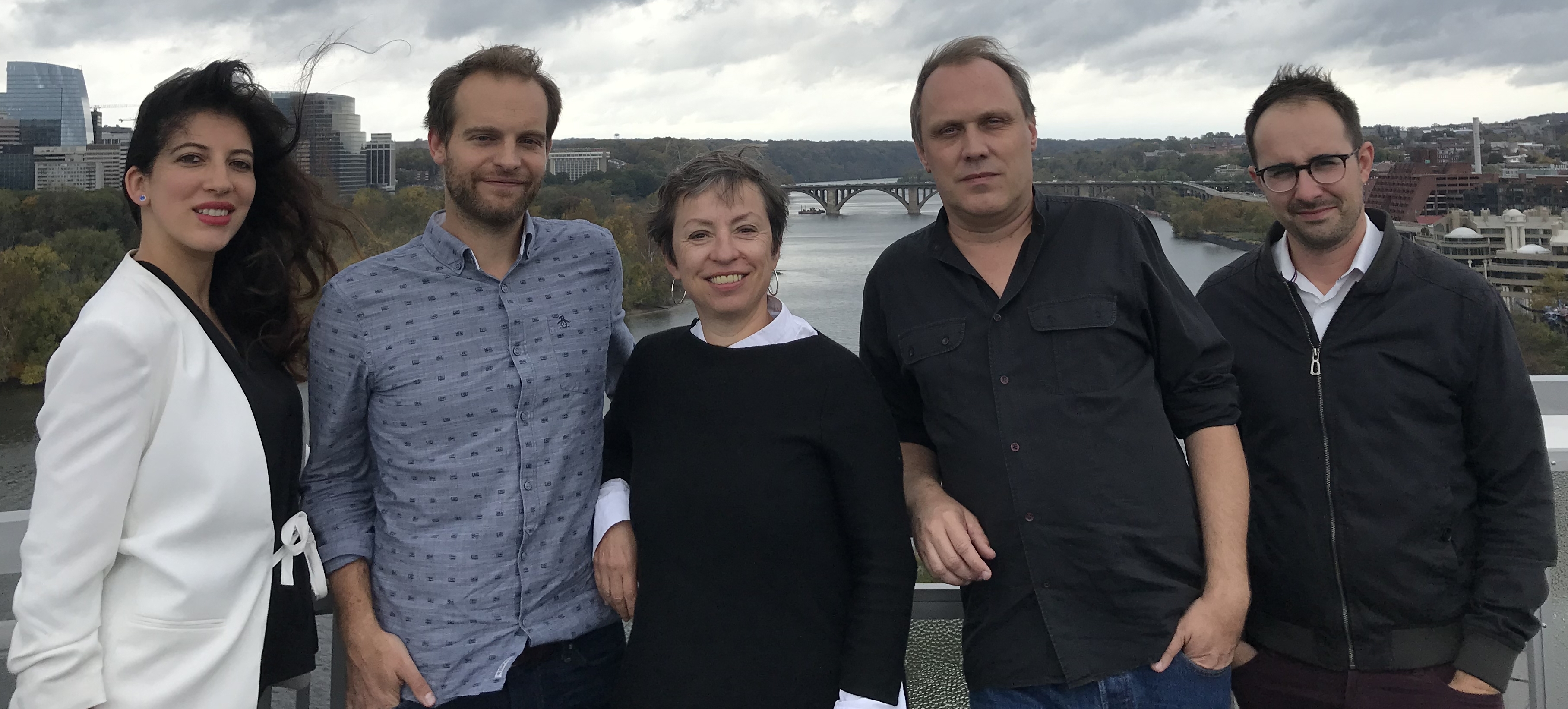 Because the podcast was created to cover the presidential election, the five journalists don't yet know what will become of the podcast once the race is over. They were each sent to the city for a limited period of time, and many of them are set to leave Washington in 2021.
One thing is certain: they will keep airing their unique point of view on Washington to French-speaking audiences around the world until January 2021, when the next president is sworn in. After that, only time will tell.
As for the podcast's name, French speakers will have caught on to the clever pun on the name Washington D.C.
Click here to listen to the podcast Washington d'ici.
---
Stéphanie Fillion is a Canadian journalist based in New York. She is a frequent contributor for Pass Blue, an independent media covering UN-related news, covering international affairs. The Columbia University graduate has already written a piece for IJNet French, detailing the 5 ways to boost your career when you've lost your job.
Image CC-licensed by Jorge Alcala via Unsplash
Photo 2 courtesy of Washingtond'ici (team picture).
---