When we verify facts, we usually start by checking the source, its history, location and credentials. Although efficient, this process is as time-consuming as it is tedious and it makes news reporting a challenge.
One of the problems is that online misinformation is rarely a plain lie. Fact-checkers are expected to recognize all shades of inaccurate, agenda-driven, doctored or altogether fabricated.
It is these nuances that make journalists' work a headache. Even among the most skeptical colleagues, you will be hard-pressed to find one who has never been duped by an article, a doctored video or a tweet that at first glance seemed genuine.
Now imagine how hard it is for your readers to identify falsehoods when dozens of stories pop up in their timelines and inboxes every day. Remember, they have no training or experience in fact-checking.
To simplify online content verification, U.S.-based startup Our.News created a browser extension that offers fact-checks akin to nutritional labels you find on foods. But instead of calorie count and fat content, readers can see who is the author of the post, publisher's location and other 'ingredients' that help them understand what they are consuming and make better news diet choices.
That sounds simple enough. The problem is that no one likes to be told they are wrong. Labeling a piece of content or a publication as out and out false can have the opposite effect, especially among people who distrust institutions and mainstream media by default.
Rather than categorizing content as true or false, when the Our.News browser extension detects an untrustworthy piece of content, it displays an amber warning that says 'Caution: Problematic publisher. Learn why.'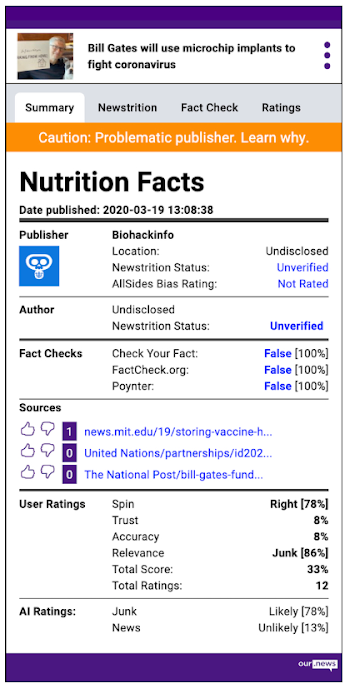 It is the 'Learn why' bit that makes all the difference.
The tool gathers data, such as the publisher's location and history, as well as fact-checks from recognized organisations like FactCheck.org and Poynter. It currently pulls data from nine signatories of the international code of principles and wants to expand this to 21. This will increase the probability of the story has been verified by a recognized fact-checker, which is especially important during breaking news.
Richard Zack, CEO of Our.News, said that his company has spent three years to figure out what should go on these "Newstrition" labels.
"You can't fight misinformation by telling people what's true or false," he says, adding that audience participation is key to build trust. And so, alongside the information about the publisher and input from the fact-checkers, there is a space for the users to rate a story on criteria, such as spin, trust, accuracy or relevance.
This is useful to help the reader understand why a piece of content or a website has been labelled as problematic and help them decide whether to trust it or not.
The tool can be downloaded as a Google Chrome or Firefox browser extension or as a mobile app. It can also be integrated by a publisher or a news aggregator to proactively show users the labels. It works best with text, although some features like public rating or origin can be applied to multimedia content.
More recently, Our.News also launched an AI-powered component that allows publishers to find out instantly whether a piece of content has been verified by a fact-checker. This can be displayed either internally or on the public-facing page.
But how can these verification efforts become more widespread? As with food manufacturers, nutrition labels did not become commonplace out of corporations' goodwill to help consumers understand what they are eating — they were imposed by public authorities.
In the same sense, do news verification labels need to be mandatory to address the "infodemic?" Zack said he would welcome a stronger demand for verification but, as most tech entrepreneurs, he is against government intervention.
Although these "newstritional" labels are clear and the data transparent, reading and understanding them still requires a certain level of media literacy. It is easy for journalists but many readers who had limited access to formal education may still struggle to make sense of it.
If nothing else, pulling up the label will provide readers with that all-important pause before they hit the share button. If we could all think "Sheep" before we share, the spread of misinformation could be virtually stopped. 
---
This article was originally published by Journalism.co.uk. It was republished on IJNet with permission. 
Main image CC-licensed by Unsplash via Pineapple Supply Co.