Bereia, a Brazilian fact-checking collective created in 2019, aims to "separate the wheat from the chaff" in the field of religious media. The initiative, formed by Christian journalists, researchers and communication students, fact-checks content published by religious media and posted on the social media accounts of Christian personalities, especially politicians and influencers.
"We want to raise awareness about the fact that religious outlets shouldn't be exempt from spreading or accepting deceptive or false content. We believe in the importance of talking about this issue in the Christian world and creating a critical conscience within this group," says journalist Magali Cunha, Bereia's publisher, adding that the initiative is the first of its kind in the world.
The fact-checking collective was named after the Greek city of Berea, mentioned in the biblical book of Acts, which narrates the evangelism of Jesus' first followers. According to the Bible, the Jews born in Berea checked the Holy Scriptures to verify if the Apostle Paul's preaching was correct.
The words of the Apostle Paul, who lived less than 100 years after Jesus, and his successors spread globally and helped Brazil become one of the most Christian countries in the world, with 81% of the population identifying as Christians, according to a 2019 survey.
The volunteers of this fact-checking initiative act as modern-day Bereans, checking Christian narratives that go far beyond sermons and gain space in digital media in a variety of formats.
Religion takes center stage in Brazilian politics
Bereia also fact-checks information and statements from religious politicians and those occupying positions of trust in public management. Brazil's National Congress has at least 419 members out of 594 who belong to the evangelical or Catholic fronts. In the Executive Branch, five ministers have a strong religious affiliations, and President Jair Bolsonaro, who has declared himself as "terribly Christian."
The collective, which consistis of 10 volunteers, carries out daily rounds on websites, portals and social media accounts with religious ties. When a fact-checker identifies suspicious content, the verification process begins. He or she contacts different sources in search of an answer, and then classifies the information as true, inaccurate, misleading, inconclusive or false.
The project also has an open channel on WhatsApp for readers to submit fact-checking requests.
Fact-checks vary in subject. For example, one claiming China was demolishing churches to contain Christianity was categorized as inaccurate. Another fact-check evaluates an article linking a former congressman and gay rights activist to the 2018 attack on Bolsonaro at a campaign rally, finding the claim to be false.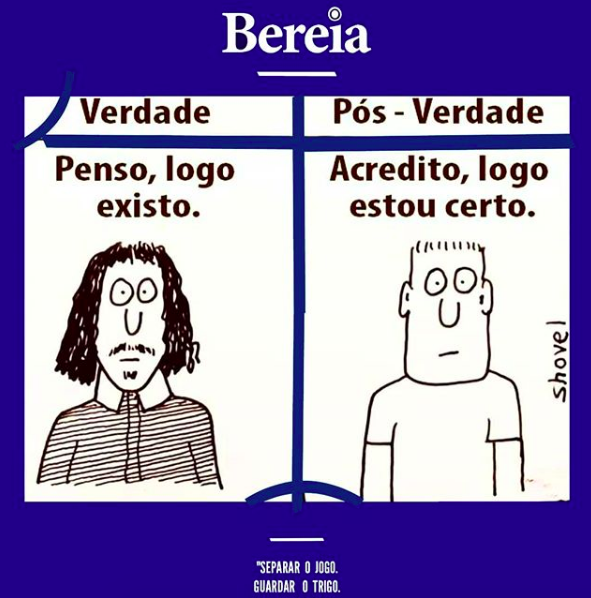 COVID-19 in the religious media 
A recent fact-check focusing on the authenticity of a video of a Brazilian pastor offering a COVID-19 cure is just one example of how the current pandemic has dominated religious media, and therefore become a key theme in Bereia's fact-checking. According to Cunha, the relationship between the virus, religion and misinformation is very strong. Content that undermines the severity of the disease, reveals cures or boasts about the efficacy of traditional medicines resonates with some Christian and Catholic groups. So far, Bereia fact-checked more than 20 claims related to COVID-19.
Politics, gender and religious persecution dominate false content
Although there are reliable religious news portals in Brazil that provide an important services to readers, misleading or false news circulates easily among some religious networks, especially via WhatsApp.
Bereia has identified three major themes in religious misinformation. The first covers national and international politics, generally in support of the governments of Brazil, the U.S. and Israel, and against left-leaning countries. The second theme is sexuality and gender, a theme formed by false or misleading materials on the issue of human rights, women's rights and the LGBTQI+ population. The third theme revolves around the idea that Christians are persecuted, with a dominance of exaggerated or distorted content.
To help navigate all these issues, Bereia relies on 10 editorial advisers, including journalists, theologists and social scientists. One of them is Brenda Carranza, a researcher at the Laboratory of Anthropology of Religion at the State University of Campinas.
"I believe that due to the nature of the content, this interdisciplinary advice is very beneficial. The same case can be discussed through different angles by people who work on the same theme: religion," says Carranza. 
The collective is supported by the evangelical organization Paz e Esperança, which has made resources available for the launch of the website and to covers the salary of an executive editor. According to Cunha, the goal now is to obtain more funding so that Bereia can grow and pay its fact-checkers.  
---
Jeferson Batista is a Brazilian journalist and anthropologist. Based in Campinas, São Paulo, he works as a freelancer for different outlets and tells stories about science, religion, diversity and human rights. Follow him on Twitter @batistaje_.
Main image courtesy of Bereia. 
---