"To you, reading me today."
This is how the first edition of La Disparition addresses its reader. This new media, whose motto is "epistolary and political," tells the story of the disappearances of our world, whether it be a profession, a tree, or hope.
Every two weeks, readers receive something that is all too rare: a physical letter in the mail (the kind that brings joy, not a bill or a notice for a lost package at the post office).
La Disparition officially launched in Marseille, France at the end of January 2022. Twelve hundred people received the first issue of this "hyper-angled" media initiative focusing on disappearance in all its forms. For the first issue, Quentin Müller, a journalist with expertise on Yemen, chronicled in a 10-page piece the threatened dragon tree of the island of Socotra.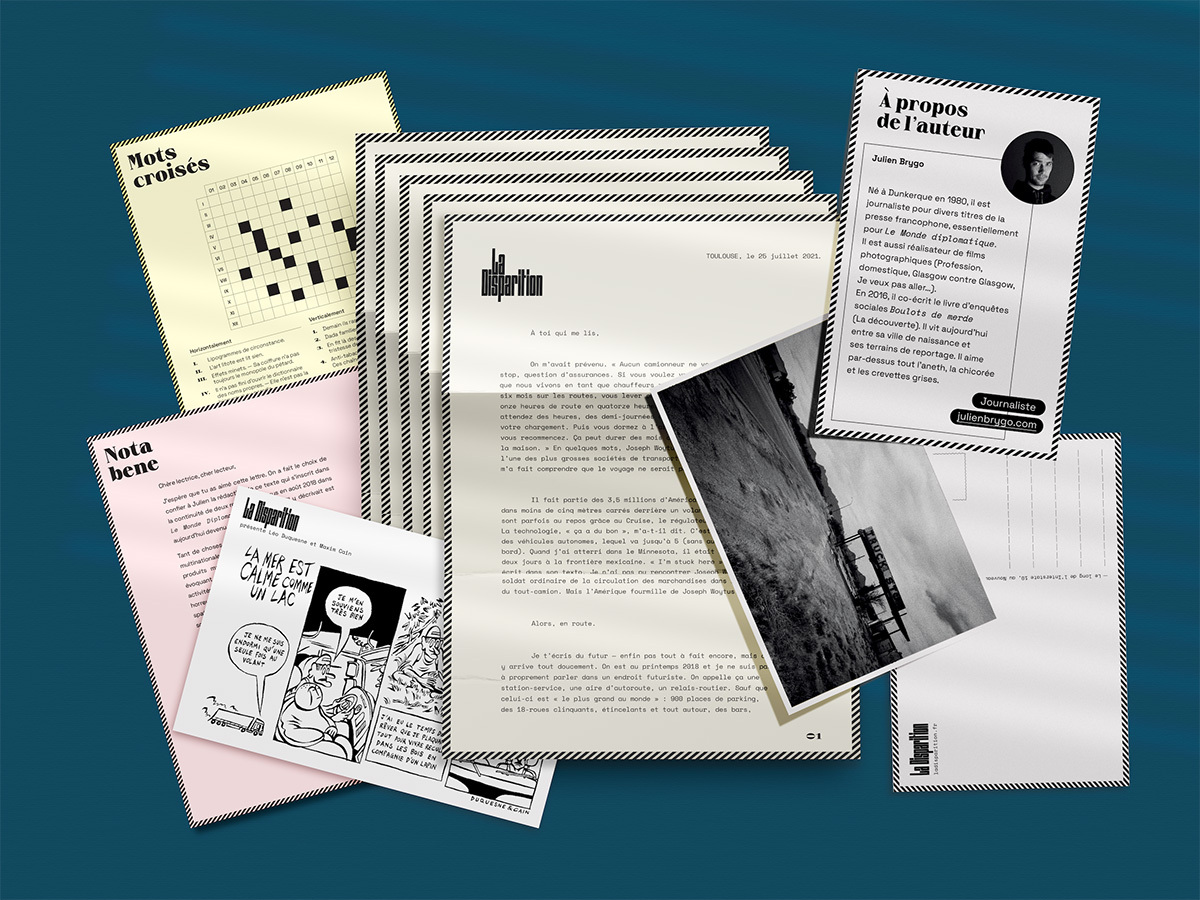 An inventory of all that's gone missing
La Disparition is the brainchild of Annabelle Perrin and François de Monès, both journalists by trade who attended the Toulouse School of Journalism together. "We've always wanted to start a media outlet; we've dreamed of it since school," said Perrin, who is the editor-in-chief. After graduating, they worked as freelancers, including notably for Le D'oc, a local investigative outlet in Montpellier.
The pandemic came as a trigger. "When lockdown exemption certificates were implemented in France, we realized that we could be deprived of something we took for granted, such as the freedom to move. We asked ourselves, 'why don't we make an inventory of disappearances?'" recalled Perrin.
La Disparition has an ultra-precise focus — and yet it allows for a lot of stories to be told. For instance, the disappearance of truck drivers in the U.S., or asylum seekers in Mayotte off the coast of Mozambique. Each issue of the magazine highlights articles written by a French-speaking freelance journalist, who can pitch their ideas here.
Transparency
Subscribers to the outlet receive an engaging package with each issue that includes a postcard illustrating the lead story, a nota bene in which the co-founders contextualize their choice of the edition's topic, a comic strip, a crossword puzzle, and the authoring journalist's business card. Everything is printed in Toulouse, France on high-quality paper, which makes it easier to read.
The letter format was not always an obvious choice. "The idea of an epistolary medium came much later," Perrin continued. "We first considered a print magazine but it seemed too complicated, especially with regards to managing distribution in newsstands." It was when collecting their mail that the founding duo came upon their idea. The approach offers a commitment to transparency, which in many respects is a positive for the outlet and for its audience.
La Disparition readers funded the magazine's launch via a pre-sales campaign on the Kiss Kiss Bank Bank crowdfunding website last December. "We reached double our objective, i.e. 850 contributions," said Perrin— an encouraging figure for an emerging outlet pioneering a new format.
From a community to a newsletter, up to the final launch
The Paris-based agency Studio Médianes, which helps develop young media outlets like the magazine La Déferlante, supported Perrin and de Monès with the launch of La Disparition. Studio Médianes advised the co-founders to start with a newsletter and social media account before their launch. Now, every other Thursday 2,700 subscribers receive their digital content.
La Disparition also has nearly 2,500 followers today on Twitter — a community of early adopters with whom the co-founders shared the various stages of preparing the publication's first issue.
This proximity to audiences is part of an enduring trend in media in 2022. "We can no longer do journalism while keeping the audience at a distance," said Eric Scherer, director of innovation and international affairs at France Télévisions, during a webinar held by our French-language Global Crisis Reporting Forum.
Retaining early adopters
The community that La Disparition had cultivated before launching enabled the outlet to receive substantial support when publishing its first edition. In order to reach profitability, "the goal is to build loyalty, especially for subscriptions, which cost 11 euros per month," explained de Monès.
The business model is based entirely on subscriptions. Several options exist, including a two-letter trial for 15 euros, which covers you for one month. "At the end of each season, subscribers will get the opportunity to buy the letters they missed," said the managing editor.
There is something refreshing about this new, community-oriented outlet. It brings us the good side of nostalgia. An appearance.
---
Main image: Theo Giacometti.
This article was originally published by our French site. It was translated to English by Sedera Ranaivoarinosy.
---