In an era of rampant disinformation and uncertainty for both journalists and their audiences, ethical journalism plays a critical role in helping journalists create effective newsroom structures and storytelling processes. It can address some of the most pressing challenges newsrooms face as they struggle to establish trust with citizens.
At the 10th annual Investigative Journalism Forum, hosted by the Arab Reporters for Investigative Journalists (ARIJ), presenters discussed the power of ethical journalism by examining the results of the Ethical Journalism Network's (EJN) "ethical audit" of Jordanian award-winning online magazine 7iber.
EJN's director of campaigns and communications, Tom Law, and 7iber's co-founder and executive editor Lina Ejeilat highlighted lessons learned from the process and shared insights about the role of journalism ethics in creating newsroom governance structures, strengthening storytelling and building trust.
What is an ethical audit?
The word "audit" gives the impression of an external, detached evaluation. However, Ejeilat said this term "doesn't do the process any justice." The audit was not detached at all, but instead facilitated an open conversation among 7iber's management and staff that examined how well their work and processes aligned with the organization's mission and core values.
EJN's audit covered 7iber's newsroom functions, editorial outputs and internal accountability. It surfaced previously hidden processes or tendencies that encouraged 7iber's management to re-evaluate their editorial practices.
For example, Ejeilat was surprised to find that only 38 percent of the outlet's content was produced by women – a finding that stood in contrast to the organization's progressive and inclusive mission.
In addition to facilitating self-examination, the audit helped 7iber's leadership examine its governance structure and policies. Human resources changes — including preparing contracts and creating job security for staff — can help create the needed space to nurture ethical and high-quality journalism.
"When journalists have a sense of security, they have more independence and can do better journalism," Ejeilat said.
The willingness of newsroom leadership to participate in this self-interrogation is key to the audit's success, according to Law. The ethical audit built upon an existing conversation with 7iber's leadership, which demonstrated their strong commitment to acting on the results and making the necessary editorial and structural changes.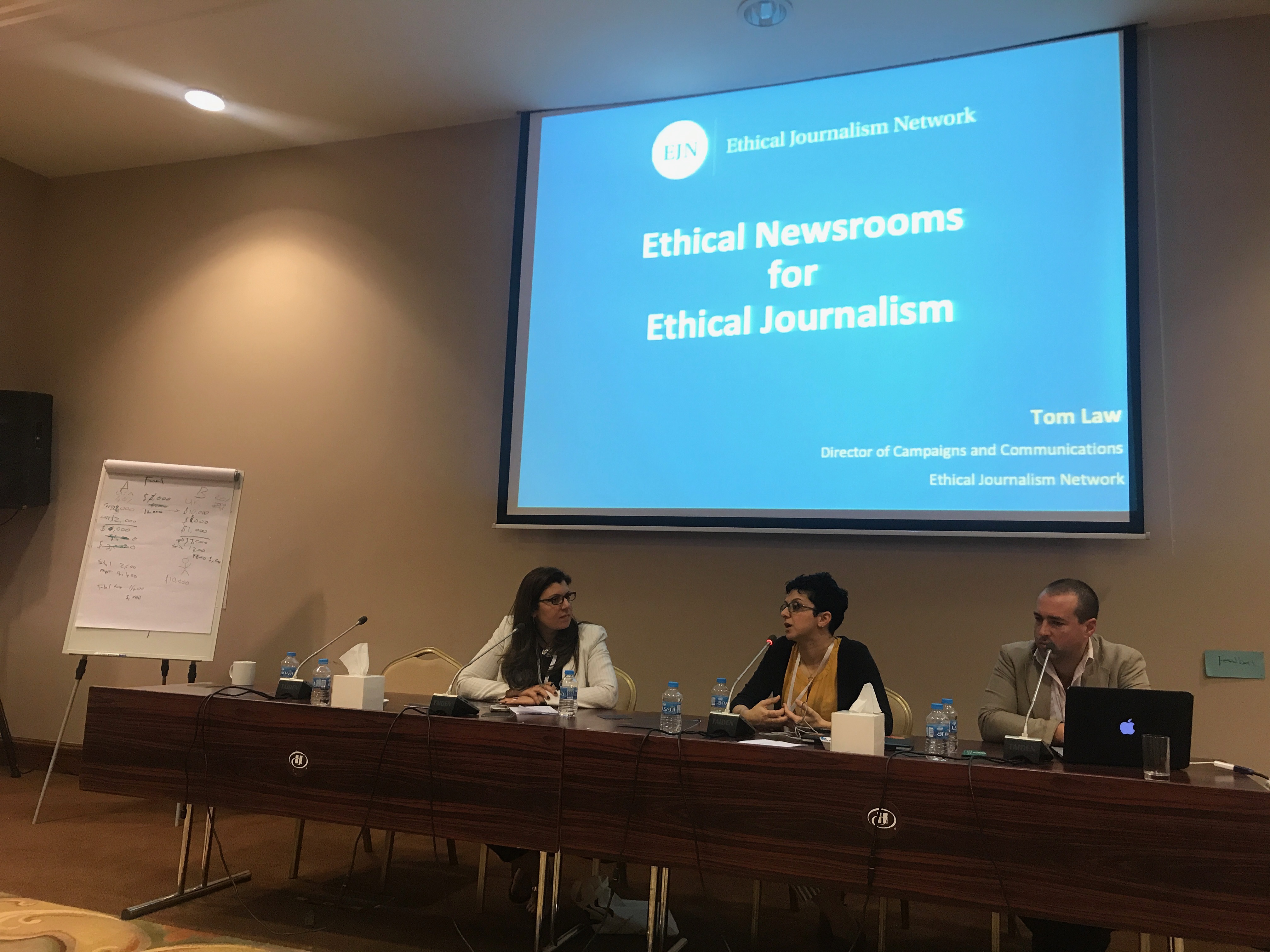 What does this mean to audiences?
Both Law and Ejeilat stressed the value of engaging audiences in conversations about journalism ethics. Establishing trust with audiences is among the most prevalent challenges in today's media landscape; by sharing efforts to improve their ethical practices, newsrooms can strengthen confidence in their journalistic work.
"We have to go above and beyond to prove to our audience why we should be trusted," said Law. "To show we are distinguished from all the mess that's going on online because of our values, not just in our editorial policy, but in every part of our structure and governance."
To do this, newsroom managers and journalists need to make a consistent effort to engage their audience. Ejeilat acknowledged that this may not appeal to all audiences, but it is crucial to building a core, loyal following. She shared an example of a recent investigative story published by 7iber about the deportation of Sudanese refugees from Jordan. Once the story was published, 7iber hosted a conversation about the piece on Facebook Live. Although the audience was small, it clearly demonstrated a close relationship between 7iber and a committed audience.
Shifting the thinking
For Ejeilat, this type of engagement with audiences requires a fundamental shift in thinking about how journalists do their work. "Journalists are programmed to report without sharing too much about what they're doing," she said. But there is value in encouraging them to document and share their processes with their audience.
In addition to creating trust, it engages audiences directly in the storytelling process. Law shared the example of David Fahrenthold, a Washington Post journalist who documented and shared his information gathering process directly with audiences. By simply uploading pictures from his notebook on social media, he was able to improve the transparency of his reporting while also adding a new layer to his storytelling.
A lack of transparency, combined with unethical practices, can cause irreparable damage. News of the World, a U.K. tabloid, shut down after it was revealed that its journalists had been hacking the phones of celebrities and crime victims, said Law. The phone-hacking scandal was reflective of a systemic governance failure in News of the World, one that pressured journalists to act unethically in the interest of producing stories.
The lesson? When news organizations focus only on the day-to-day and neglect to invest appropriately in ethical governance structures, they risk their long-term survival.
---
Main image CC-licensed by Unsplash via Dose Media.
---