For the majority of women working in the news industry today, weathering online attacks has become an ugly reality of the job. Nearly three-quarters of the 714 women journalists who responded to a global ICFJ-UNESCO survey said they had experienced online violence in their professional capacity. And it is an escalating problem.
The effects of online violence are far-reaching, as chronicled in a recent report, "The Chilling," based on the ICFJ-UNESCO survey, as well as 182 interviews conducted with journalists and experts around the world. Among the impacts, women reported that online violence has taken a toll on their mental health, caused them to fear for their physical safety, damaged their  reputations and much more. 
"From the professional point of view, you're perceived like a sort of divisive, controversial figure," Carole Cadwalladr, a British investigative journalist, told the researchers. "Something which for your male colleague would have passed without comment. But it's making you into a controversial figure, and I think this is very effective."
Cadwalladr is known for her reporting that exposed the Facebook-Cambridge Analytica scandal. She has since become the target of massive amounts of online abuse, including from right-wing journalists and members of parliament. 
Online violence shouldn't be the pervasive issue that it is today for women journalists. The right support from the right people can help shift the tides of the violence. The Online Violence Response Hub, launched by the International Women's Media Foundation (IWMF) and ICFJ in July, is an example of this type of support. A project of the Coalition Against Online Violence –– a group of more than 40 organizations working to find solutions to the ongoing problem — the Hub gathers in one place valuable resources to support and assist the targets of these online attacks.
About the Online Violence Response Hub
Many of the journalists surveyed and interviewed by the researchers for the ICFJ-UNESCO study said that they wanted easier access to resources. The Coalition designed the Hub with this in mind. 
"When you're under attack, you've got such limited resources, such limited capacity to start with, and then you have the responsibility to go and find your own solutions," said ICFJ Global Director of Research Dr. Julie Posetti, who helped initiate the Hub and led the research for UNESCO. The Hub eases the burden on women, providing them an easy platform through which to connect with the right support.
"It's not just about giving them a whole guide, but breaking it down into chunks," said Ela Stapley, a digital security advisor and project lead at IWMF.
All of the content available on the Hub has been contributed by Coalition members like the Committee to Protect Journalists, ACOS Alliance, ICFJ, PEN America and Free Press Unlimited, among others. The Hub is a living, breathing platform, too. The content is regularly assessed to ensure that it's up to date, and members can submit new resources to be published. 
Many of the individual resources featured on the site today are available in other languages, including Spanish and Arabic. Stapley and Posetti hope to eventually see the entire Hub's contents translated into multiple languages, recognizing the global, multilingual nature of the problem.
How you can use the Hub
When you first visit the Hub, you can peruse all content by clicking "Resources" on the top menu. Alternatively, you'll see a "Get Help" box that will prompt you to identify who you are: a journalist, newsroom or ally. This will help the site tailor the resources it suggests for you. 
I'll walk through some scenarios below.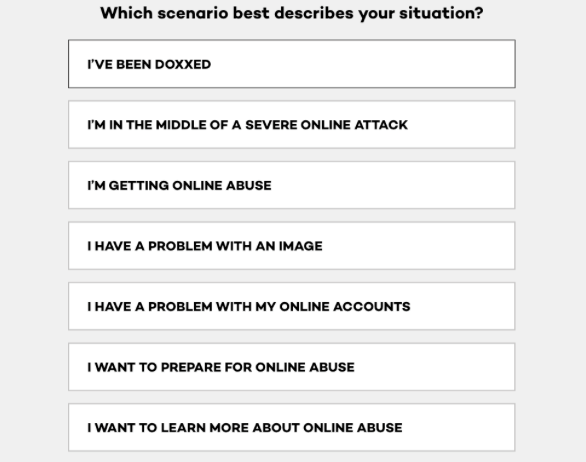 For journalists
Importantly for journalists, there is an orange "Emergency Assistance" button in the top-right corner of the page, should you need urgent help. Although the Hub doesn't have the capacity to trigger an intervention at this stage, it can point you to people who can. 
If you select that you're a journalist from among the prompts on the site's homepage, you'll be given a list of scenarios to choose from. These include: "I've been doxxed," "I have a problem with an image," "I want to prepare for online abuse," and more. Select the one that most closely aligns with your needs.
For instance, say you discovered that your personal phone number is being shared online without your consent. From the menu, you can select "I've been doxxed." 
You'll then be asked what type of help you're looking for, such as "emergency assistance," "psychosocial support" and "documenting an attack," among others. In this case, you may want to look into legal avenues you can pursue after the attack, so you select "legal support." From there, you learn about organizations like Media Defence, which connects journalists with lawyers. 
This is just one example of how a journalist experiencing an attack can use the Hub. Many of the resources available are also geared at prevention. You can click through the prompts to find advice for securing your accounts, developing a response strategy, safeguarding your data, and training. 
For newsrooms
Newsroom support is critical to curbing online violence against women journalists. Many organizations, however, are unsure how to address the issue. The Hub offers a variety of resources to help newsrooms both respond effectively in these cases, and introduce preventative policies to reduce online harassment against their employees.
If you pick "Newsroom" from the original menu, you'll see the following scenarios appear: "Someone has been doxxed," "Someone is being harassed online," "Preventative steps to protect against online violence," among other options. 
Say you select, "Someone is being harassed online." You'll be taken to a page where you can choose from responses, like "Help a journalist secure their online data," "Responding to online attackers" and "Psychosocial support." The Hub will point you to resources that can help you secure newsroom accounts, draft public statements of support for journalists, document online abuse, and more.

For allies
You don't need to be a journalist or newsroom leader to be affected by online violence. Friends, colleagues and family members may have someone in their life experiencing attacks, and want to help. In this case, you can select "I want to support someone" from the homepage menu.
Again, you'll be offered a series of scenarios to choose from: "Supporting someone who is being harassed online," "Someone has been doxxed" and "Learning more about online violence." 
This time, you select "Supporting someone who is being harassed online," and then "Supporting others." The Hub walks through a step-by-step process for offering support. 
What you can do right now
You may not currently face online violence, but that doesn't mean that you can't still make use of the Hub. Familiarize yourself with the tool so that you know what it offers, and how to navigate it if you're ever in need, suggested Stapley. 
The many prevention-focused resources can equip newsrooms and journalists alike to take important steps like securing data, creating a response plan and developing policies to support staff.
Also consider sharing the Hub with colleagues. This means freelancers, too, who are less likely to benefit from institutional support should they face online violence. 
"Use it as a kind of jumping-off point to learn more about online abuse and how best to protect yourself," Stapley said. 
---