This article is the third in a series of profiles spotlighting the work of Black journalists at all levels of media. We began discussing this as a series for Black History Month in February, but realized the value of highlighting Black voices extends far beyond a month. We're using this series to keep the conversation going. If you'd like to share your own experience as a Black journalist, email dmaas@icfj.org or avales@icfj.org.
---
As a young girl in a London school, Ann M. Simmons decided she didn't want to study French. Instead, she took Russian, which would shape the course of her career.
"My life was basically decided at 11 years old because of the fact that I was put in the Russian class," she said. "I developed an interest, an extreme interest — a passion almost — for Russian history and literature."
For the past three years, Simmons has been the Wall Street Journal's Moscow bureau chief. Though she always wanted to be in Russia, her career took many twists and turns before she landed there.
Simmons graduated from university with degrees in Russian and Norwegian. After working for a year at publications in London like The Caribbean Times and The Voice, which focused their reporting on immigrant populations in the country at the time, she enrolled at the Columbia University Graduate School of Journalism. From there, Simmons took a job at the Miami Herald before moving on to Time Magazine.
"After about six months of working [at Time] as a reporter-researcher, I was offered a job as a reporter in the Moscow bureau," she said. "This was in the early 1990s, a fantastic time to be there. It was the demise of the Soviet Union, the coup against Gorbachev and the rise of Yeltsin."
Simmons returned to the U.S. and covered domestic policy, but her passion lay overseas. She eventually took a job as the Nairobi bureau chief for The Los Angeles Times. She also covered Hurricane Katrina and Iraq for the publication.
Still, she always wanted to be back in Russia. "I was keeping up my Russian. The whole time that I was in L.A. I had a tutor," she said. "And along came the Wall Street Journal."
While in Moscow, she's covered everything from geopolitics and human interest stories to the pandemic. I spoke with Simmons about her career, advice she has for aspiring correspondents and what it has been like for her as a Black woman in foreign correspondence.
IJNet: Many people want to be foreign correspondents, which is a challenging field to break into. What advice, tips or what lessons have you learned in pursuing international reporting? 
Simmons: My advice is you have got to be educated in so many different parts of the world. 
It's really being thirsty for information and reading up on everything. My passion, as well as Africa, was Russia, so I knew that I had to keep up my language skills. I also had to consume all of the news I could get about Russia in any magazine. So if I ever got an opportunity to get into a room for an interview, I could say, "Well, you know, I've been keeping up with events in this particular country."
Learning the language also helps if you're in a position to learn another language. That puts you one step ahead of everyone else when going for a job. I always say to young people, and I know it's very difficult now because of the circumstances that we're in, but try to travel. I know it's not fair to say this if people don't have the means to do it. But if you can, take a short trip even across the southern border into Mexico. While you're there, even if it's on holiday, always look for story ideas. When you walk into a room or when you are even at the beach, open all of your senses. What do you see? What do you hear? What do you smell? All of that goes into writing a powerful story.
One of the best things also is to network. I do a lot of talks for the National Association of Black Journalists. I have in the past been on panels and done workshops, and I give out my card. Only one or two people have ever taken advantage of it each time. If people are offering their cards to you, you have got to respond to them if you're really serious. It's up to you to follow up. Hound people. Don't give up. Knock at the door. If it's closed, bang again. All of that is good training for reporting.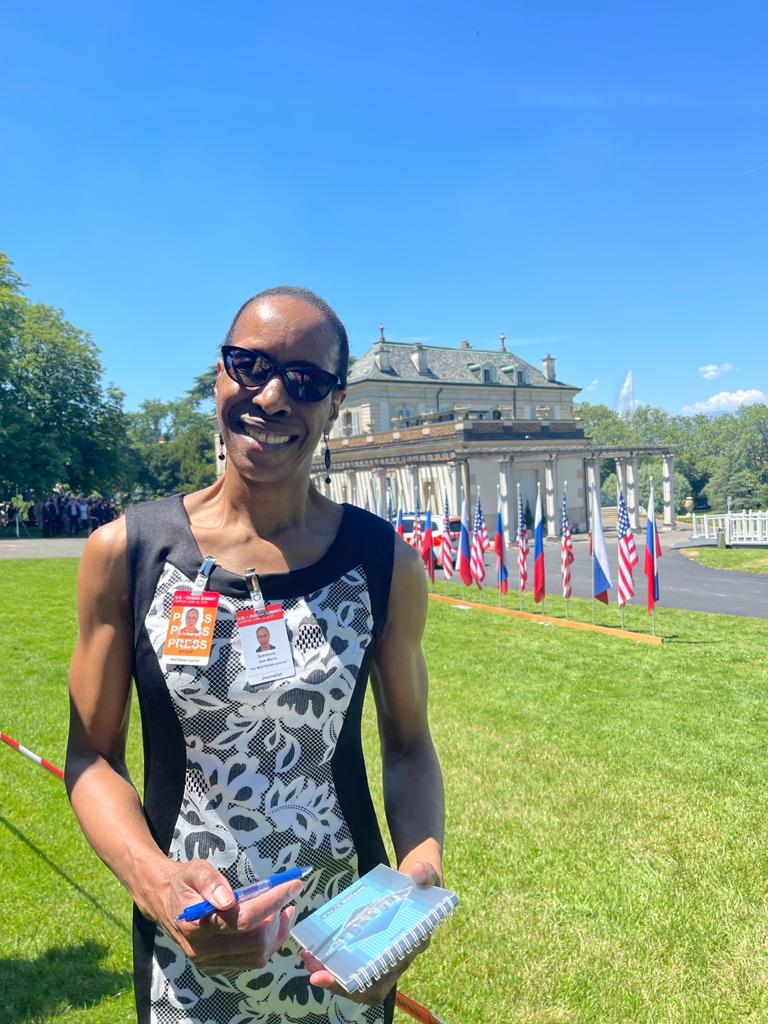 What stories do you enjoy covering, especially during the pandemic? 
I really like covering the geopolitical stories, the stories that basically tell us what Russia's role is and what Russia wants its role to be today on the global stage. That is one of a country that is respected — a country that has so much to offer but feels attacked at times by the West (and I'm speaking from what I have heard from officials here).
It's also important for me to do social stories and to show people outside Russia that no, there are not bears walking down the main street in Moscow or, yes, people do wear fur coats. It is cold here, but there's so much more. It's telling the story of who Russians are and what Russia is, and how this place has come such a long way. If you're in Moscow or St. Petersburg or any other big city, you could be in any western capital in terms of what is available. Obviously, that is not the same in the hinterlands here. That's what we strive to show people. Just like New York isn't the United States, Moscow isn't Russia.
In terms of the pandemic, Russia was first out of the gate with a vaccine: Sputnik V. And it has launched a promotional campaign to try and sell this vaccine overseas. There's been a bit of reluctance to take it from its own population. We've also written about the fact that in Moscow and St. Petersburg, you can go to a good hospital if you get sick, but just outside of Moscow, I reported a story recently where a wait for an ambulance was 24 hours. The hospitals are overcrowded and the people piled up in hospital corridors because there weren't enough beds for them. So there are two different pictures here.
What can you tell us about being Black in U.S. media, and as a foreign correspondent? Are there any experiences or challenges that you would be willing to share that could be helpful for other Black journalists who are thinking about entering the field? 
Number one is, do not get pigeonholed. What I mean by that is, yes, I'm a Black journalist and yes, I am very much interested in covering the African continent, but because I'm Black, it doesn't mean that Africa is the only place I want to cover or the only place I'm interested in. My interest is Russia. 
I have a British accent, but if I'm on the phone with someone, they may not expect me to be a six-foot-two tall Black woman. I've turned up and it's been a shock or a surprise. [It's] not hostility, but you're wondering at the same time, "Is this person going to react differently to me because they realize now that I'm a Black person?" I would say, don't let color get in your way. The way I see it, if someone has a problem with a person with my color, that is their problem, not mine. And I cannot allow that to affect me and my job. 
There is still in U.S. society unconscious bias, as there is in the U.K. and a lot of other nations. My experience in Russia has been interesting. I've seen it evolve. For example, when I was a correspondent here in the 1990s, it wasn't as common to see a Black person, and certainly not a Black Western female. There were a lot of looks and stares. But I actually use that to my advantage because there was curiosity as well as ignorance.
Today, nationality plays a big role because immediately people think I'm African American because I hold both passports. I get a lot of questions now like, "What is it really like in the States for Black people?" That comes up because of all that transpired last year with the Black Lives Matter movement. 
In terms of doing journalism, I have not found it to be a disadvantage in Russia. In Moscow and St. Petersburg, the big cities, it's very easy to move around now because people are more used to seeing people of color. But if you venture out into the suburbs or into other parts of Russia more remote, into the hinterlands or even to some of the former Soviet republics — I was recently in Azerbaijan, for example — there is still a lot of curiosity and a lot of stares. I would say that has not affected me practicing journalism. In many ways, it's enhanced my ability to do so because that allows me to engage in a conversation. 
What are some practical ways you wish to see newsrooms supporting staff of color? 
The first half of the battle is realizing where your weaknesses are and then secondly, that you address your weaknesses. I would say the company I work at has done an excellent job in doing that. In general, I would say that companies need to think about ensuring that for every job there is a qualified person of color in the mix for an interview. Obviously, that's not written down on anyone's resume, but you can actively go out and headhunt people. Put the word out among your staff, "We are looking to interview 10 people for this particular job. Do you know any qualified people of color who can be in the mix?" I'm not talking about giving someone advantage, but about having equally qualified people in the room for interviews. 
Number two is diversifying the type of sources that you reach out to. For any story, try to contact some people of color as experts. There are a lot of experts out there in various fields. It's not just people of color, it's about women and people of color. It's also important to have a place where you can have an open conversation and The Wall Street Journal has been very good about that in terms of giving people an opportunity just to speak their mind. There needs to be a safe space where everyone can ask questions and be allowed to say, "Look, I'm not being disrespectful to anyone, I just don't know this particular aspect of your culture. Can I ask about it?" 
Inclusivity is so important. It is such a cliché when you say, "a diverse newsroom leads to far better coverage and far better engagement of people who come to your product." But it really is — inclusivity and diversity are key to good journalism. 
---
Taylor Mulcahey is a freelance writer and editor based in Minneapolis. She is the former managing editor of IJNet.
Main image courtesy of Ann M. Simmons.
---