Wednesday's massacre of the journalists working for the French satirical magazine Charlie Hebdo has shocked the world with its brutality, and reignited the debate about free expression.
A total of 12 people were killed when armed gunmen stormed the magazine's offices, and allegedly called their targets by name. Among those killed were leading cartoonists including Stéphane Charbonnier, Jean Cabut and Bernard Verlhac. World's cartoonists rallied behind the victims, using the hashtag #jesuischarlie (I am Charlie), and drawing their own sketches which mourned their fallen colleagues.
The fatal attack also ignited the debate about security for cartoonists and satirists and how to deal with threats. IJNet spoke with a number of cartoonists to ask them their thoughts on security. Among those interviewed by the IJNet team were Rob Rogers, a cartoonist for the Pittsburgh Post-Gazette; Carlos Latuff, a freelance Arab-Brazilian cartoonist; and Nate Beeler, an editorial cartoonist for The Columbus Dispatch.
IJNet: Do you think satirists and cartoonists receive the same protection as other journalists? Is their protection taken seriously by their media organizations?
Carlos Latuff: No, because journalists usually take their jobs more seriously when dealing with such threats. Cartoonists play with criticism in a satirical way, and maybe because [of] that they downplay the seriousness of the issue. But after this tragedy, some cartoonists will need bulletproof vests, and even bodyguards!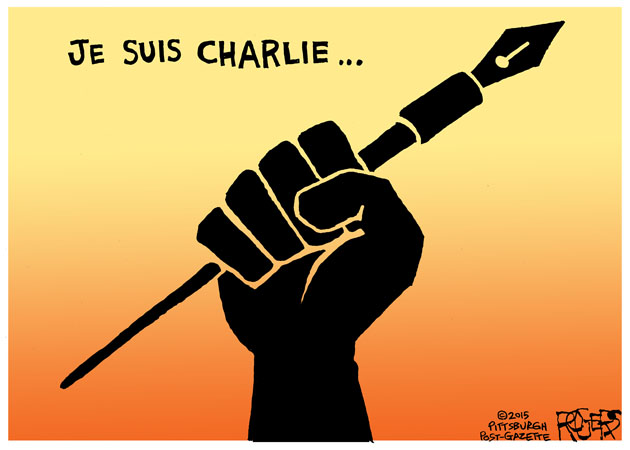 Nate Beeler: There has been a disturbing trend over the past decade of papers laying off their cartoonists and then rehiring them on a freelance basis. Not only does this result in a loss in benefits and crippling decrease in pay, but it also deprives the cartoonist of security measures, since he or she would then be working from home. The freelanced cartoons still bear their signature and elicit the same responses as when they were paid staffers. For crazy would-be murderers, the only substantial difference is the cartoonist isn't guarded by the paper anymore.
IJNet: Have you ever been threatened as a result of your work? If yes, how did you deal with it?
Rob Rogers: Yes, I have been threatened. I think every editorial cartoonist worth his or her salt has angered somebody enough at some point to warrant a negative response. Threats aimed at me came in the form of emails, letters and phone calls. I have never feared for my life.
Carlos Latuff: Yes, dealing with Palestine and police brutality in Brazil, I got some threats. I just let it go. There's nothing [much] I can do. I could stop making cartoons and disappear, but then the cartoonist himself would disappear with me. If you are dealing with sensitive issues, you are assuming the risks.
IJNet: How can we prevent another tragedy like what happened yesterday? Any lessons learned from this tragedy?
Rob Rogers: I think the best way to prevent another tragedy like this is to continue to champion free speech and satire. In other words, we need to draw more cartoons. It is important to show these brutal terrorists that they will not prevent the cartooning community from sharing their art. Some have suggested that the Charlie Hebdo cartoonists invited the attacks because of their offensive cartoons. That is wrong. That is the same as blaming a rape victim by saying she invited the assault because of the way she was dressed.
Main image CC-licensed on Flickr via Keno Photography. Secondary image ©2015 Rob Rogers/Pittsburgh Post-Gazette. Reprinted with permission.
---