If you're a one-person newsroom or the only person working on membership at your organization, the Membership Puzzle Project understands that you can't do everything outlined in its Membership Guide about staffing a membership strategy. Based on its discussions with newsrooms of all sizes, the MPP research team suggests the following for managing membership in small and one-person newsrooms: 
Prioritize for the critical skills listed in this skills audit, particularly community management, metrics measurement, and basic marketing strategies. Read more on "Growing our membership" for an overview of how to create a largely automated marketing strategy.
Lean on software and outsourcing to streamline your processes. Software costs may seem hefty until you calculate how much time it will save you, freeing you up to do the membership-concerned work only you can do. For example, Eric Lubbers, in charge of tech and strategy at the Colorado Sun in the U.S., is the only person working exclusively on membership in his newsroom. He uses Zendesk to track and tackle recurring issues and make community engagement more manageable.
The Sun's Zendesk account features a list of frequently asked membership questions such as: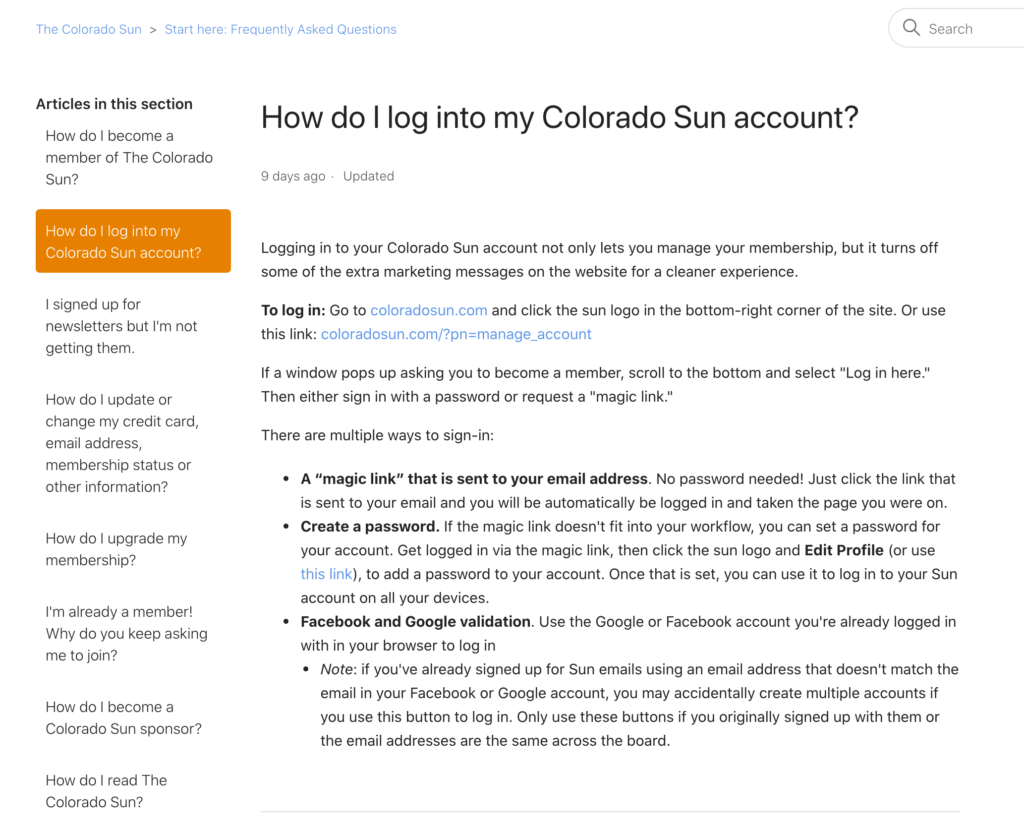 By putting systems in place for members to answer their own questions, the Sun was able to lighten its burden.
You can also outsource tasks like member benefit fulfillment. For example, The Narwhal in Canada decided to hire someone part-time to manage swag fulfillment after some back-of-the-napkin math revealed that it would cost less to hire part-time help than to make staff members spend hours every week packaging and mailing swag. The Narwhal calculated this by taking the hourly pay of a staff member and multiplying that by number of hours spent on fulfillment.
Be honest about what you can do – and what you can't. Setting realistic expectations with yourself and your members is key. "You're in the relationship business, so approach your membership program with the same authenticity that earned you your reader's attention in the first place," says Matt Kiser, the founder and sole employee of WTF Just Happened Today. Sherrell Dorsey, also the founder and sole employee of The Plug for its first four years, is emphatic that you don't have to do everything that members or subscribers ask you to do. For example, some readers have urged her to improve the user experience of The Plug, but because it doesn't seem to be hurting progress toward her growth goals, she has set that aside for now.
Keep it simple. Kiser advised keeping your membership program simple but flexible. "Maybe your program is $5 a month or $50 a year and it does pretty well. What would happen if you added a pay-whatever-you-want option but with a suggestion contribution? What if someone wants to write you a check? Can you cash it under your brand name?" Also keep in mind that adding tiers to your membership program might sound like a good idea when you are a small newsroom, but multi-tiered programs are much more complicated to manage on the back-end and may represent additional commitments to member support and engagement.
---
This article was originally published as a subsection of the Membership Guide by the Membership Puzzle Project. It was edited and republished on IJNet with permission. The full Membership Guide is now available in English and Spanish here.
Photo by Austin Distel on Unsplash.