Finding ways to fight disinformation has become a major focus of the journalism world — but the secret to combating these false facts lies in thorough, on-the-ground reporting, according to a panel at the recent International Journalism Festival.
"I don't fight the Kremlin propaganda machine. I fight to win the trust of my audience," explained Galina Timchenko, executive editor of the Latvia-based online news site Meduza and speaker.
As the information war between Russia and the West continues to escalate, Meduza adopts a non-confrontational approach in order to protect the integrity of journalism.
Engaging the audience in simple and clear terms and avoiding patronizing tones are among Meduza's strengths. While western media coverage tends to focus on Putin's machinations, Meduza invests a lot in reporting on the ground, with correspondents travelling to Russia's most remote regions.
Natalia Anteleva, CEO and editor-in-chief at Coda Story, agreed with that approach.
"We need to stop fighting fake news and start covering the issues," Anteleva said. She explained that on-the-ground, slow-paced reporting allows good stories to emerge from the mass of high-speed disinformation.
"If you are a reporter in the field and you are constantly filing, it compromises your ability to cut through the information noise," she said. That is why Coda journalists invest long periods of time on issues which are superficially covered by mainstream media. Instead of focusing on politicians' claims, they go to the field to verify facts themselves.
That is the approach adopted by Simon Ostrovsky, another editor at Coda, when he showed evidence of Russian military presence in Ukraine by following the steps of a too-careless Russian soldier. Ultimately, this kind of focused, thorough reporting can dig up "the real stuff," which, as Anteleva emphasizes, is still there, buried under the noisy surface.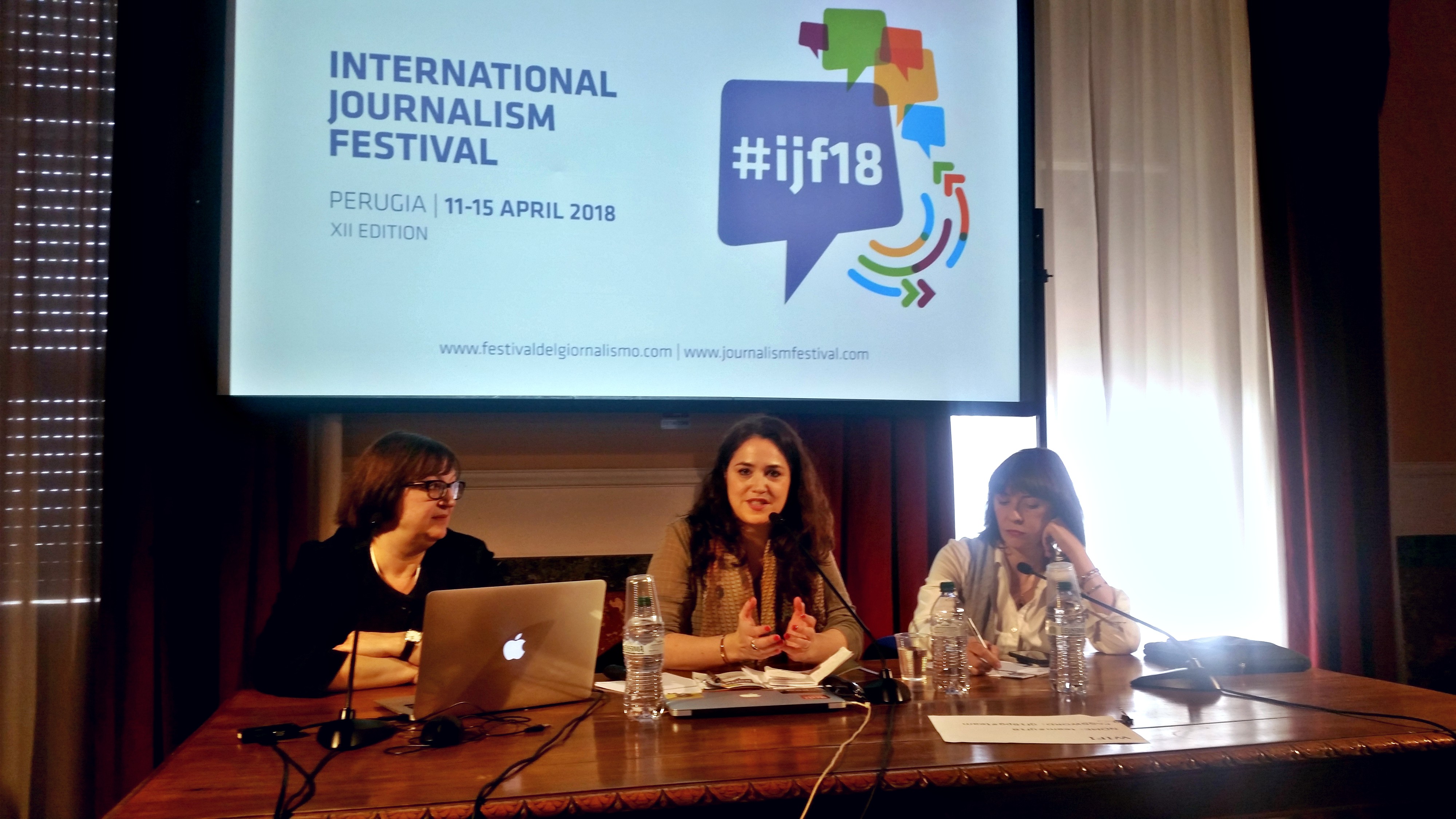 "Russia is a country of untold stories with a lot of real people, real heroes," Timchenko said.
Timchenko founded Meduza in 2014, after she left Russia with a team of fellow journalists because of the government's increasing pressure on independent media. Today, Meduza is widely recognized as a beacon of journalistic integrity and one of the most reliable sources of information about what is going on in Russia.
According to Timchenko, the current global mistrust toward the media has deep roots in Russian society, due to the long-lasting impact of Soviet propaganda.
"The Soviet Union has been producing fake news for many decades," she said. "We have been living all our lives in an environment full of lies. The indifference and apathy of our audience is the consequence of that: people believe in nothing."
As Timchenko pointed out, pro-Kremlin propaganda is spreading this cynicism well beyond Russian borders, fostering the narrative of a world full of lies, where "nothing is true but everything is possible."
However, even if there is enough evidence of Russia-sponsored disinformation sowing confusion and discord in the west, Timchenko sees the impact of such disinformation as largely overestimated, in particular when it comes to election meddling.
"We are still very far from understanding the impact of such interferences," said Andrei Soldatov, an investigative journalist and expert on Russian security services. Far more worrying for him is the effect that disinformation has in polarizing the western information ecosystem.
"The Kremlin was successful at least in one capacity: They make us speak its language, the language of threats and information security," he said, referring to western politicians and media experts echoing the information war rhetoric, which poses a serious threat to independent, fact-based journalism.
---