For anyone interested in understanding the attitudes and habits of news audiences, the annual Digital News Report from the Reuters Institute for the Study of Journalism at Oxford University is a must-read. 
This year's study, of course, plays out against the backdrop of the coronavirus crisis, a development that the report says is "almost certain to be a catalyst for more cost-cutting, consolidation, and even faster changes in business models."
Nonetheless, despite the uncertainty that COVID-19 has produced, many of the trends shared in the report pre-date the pandemic. And their repercussions will continue to be felt when we come out on the other side, too. As a result, these trends are too big for journalists and news outlets to ignore. 
Here are five essential trends — based on a survey of more than 80,000 digital news consumers in 40 markets — that you need to know. 
(1) Norway is the global leader for digital news payments
Data captured in January 2020 shows that more people are paying for online news, and Norway is the poster-child. More than four out of every 10 (42%) respondents in the country paid for online news at some point in the past year. Other markets, including parts of Europe, Latin America, Asia and the United States have also seen an increase in this space. 
At the same time, as the report authors remind us, "It is important to note that across all countries most people are still not paying for online news, even if some publishers have since reported a 'coronavirus bump.'"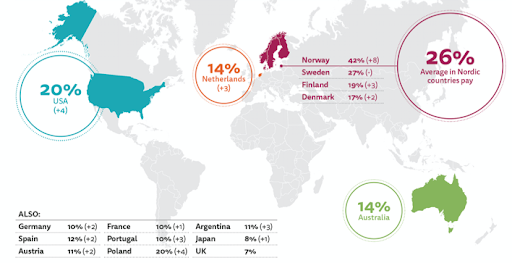 (2) Trust in the news media is lowest in France and South Korea
"As the coronavirus hit, we observed overall levels of trust in the news at their lowest point since we started to track these data," says the report.
Globally, fewer than four in 10 (38%) news consumers said they trust "most news [providers] most of the time." 
The figure is slightly higher when asking about specific news channels that consumers themselves use— rather than the wider news ecosystem. Nevertheless, less than half (46%) of digital news consumers said they trust the news they use themselves.
Although trust in search (32%) and social media (22%) is even lower, this conclusion should give journalists and news producers pause for thought. 
Only six countries — Finland (56%), Portugal (56%), Turkey (55), Netherlands (52%), Brazil (51%) and Kenya (50%) — enjoy trust levels above 50%. Trust levels are lowest in Taiwan (24%), France (23%) and South Korea (21%). 

(3) Social media is the leading source of concern for misinformation
Even though trust levels in news media are low (especially given the fact that survey respondents are news consumers, rather than the general public), the study found users are much more concerned about social networks being sources of misinformation than they are about news outlets. 
Across the sample, 40% expressed concern about false or misleading information being found on social media, versus 20% expressing concern for news sites and apps. 
Reflecting different news media habits around the world, across all countries Facebook (29%), followed by YouTube (6%) and Twitter (5%), were the leading sources of concern for false or misleading information.
However, in countries such as Brazil, Chile, Mexico, Malaysia and Singapore, where the adoption of WhatsApp tends to be higher, the messaging service led the way in levels of concern. 
As the study reminds us, "This is a particular worry because false information tends to be less visible and can be harder to counter in these private and encrypted networks."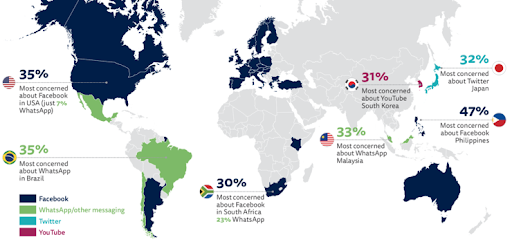 (4) YouTube, WhatsApp and Instagram are the fastest growing social news sources
Across the more than 80,000 sample of digital news consumers across the globe, Facebook (63%) and YouTube (61%) remain the most used social networks on a weekly basis, with WhatsApp (33%) in third place. Twitter (23%) ranks sixth, behind Facebook Messenger (28%) and Instagram (36%). The data is a useful reminder that journalists' social media habits do not necessarily mirror those of the wider population. 
This sentiment is even more applicable when examining how consumers use social networks for news. 
Across 12 major markets, Facebook takes the lead (36%) but YouTube (21%) is in second place, five percentage points ahead of WhatsApp. This suggests, perhaps, that some news organizations need to make the video channel a greater priority in the distribution of their work. 
The "Stories" format may be a further driver for the use of social networks like Instagram for news. In Brazil, Instagram is already considerably more popular (30%) for news than Twitter (17%). Chile (28%) also has a high adoption of Instagram for news.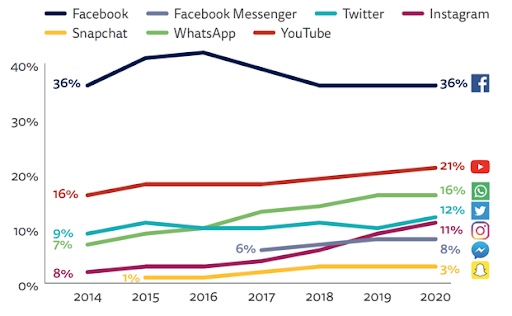 (5) Few consumers come to a news brands directly
News brands, and the journalists who work for them, need to continue to deploy a range of tactics to get their content in front of audiences. This is particularly true for younger audiences. 
Reuters' sample revealed that just 16% of Gen Z news consumers said going directly to a news brand was their primary way of accessing online news. Instead, other channels such as social media and search were more popular. 
Collectively, push notifications, mobile alerts, aggregators and email also accounted for how more than one in five (21%) young consumers find the news. 
With 72% of all news consumers saying they discover news via means other than a specific news website or app, this reiterates the importance of distributing your content across a variety of different channels, as audiences increasingly become brand agnostic.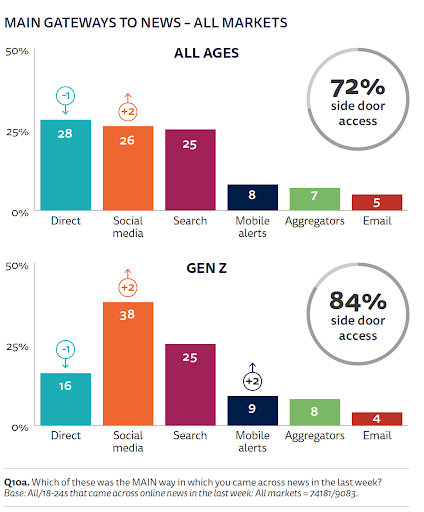 The 2020 Digital News Report comes at a precipitous time for journalists and the news industry. We know that COVID-19 is having a huge impact on business models, the practice of journalism, and our wider media habits. 
However, if anything, the coronavirus makes it even more important that changing news habits — including "changes in how people access news, low trust, and rising concern[s] about misinformation" — are addressed. 
Understanding audience behaviors and habits, on a market-by-market basis, is more important than ever. Click here to find out more.
---
Damian Radcliffe is the Carolyn S. Chambers Professor in Journalism at the University of Oregon, a fellow of the Tow Center for Digital Journalism at Columbia University, an honorary research fellow at Cardiff University's School of Journalism, Media and Culture Studies, and a fellow of the Royal Society for the Encouragement of Arts, Manufactures and Commerce (RSA). He also hosts the Demystifying Media podcast, in which he interviews leading journalists and media scholars about their work. Find him on Twitter @damianradcliffe.
---