This is the fourth article in a multi-part series by SembraMedia on how independent news sites can achieve financial stability. See part one, part two and part three. 
In Venezuela, a "cocuyo" is an insect similar to the firefly. A solitary cocuyo doesn't give off much light, but when hundreds or thousands group together, they give off enough light to illuminate darkness. For this reason, it's no coincidence that Efecto Cocuyo, a Venezuelan digital outlet created in January 2015, has set itself the goal of using objective reporting to shed light on what is happening in a country where quality journalism has been losing ground.
"We were always going to bet on crowdfunding as a means to more income," says Luz Mely Reyes, the CEO and co-founder of Efecto Cocuyo. By the end of 2015, Efecto Cocuyo launched its first collective fundraising campaign with remarkable success.
"We raised more than US$27,000 in just over two months," says Reyes. Although the goal of the first campaign was to raise US$75,000, the US$27,000 ended up being worth twice as much in a matter of months, due to Venezuela's fluctuating exchange rate. The campaign generated so much interest that another online Venezuelan news site, El Estimulo, wrote an article about lessons learned from Efecto Cocuyo's crowdfunding.
In 2016, Efecto Cocuyo set a less ambitious goal than in 2015 with the "Who Said Fear?" campaign: raising at least US$40,000. They made a 2:30 minute video that discussed the Venezuela's medicine shortages, and the coverage that Efecto Cocuyo has provided. In the end, they requested the support of their readers to continue doing journalism. The campaign lasted two months and earned US$5,391 from 93 donors. They used the Indiegogo website to receive donations, specifically in dollars, as the Venezuelan bolivar faces serious devaluation problems.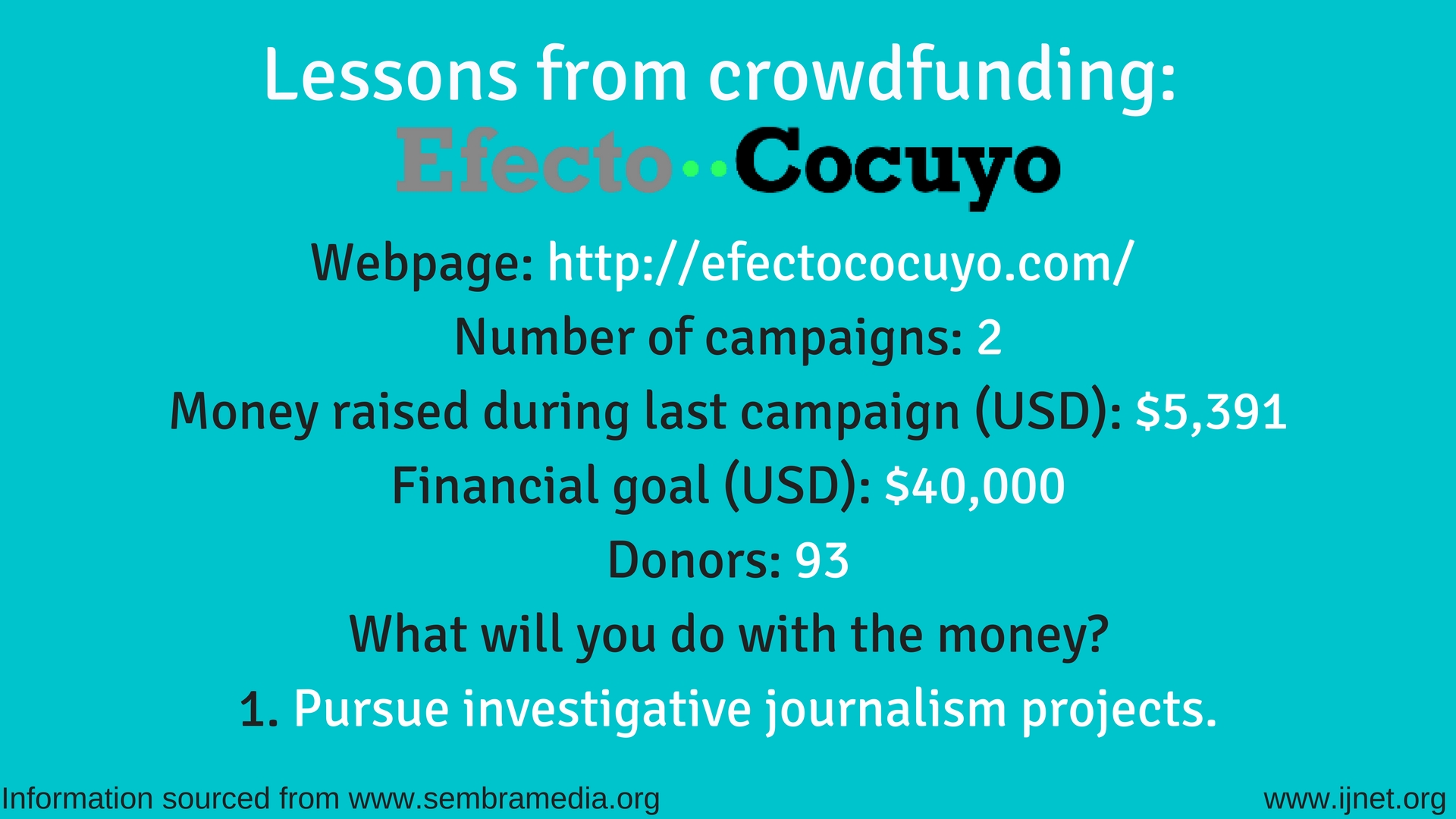 Both the 2015 and 2016 campaigns were "completely grassroots, without the need for advertising or marketing agencies," explains Reyes. According to her, she does not see the need to hire these agencies, but she does depend on a specific person to follow up on the campaign and its donors throughout the year.
When Reyes is asked why the 2016 campaign did not meet its goal, she says she believes there are three fundamental reasons:
1) Because of the ongoing economic crisis, the majority of Venezuelans residing in their home country do not have access to foreign currencies; in this case, dollars.
2) Because the majority of Venezuelans abroad — who do have access to dollars — are primarily helping their families and friends who are leaving the country.
3) Because Efecto Cocuyo's internal workload was so great in 2016, they spent little time thinking about and operating the campaign, which was overly focused on social networks.
For Reyes, who was responsible for the campaign, the call to action was clear and understandable, the video was shared widely, and many people became interested in the journalism of Efecto Cocuyo. However, "it remains a challenge to understand when a crowdfunding campaign can be successful or not."
According to Reyes, everyone on the team was aware that the economic crisis would make the campaign difficult, but they decided to launch it [anyway] because they believed that Venezuela's ongoing situation — weariness with the government and popular anger — could motivate more people to support in-depth journalism.
Reyes is straightforward about the results of the 2016 campaign: "In terms of revenue we did not do so well, but it was quite a learning experience," she said. "When a person supports you, even if it's just a dollar, with the economic, political and social crisis that Venezuela is going through, that person becomes a partner, an accomplice who must be sought. "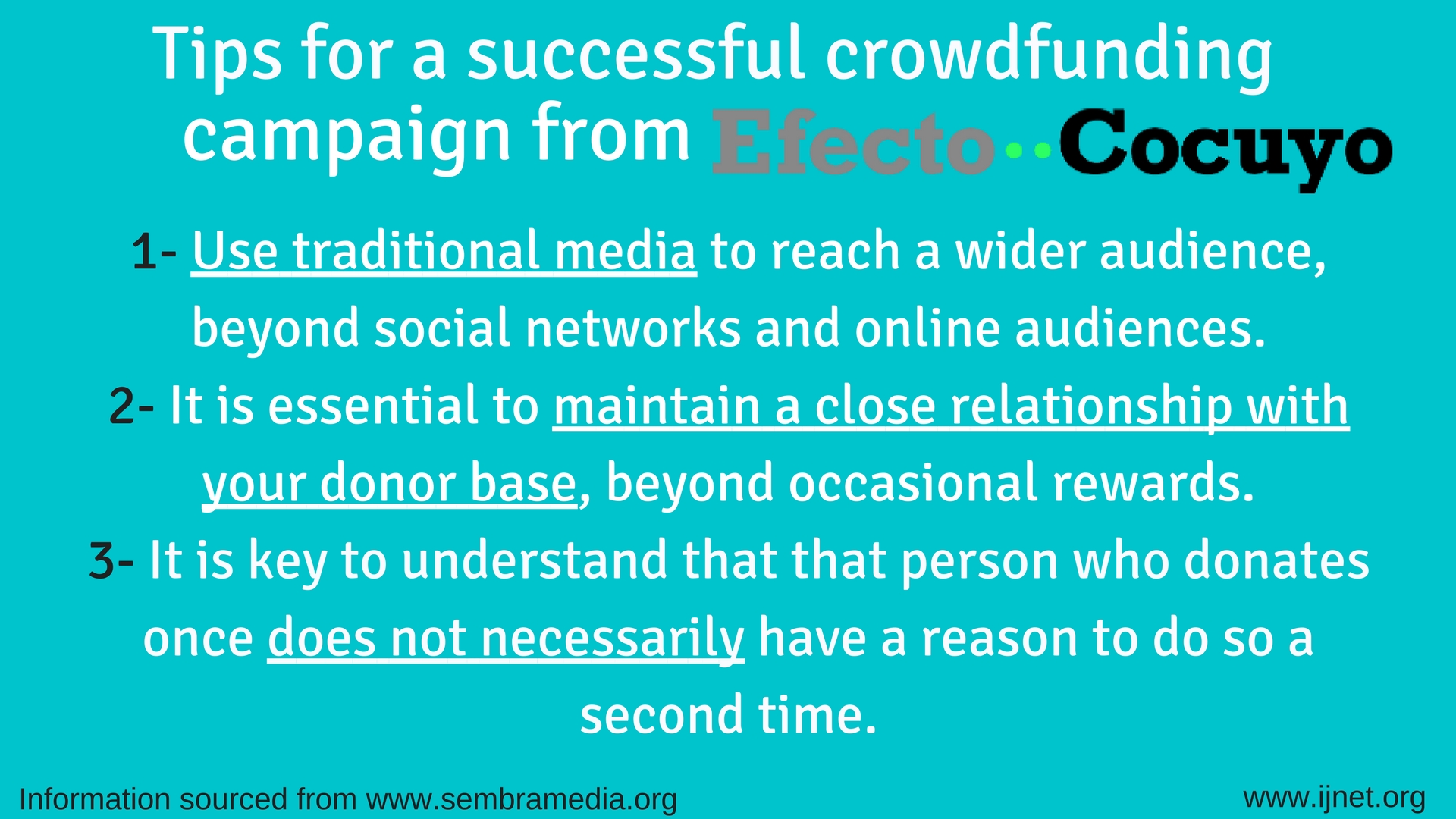 This article was translated and republished with permission (see the original in Spanish here). It is part of a series on creating financially viable journalism by SembraMedia, an organization dedicated to improving the quality of news content available in Spanish.
SembraMedia's founder and executive director is ICFJ Knight Fellow Janine Warner, who is an expert at helping digital media entrepreneurs implement sustainable business practices and generate new sources of revenue online. Learn more about her work as an ICFJ Knight Fellow here.