This is the third article in a multi-part series by SembraMedia on how independent news sites can achieve financial stability. See part one and part two. 
La Silla Vacía is one of the most important political news websites in Colombia. It emerged in 2009 as an initiative committed to independent and innovative journalism, is 100 percent digital, and focuses on reporting "the power movers and moves."
Since then, Juanita León, its director, and the rest of the team have clearly understood the importance of being an outlet that is close to its readers. For example, it's common to see León and the journalists of La Silla arguing and participating in the comments section of each blog, article or report that they publish. La Silla Vacía was one of the first digital media organizations in the region to launch a platform — called La Silla Llena — which allows users to follow, read and interact with experts from specific areas that publish via the medium.
That being said, it's not a stretch to say that La Silla Vacía was one of the pioneers of crowdfunding journalism in Latin America. Its first campaign, in 2012, was dubbed The Super Friends of La Silla Vacía. According to Juan Esteban Lewin, co-editor of La Silla, there have always been two goals to these campaigns: firstly, to diversify their sources of income, betting on business models that guarantee editorial independence; and secondly, to grow closer to its community of readers.
In the last quarter of 2016, La Silla carried out its fifth collective fundraising campaign, with bittersweet results. In 38 days of the campaign, 600 donors contributed COP89 million (just over US$29,000), a not insignificant amount that will make up almost 5 percent of La Silla's 2017 annual budget. With these resources, La Silla will buy cameras, microphones and train its team to strengthen its audiovisual section; they will also carry out five major journalistic investigations.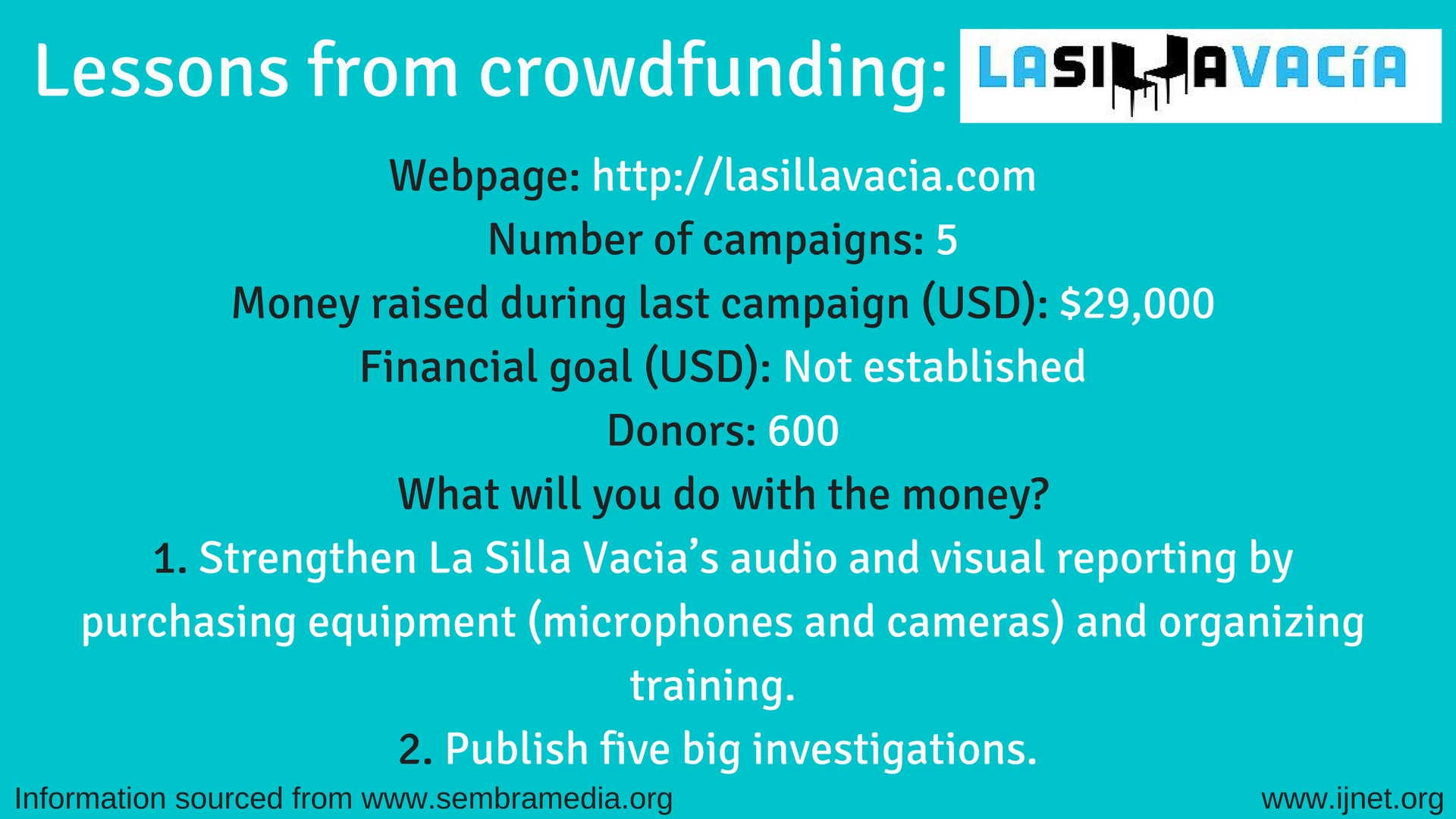 According to Lewin, before the start of the 2016 campaign, they had set a specific goal: to exceed the number of donors in 2014 and achieve 750 Super Friends. "We didn't make it, but we did exceed the number of donors from the previous year, and we got a record of donations in Colombian pesos," he explains.
However, in 2016 they were still far from their [fundraising] goal, despite the fact that La Silla published exceptional coverage about Colombia's peace process between the government and FARC guerillas, which even earned them a 2016 Gabriel García Márquez Prize for journalism.
Juan Esteban explains two possible reasons for why they didn't achieve their goal: "On one hand, we believe we do not have clear enough strategies to distribute our message between readers, friends and people beyond our circles. There is no one person responsible for the campaign and we have always been very grassroots, and this can be a weakness. We are not experts in marketing and we have never hired advertising agencies or producers."
"On the other hand, we still have technical problems with the donation platform. What's most frustrating is that there are people who want to donate, who try one, two, three times, and can't due to technical reasons."
Gracias a todos nuestros Súper Amigos por apoyarnos y fortalecer nuestra independenciahttps://t.co/CZafeU4qci pic.twitter.com/4Y6U8CUVUz

— La Silla Vacía (@lasillavacia) December 9, 2016
A sample tweet published by La Silla Vacía during its 2016 crowdfunding campaign.
In order to facilitate donations from abroad, during their last crowdfunding campaign La Silla Vacía used a donation platform — Payu Latam — specifically designed for the campaign and integrated into the website, in addition to Indiegogo.
Like Salvadoran investigative news site El Faro, La Silla Vacía also set a maximum limit for each donation, US$350, in order to not feel indebted to any single donor. For Lewin, the positive side is that there are people willing to move from ideas to action, who agree to donate and support investigative journalism. "I would say that the crowdfunding campaigns of La Silla Vacía have the potential to to continue growing, but we need a clearer strategy. If we keep doing what we've done, then we've reached our limit," he says.
"A culture of donations doesn't exist in Colombia," León added in an interview with Colombia's Semana magazine. "Deciding to donate means breaking your inertia. But in doing so, donors are not only helping to keep us alive, but also ensuring that other journalistic projects like La Silla can emerge in the future."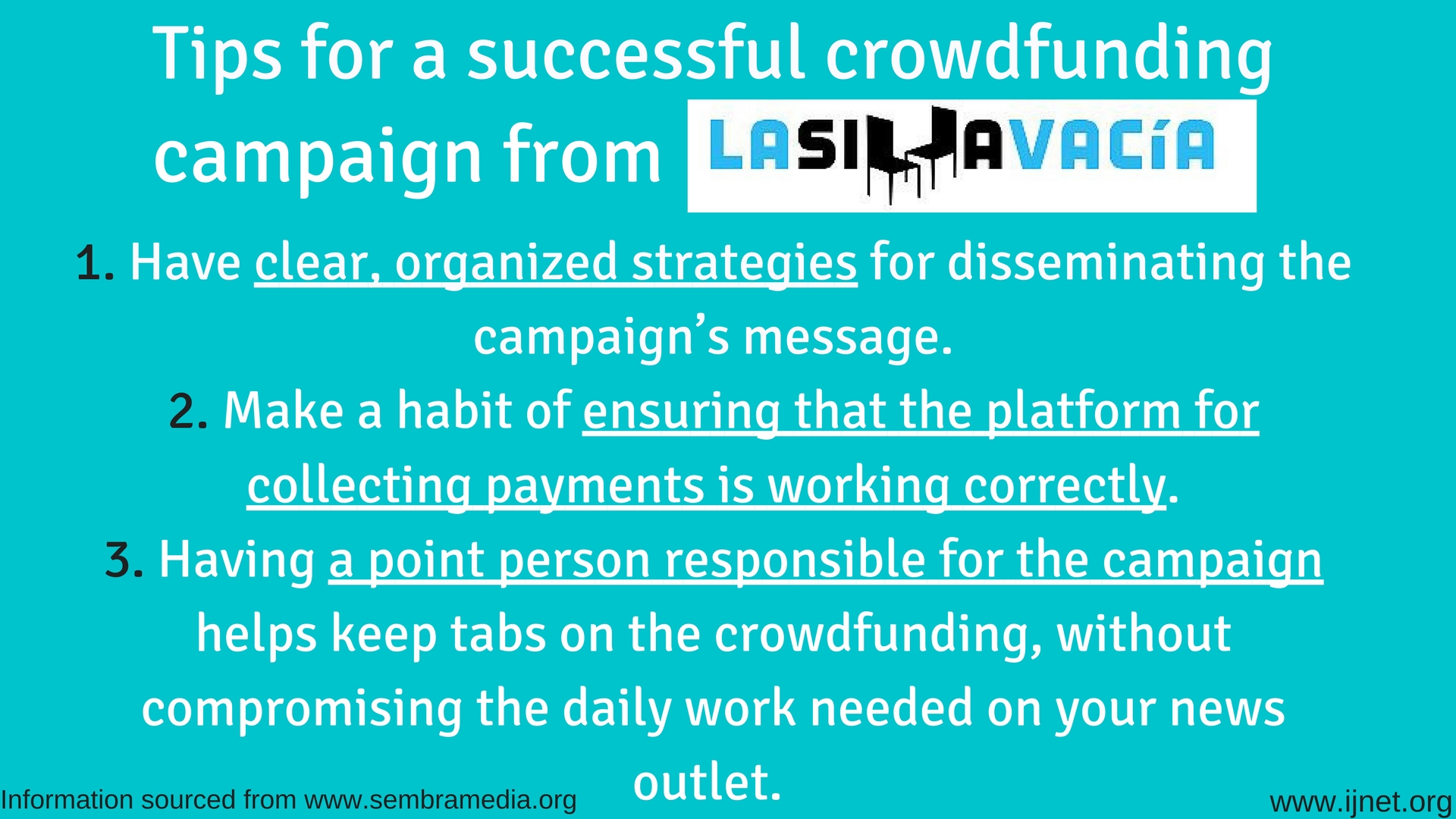 This article was translated and republished with permission (see the original in Spanish here). It is part of a series on creating financially viable journalism by SembraMedia, an organization dedicated to improving the quality of news content available in Spanish.
SembraMedia's founder and executive director is ICFJ Knight Fellow Janine Warner, who is an expert at helping digital media entrepreneurs implement sustainable business practices and generate new sources of revenue online. Learn more about her work as an ICFJ Knight Fellow here.