Early in her career, Brazilian reporter Natália Leal held a fundamental concern: Journalists would take unvetted claims from public figures and place them directly in front of readers. It didn't sit right with her. 
While working as a digital editor in the southern state of Rio Grande do Sul in 2014, Leal discovered an alternate approach: fact-checking. "Maybe it cannot save journalism, but it can help people understand better," she thought. 
Fast forward to 2021: Leal, 34, now heads Agência Lupa, Brazil's first fact-checking website, and the very one that trained her in this method of verifying information.
Under her leadership, the organization has conducted more than 1,500 fact checks on claims made about COVID-19. It has debunked widespread rumors, like those about empty coffins being buried, and verified critical data around fatalities in Brazil in 2020 compared to the prior year. Beyond fact-checking, her cutting-edge reporting has demonstrated in stark detail the magnitude of the toll COVID-19 has taken in her country. She and her colleagues persist, despite the online attacks lodged against them by followers of Brazilian President Jair Bolsonaro.
This year, Leal is an ICFJ Knight International Journalism Award winner. 
At a time when journalism in Brazil is at an inflection point, as Leal believes, the pandemic has made clear the value of fact-checking. More than 21 million cases of COVID-19 and over 600,000 deaths have been recorded in the country to date. False, harmful information, often coming from the government itself, has circulated widely. "Journalists and the government are supposed to have the same goal – give people the best conditions. But that's not what's happening in Brazil," said Leal. 
Fact-checking, she warned, might not be enough to combat the rampant mis- and disinformation, but it's critical, nonetheless. "We know that verified information doesn't have the same impact that misinformation has, but what we are trying to do is spread verified information that can reach people."
Verified information in the face of these challenges can save lives, Leal explained, noting that it has helped people make vital decisions, such as dismissing unproven treatments. It has also increased trust in vaccines. "My passion for fact-checking is always increasing because I really trust we're doing a different job here. We are qualifying the public debate, we are increasing critical thinking," she said. "I think this is the way we will give our audience better information to make their decisions."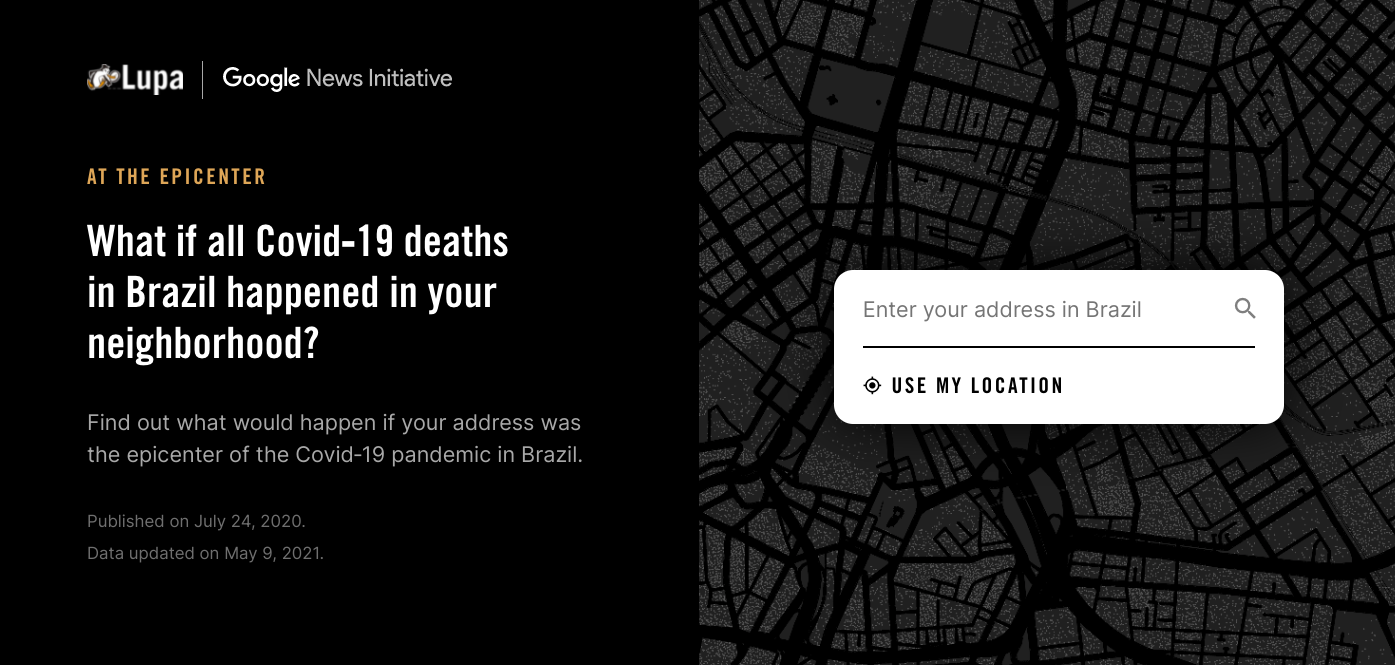 "What if all COVID-19 deaths in Brazil happened in your neighborhood?" Agência Lupa asks in one interactive reporting project launched in July 2020. Conceived and edited by Leal, "No epicentro" ("At the epicenter," in English) allows users to enter their address to see what would happen if all confirmed deaths in Brazil occurred in the immediate vicinity. A few months later, The Washington Post replicated the simulation for the U.S. scenario. No epicentro has won awards from the Society of News Design and WAN-IFRA, and was recently nominated for a 2021 Gabo Award, which recognizes top reporting in Ibero-America.
For Leal, a collaborative, cross-disciplinary approach is key when it comes to countering misinformation. Agência Lupa partnered with public health bodies, for instance, to obtain reliable information since it couldn't rely on the government. Psychology, anthropology and sociology may also have something to contribute to combating it, she said. "It is even related to inequality. In countries where the population doesn't have the same conditions, people don't have a proper education or access to basic services — this has a huge impact on their lives."
Agência Lupa's readership increased during the pandemic, signaling to Leal that the outlet's reporting was resonating with people. It enabled her to grow her team, too. "It was totally crazy, in fact: new hires, new reporters, new editors, a lot of misinformation spreading in Brazil," she said. The outlet has used a diversity of formats, from the interactive "No epicentro" to videos on TikTok, to gain a wider, more engaged audience.
Leal acknowledges the many challenges presented by misinformation, including a lack of consensus around what it comprises, and limited access to public data to conduct fact-checking. It goes well beyond journalism, she added. "It's a problem that we have as a society," she said. "You don't solve this problem just with journalism and fact-checking."
Today, Leal's goals are to continue to support and lead her team, while raising Agência Lupa's profile internationally, and improving the outlet's sustainability. "It's not just the information. I need to do it, because if I do it in the right way, reporters and editors can do their best work," she said.
Leal knows that this behind-the-scenes work can be thankless, but she stressed its importance. "I always ask myself if these things that I love to do – being backstage, helping people, helping reporters do their best work – belong to journalism," she said. "When you're a person who is doing this, you are always asking yourself if you are doing journalism. And when I look at my career now, I have this feeling that I'm doing the right thing."
---
Main photo courtesy of Natália Leal.
---