On September 26, 2019, in the city of Rouen, Normandy, a fire tore through a plant run by chemical firm Lubrizol and burned more than 5,000 tons of chemicals. One of France's largest industrial accidents, the Lubrizol fire also hit close to home for French newspaper Paris-Normandie. Not only did it happen in their city, their office was in the fire's danger zone.
While covering the fire, Paris-Normandie doubled their usual monthly site visits and subscriptions, setting an all-time monthly record. To achieve this, the newsroom struck the delicate balance of covering an enormous breaking news story while reminding readers about the value they provide to the local community. They made the case for people to financially support their journalism.
Below, Paris-Normandie's leadership team shared tips for newsrooms facing similar situations.
Get on the same page.
Paris-Normandie published its first story about the fire at 4:30 a.m., a few hours after the plant caught fire. Blocked from going to work in the newsroom, the leadership team then sprung into action using a WhatsApp chat room they created during the Accelerator to facilitate cross-team collaboration. There, the chief digital editor, head of digital marketing, project manager, and CTO strategized how to approach the news event from an organizational perspective. "It was teamwork with a public mission," says CTO Dorothée Frenel.
On the first day, make all your coverage free.
Usually, Paris-Normandie keeps a 30% rate of paid articles on the website, but they made all content free to read and watch on the fire's first day. The site had 400,000 visits, 4x their average.
"We usually decide that an article should be paid because it is either exclusive or offers a new angle on a story others have covered, or because it strongly adds value," said chief digital editor Amandine Briand. "In the case of the fire, it was obvious for us on the first day that any information should be given for free. People were looking for information, they needed to know what was going on, and we had a public service mission."
During live coverage that ran 24/7 for three days straight, journalists covered the event and answered readers' questions. Additional articles shared new information and fact-checked fake news as the story developed.
Push the news to your readers with a special newsletter.
The morning of the fire, the marketing team sent an email to nearly 15,000 people who subscribe to Paris-Normandie's daily newsletter and encouraged them to follow the live coverage. It had a 30.9% open rate and a 13.5% click-through rate.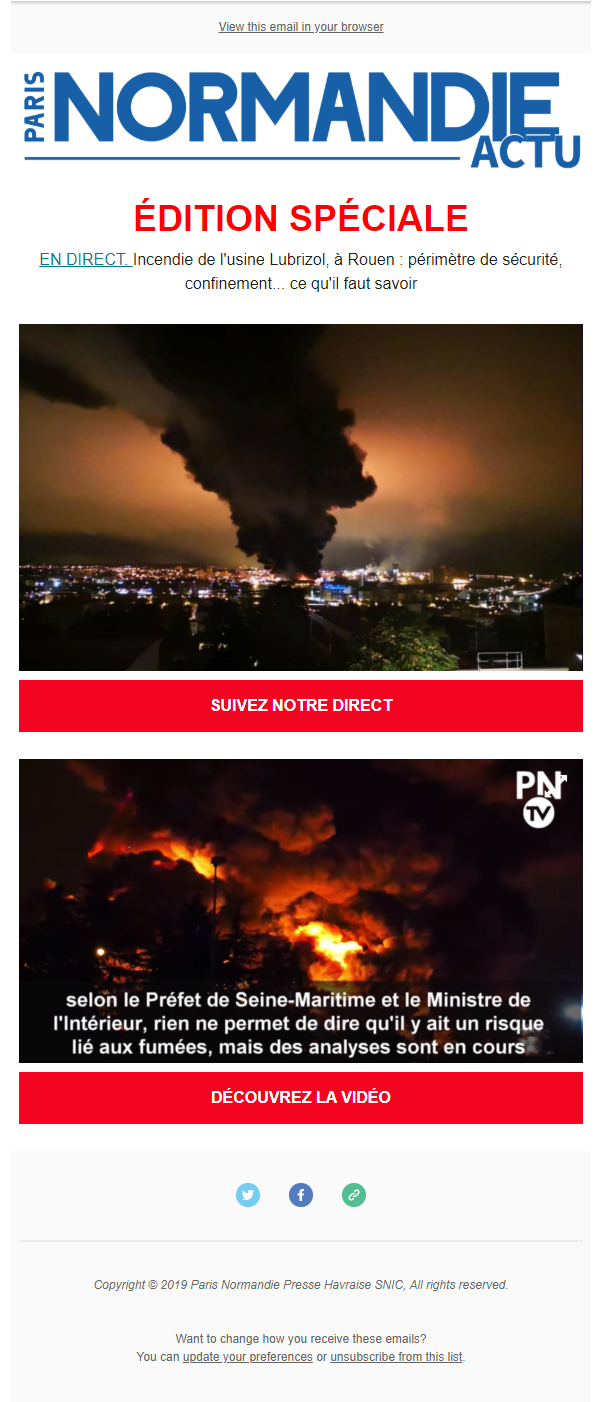 "Stick straight to the point" when it comes to writing the alert, said head of digital marketing Mélanie Hartmann. Your email should sound like an important public-service alert: short and direct.
Email a preview of the next day's newspaper, but require a subscription to read it in full.
In another email sent that night to all newsletter subscribers, readers could view an e-edition of the newspaper they would otherwise have to wait to buy on newsstands the next morning. People got the first three pages for free and had to subscribe to read the rest. This had an open rate of 25.1% and a click-through rate of 8.1%.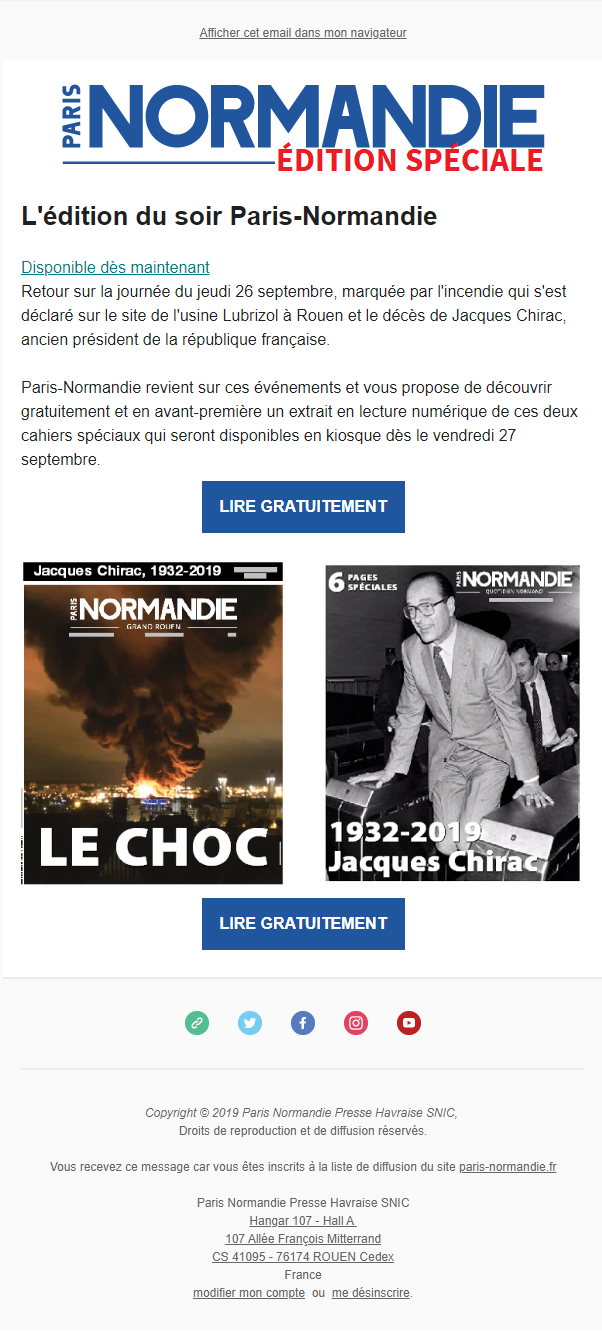 "We sent this newsletter just once because it took more time than we thought," Hartmann said. "Everyone had so much to do that day and this had to be done manually — we had to wait for our colleague in the editorial department to prepare the PDF and then put it in the CMS system before we could send the email."
This drove six subscriptions that day, 7.5% of the month's total subscriptions.
In the following days, put some articles behind your paywall — and explain why.
"The day after the fire, we needed to think about offering content that could help us grow subscriptions," Briand said. "We mostly chose to put behind the paywall articles that included a thorough analysis, and exclusive stories such as the first interview with the owners of one of the storage areas reached by the fire. Those two stories led to two subscription spikes." Visits to premium articles increased about 40% and subscriptions increased 24% in a two-week period around the fire, compared to the two previous weeks.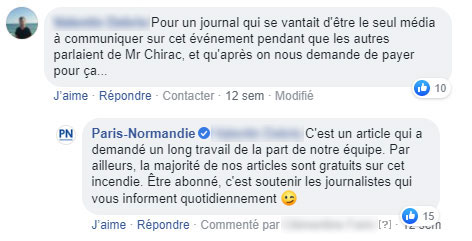 When they published a paid story analyzing more than 500 documents released by authorities about the fire's impact, Briand said, "many comments on our social networks showed that people did not understand why they should pay for this, because it was a matter of public health and everyone had the right to know. The same argument was heard inside the newsroom. Everyone does have the right to know, indeed, but it took us days to work through all [the documents], and we did it while covering everything else about the fire and other news. We explained that and answered all of the comments. And we will continue to explain why you should pay for good content."
---
This article was originally published by The Facebook Journalism Project. It was republished on IJNet with permission. 
"How They Did It" is a series of practical guides each illustrating how a leading publisher improved a specific area of their operation. In this installment, read how French newspaper Paris-Normandie used lessons from the Facebook Journalism Project's Accelerator program to navigate the tricky path of asking readers for subscriptions while covering a massive breaking news story of local concern.
Main image CC-licensed by Unsplash via Denys Argyriou.