Elected officials, comedians, activists and social media influencers examined the evolving debate around free expression in the digital age last week at The Washington Post office.
It was the second installment of Washington Post Live's "Free to State" event, a series of panel discussions to advance the conversation surrounding First Amendment rights in today's turbulent political climate, addressing issues such as political correctness, net neutrality, hate speech and political satire. 
"Certainly today, free expression is on the front burner, with the gas turned up to high," Martin Baron, executive editor of The Washington Post, said in his opening remarks.
Baron addressed instances in American history that redefined First Amendment laws, then considered today's free speech debate and its effects on the overall health of democracy. He questioned whether prohibiting hurtful speech condones censorship and if modern technology allows for the free expression the founding fathers envisioned.
Ruth Marcus, columnist for The Washington Post, moderated the first panel about how First Amendment issues play out on college campuses, in the courts and on the football field. 
Marcus raised questions about the different forms of protest, such as NFL players kneeling during the National Anthem and hate groups' speaking on college campuses, to challenge panelists to explore how these instances define the threshold of free expression. 
Susan Herman, president of the American Civil Liberties Union, offered a solution: instead of censoring speech, start a conversation.
"Everyone is afraid of everyone else's ideas," Herman said. "I think we have to learn to talk to each other to figure out what fundamental values we still have in common."
Jesse Panuccio, acting associate attorney general, said that the potential for free speech to elicit violence, as in the case of hate groups speaking on campuses, cannot be grounds for shutting down speech. 
"The answer to speech you don't like is more speech," he said. 
Suzanne Nossel, CEO of PEN America, agreed.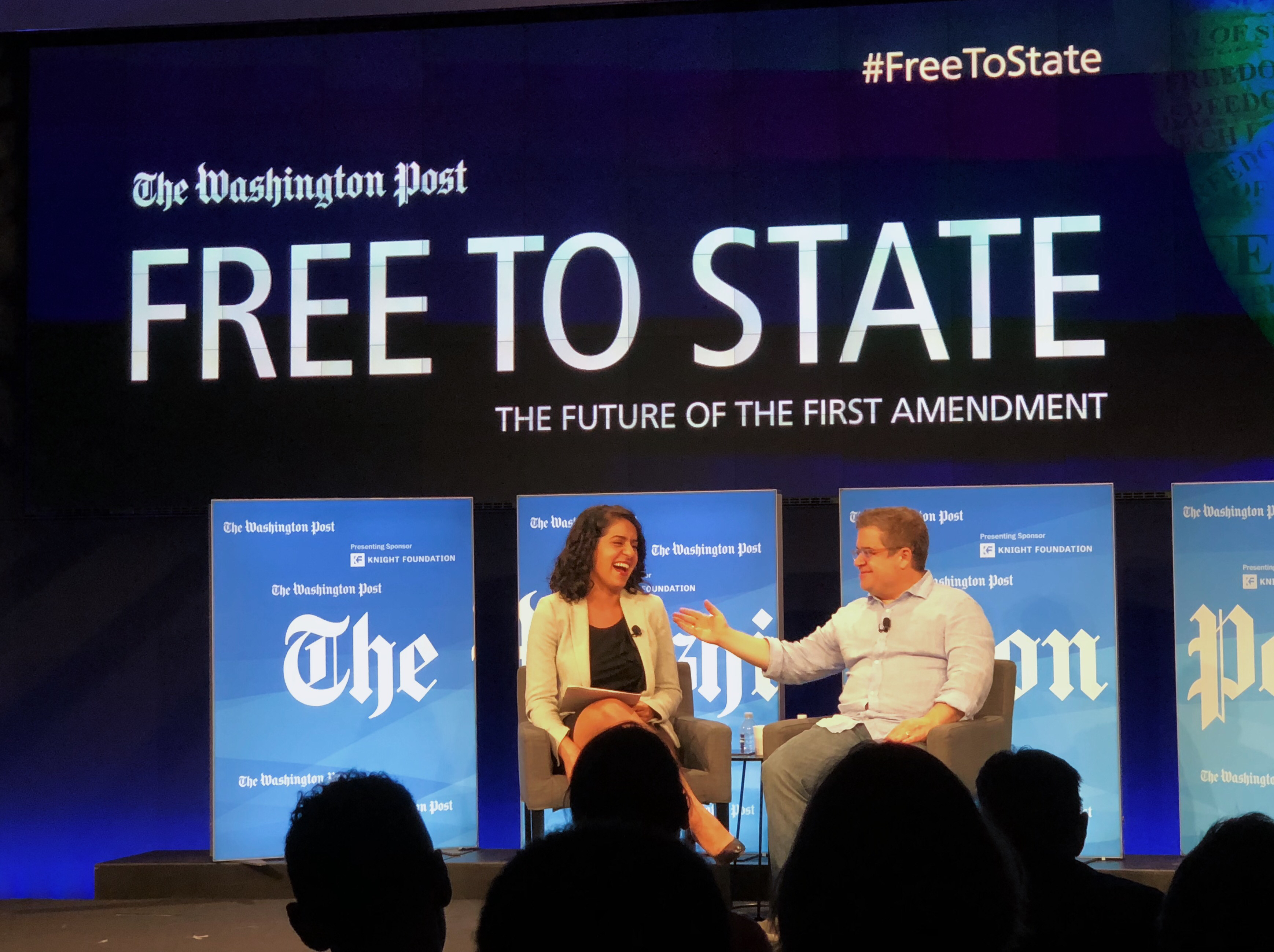 "It's better to let a Richard Spencer or a Milo Yiannopoulos...come, have their moment, let the protest proceed, but without disrupting their speech," Nossel said. "They can't sue. They don't get to grandstand. And the moment passes."
The first panel reached a general consensus: a free and open stream of communication allows for a robust society.
Other panel discussions focused on the repeal of net neutrality, how big data influences voting behavior and the role of comedians in the current political landscape.
In a one-on-one discussion with Elahe Izadi, pop culture writer for The Washington Post, comedian Patton Oswalt considered his social responsibility in today's administration. 
"Our responsibility is to keep saying, 'I'm here and I'm involved,' and try to topple what seem like these invulnerable figures that I think are steering us in the wrong direction," he said.
To view the full transcript and videos from the Washington Post Live "Free to State" event, click here.
Main image of Washington Post Columnist, Ruth Marcus, moderating a panel with Jesse Panuccio, Susan N. Herman and Suzanne Nosselc. Second image of Elahe Izadi, pop culture writer for The Washington Post and comedian Patton Oswalt. Images courtesy of Rayna Rossitto.