Smartphone journalism, which is barely eight years old, is usually practiced by video journalists (VJs) whose roots go back to 16 mm film days in the '50s and '60s.
VJs around the world now have a tool that is far less expensive and far more powerful than the prosumer camcorders their predecessors used from the '80s to the present.
Many VJs also shoot video with digital single-lens reflex cameras (DSLRs). But the handwriting is on the wall. Smartphones will not only replace most of the consumer-grade cameras and DSLRs for news work, but they will also supplant professional electronic newsgathering (ENG) cameras as well.
A smartphone technological tsunami is now forming that, when it hits full force, will revolutionize video newsgathering with a device not even designed for news photography.
There's more than just video capture. Video editing and live reporting apps can be packed inside the phone that fits in a reporter's pocket. That means the death knell is already ringing for fancy editing bays and pricey live trucks.
So how does a reporter, who never learned how to shoot and edit news video, create professional-looking news stories with a smartphone? If VJs are going to continue replacing videographers and video editors they need to master their skills.
Training is one step toward professionalism. There are video photography books, workshops, online guides and college courses.
Another important step is getting control of a camera not designed for ENG. Smartphones are way too light and too hard to grip for professional ENG work. They have no heft and no handles. They need both.
A tripod is the best way to stabilize smartphones.  But none has screw holes for tripod mounting. (Most tripods worldwide use the same thread pattern.)  So you'll need a smart tripod mount adapter. Ebay has light-duty brackets for about US$4.
VJs should shoot from tripods when they can. But there's often not the time or opportunity for elaborate setups. Most shots end up hand-held.
A key accessory for handheld shooting is a smartphone stabilizer rig. (All commercial rigs also have tripod screw holes so you can use them for tripod mount and hand holding.)
The first of four types of rigs is simply a frame or holder with a single handle. The single-handle rigs provide a minimum level of control. Don't leave home without one. Hold the handle with one hand while steadying that hand or the side of the smartphone with the other, keeping elbows tight to your ribcage.
The second category is a rig with two handles. The iOgrapher, for example has two handles as well as two cold shoe mounts for lights and microphones, a lens mount, plus a threaded tripod screw hole on the bottom. The iOgrapher is made out of lightweight ABS plastic, which is a disadvantage compared to its heavier, metal competitors. But that drawback can be easily remedied by attaching added weight.
One of the iOgrapher's metal (aluminum) competitors is the mCAM case. It's heavier, but it lacks true handles. The thick frame, however, sort of serves like handles.
Another mCAM plus: it comes with a 37 mm wide-angle lens. Wide-angle lenses, by themselves, have a stabilizing effect. It's why GoPro cameras, which are usually used on the move, have extreme wide-angle lenses. And it's also why it's difficult to get steady shots with a telephoto lens without using a tripod.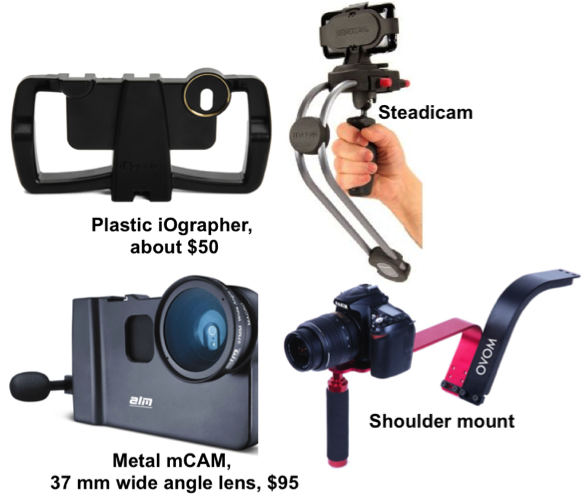 The steadicam is a third type of stabilizing device. (Steadicam, like Kleenex, is a brand name, but I use the term to refer to all brands, most of which use a gimbal and counterweights.)
Several manufacturers offer smartphone steadicams. They're very cool, but they have limited usefulness for electronic newsgathering. They're relatively expensive, take a lot of practice, take up a lot of space in your accessory case, and are rarely needed for news work. They're better suited for filming movies and commercials.
A fourth rig for steadying shots is the shoulder support. It replicates the look and feel of professional camcorders that are usually shot from the shoulder. Experienced news camera operators who switch to smartphones may prefer shoulder rigs. Video journalists, for the short term, would at least look more professional using a shoulder support.
For VJs who have the desire and skill to make their own rigs, I have a free, do-it-yourself guide on my website. That design has two unique features not found on commercial models: provision for a bubble level to keep shots level and space to add weight to turn the rig into a low-cost steadicam.
See upcoming part II for hand-held shooting tips.
Lynn Packer is a smartphone newsgathering trainer and consultant for broadcast and online video newscasts in the German market. His textbook—Schreiben, Drehen & Schneiden—is a good resource for German-speaking video reporters who shoot and edit on smartphones. It's available as a free download at smartphoneberichterstattung.de.
Main image CC-licensed on Flickr via AshtonPal. Other images courtesy of Packer