Can one of India's largest legacy newsrooms become 100 percent mobile?
As The Hindustan Times' new mobile editor, Yusuf Omar has been charged with training and empowering the newspaper's staff to become mobile journalists as part of its new digital-first policy.
Omar's first forays in mobile journalism began in 2010, when he hitchhiked from South Africa to Syria with nothing but his smartphone and a small handheld camera to tell his story. Since then, he's used mobile technology to report from the frontlines of the Syrian war to the #ZumaMustFall protests in Johannesburg. He's trained mobile journalists from South Africa to India to the U.K., often using ICFJ and IJNet resources to guide his lessons. Currently based in London for the Thomson Foundation Media Convergence course, he'll head to Istanbul this month to speak at the Social Good Summit.
He also recently made headlines via his use of Snapchat to tell the stories of sexual abuse survivors in India — or rather, to allow them to tell their own stories through selfie journalism.
Behind a Snapchat filter, victims could anonymously speak to the smartphone's camera. At the same time, viewers could still see the victims' facial expressions and hear their voices. The result was something more personal and intimate than traditional interviewing could have allowed, Omar explained.
"The reason I get such intimate shots is because people forget my cellphone is even there," he said. "Who wants to tell a story of being raped with a big lens in your face? I really do believe mobile journalism is the most dignified and authentic way to tell stories."
We spoke with Omar about Snapchat, storytelling and building the world's largest mobile newsroom:
IJNet: Have you found any limitations with bringing Snapchat to The Hindustan Times?
Omar: Some people find Snapchat really difficult because it's a linear story. That's perhaps the greatest challenge: teaching people to storyboard, because as you know, one shot slots in after the other. You have to have a fundamental understanding of your start, middle and end. It's actually quite ironic, because you're actually going back to television-style storytelling techniques to pull off a really good Snapchat story. 
Tell us about The Hindustan Times' MoJo Mondays. How do these weekly meetings bring everyone in the newsroom on board with mobile?
Training involves three stages: experience, empower and engagement. We let people experience new technologies where we'll show them what chat bots look like, what 360° looks like. Empowering means actually adding skill sets, where you're teaching them how to put subtitles on their videos, how to put together storyboards, how to inject metadata into your stories. That kind of thing.
The biggest part is engagement. Arriving at The Hindustan Times, there was very little conversation at meetings apart from the who, what, when, where, why, how — the basic tenets of journalism. Now, we try to spend at least 50 percent of that conversation talking about sharing it. Where is this story going to go? What Facebook groups are we going to start conversations in; which Twitter influencers are we going to identify?
How do you get readers involved? Do you encourage them to participate in the mobile journalism process at all?
In a massive way. On Snapchat, for example, we brought six students into the newsroom and trained them in how to use it. We told them to go out and Snapchat the most stressful six weeks of their lives as they get into university. This was an opportunity for them to talk about their sex lives, tensions with their families, all of this stuff.
It was effortless for us, because every week they'd produce a story on Snapchat and then send it in. We'd then produce what is effectively a reality show about young students' lives. It's cost-effective, it's intimate and it gives us a whole new perspective. In that way, you're bringing the audience in and they're becoming the viral superstars of tomorrow.
What advice would you give to aspiring mobile journalists?
To look beyond the gimmicks. If you look at Snapchat at face value, what do you have? You've got a bunch of doggy tongues, emojis and all that kind of stuff. But look deeper, and you'll find a platform that has far more technology than most other platforms. The ability to do face mapping is hellishly complicated. It's a brilliant piece of software. Hack it. We have a word in India, in Hindi they call it jugaard — The Economist defines it as "frugal innovation." And that's exactly what it is. It's about using the technology that's within Snapchat or Facebook Live to tell amazing stories and have the broadest creative mandates to do meaningful stuff. 
With Facebook Live, we've done the stuff in the studio with the straps and we're all like anchors. Those prove to be totally inefficient because our social media audience doesn't want us to recreate television. The most successful Facebook Live videos were done with one camera — shaky, handheld, bad audio, but critically, in the field. I think it's lazy not to be in the field. If you're doing a film review, be outside the cinema. If you're talking about the markets, be in a bank. Use the fact that you have mobile journalism to its fullest.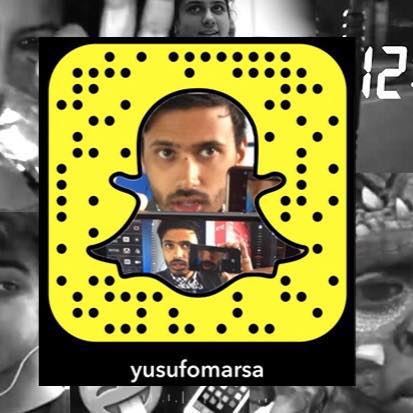 You can add Yusuf on Snapchat by taking a photo of the snapcode to the left, then uploading it from your camera roll by selecting "Add Friends," then "Add by Snapcode" in the app.
Main image courtesy of Yusuf Omar.
This interview has been edited and condensed for clarity.