Born in Syria, Hadil Arja has been intimately familiar with the challenges journalists face in the Middle East. Reporters and writers in the region contend with misinformation and censorship, in addition to risks from conflict, terrorism and government oppression. In this context, Arja has dedicated her reporting career to making local stories easy for viewers to find and digest. 
Currently based in Turkey, Arja has co-founded two independent media organizations, Tiny Hand and Frontline in Focus. Both organizations are committed to, respectively, using visual storytelling to report on children in crisis zones and covering human interest stories in conflict. Tiny Hand and Frontline in Focus use a wide range of technology to make the stories interactive, with the intention of investing readers in news on crisis and conflict. 
Arja, a 2020-2021 mentee with the IJNet Arabic Mentoring Center, is pushing a new narrative within her region: that news is not only important to know, but can be appealing and engaging to consume.
What sparked your initial interest in journalism? 
I studied journalism in Damascus and graduated in 2006. The situation at the time was settled in Syria and there wasn't a war. 
When the [Syrian] revolution started, I traveled to Qatar and there I was an editor-in-chief at a lifestyle magazine. But at the time I felt that, I'm a journalist, but in the wrong place. I needed to be closer to the events. So [my husband and I] left Qatar, even though it was a high salary, and we came to Turkey. I eventually got a job that really helped me improve my online skills and digital media. This really helped me to understand more about digital journalism and how important it is. At the same time, I [had forgotten] how important [journalists] were, because they are on the frontlines and giving me information. I wanted to be sure to deliver this information to the audience, and it started as an important thing to do in my work. 
Why did you start Tiny Hand?
It was just being a part of a newsroom. This is news, and it's important news, we will cover it. But sometimes people, even in the newsroom, don't feel it's okay. It's regular news to them and it's not important. 
But for me, it was that, we have this kind of news because there are children on the frontlines. It's our mission to deliver it in a way, to force people to read it. So I quit [my job] and started Tiny Hand to provide stories about children and to think of a new way to deliver these stories. Because we are living in a time where there are these digital tools, people have started using augmented reality, virtual reality and interactive stories [in their reporting].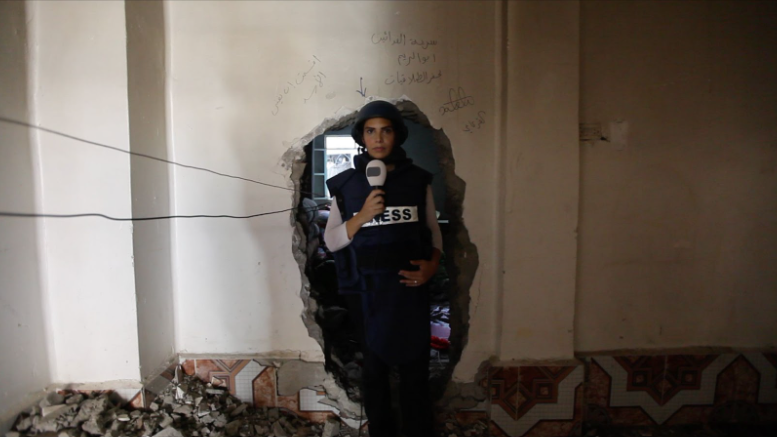 How has IJNet helped you?
Starting this new project wasn't easy. Early in my journey, I joined the IJNet Mentoring Center. I was very excited to join a program that would support and energize me. I needed to have a sense that I was not alone on this journey, especially in the beginning when I was having lots of doubts about whether I was on the right path or not. Was I missing out on other opportunities while working on this project? Was I going to be successful?
But after joining [the Mentoring Center] I had all the answers to these questions.
What has been the most jarring or "aha" moment while working in journalism? 
People don't like to read articles, you know, and everyone feels that there is conflict, and at the end of the day, they don't want to read this heavy news. [They] want something light. 
This is a challenge for us. For example, my nephew, he's only 13 years old. When he saw this virtual reality headset in one of our stories, he said, "Can you please send it to me?" [The story is about] about a cat shelter in the Middle East and how it's impacted while in proximity of the frontlines. It's an amazing story about a man who collects cats and keeps them because of the war. I was happy that it caught his attention because by using this technology, I was able to get people to interact with this story. And I know it's difficult to continue to convince people in the Middle East to interact with these stories. 
I'm so happy that people, for example, in Europe and the U.S., know how important this technology is. You can use this technology in this way to cover communities. And I think this will be a huge chance for us to show people what we are really doing on the frontlines.
Do you find it harder to report stories about children?
It's very, very hard when you cover stories about children. If you check out the [Tiny Hand] website, you'll never find the story where each child is crying, because I don't like to publish these things. It might give us more traffic but for me, it's unethical. Every story we meet and we discuss how to cover it, especially in sensitive stories.
Recently, we worked on a story about a male child who was sexually assaulted in the north of Syria. It was our first investigative report about this. It was difficult because it actually took us one year to finish this story. It was sensitive, but we tread lightly when we cover stories like this, and keep official ethical guidelines in our mind because when you cover children's stories, it's not the same as what you cover with adults. You shouldn't mention the names, you shouldn't mention locations. And you should stop when it becomes very sensitive for them and it would put this child in danger. 
When do you find time for you to relax and unwind?
Actually, you know, I don't know. I love this job. It's like a passion. The other thing is that my husband, he's also a journalist and his photographer and he's always with me. This is not my hobby, this is my everything. This is my decision to do something different here in the Middle East. This is my priority.
---
All photos by Hadil Arja. 
This interviewed has been edited for length and clarity. 
---