London-based freelance writer and radio host Anna Cunningham describes her introduction to the world of foreign correspondence as "baptism in fire," in which she had to quickly adapt to chaotic reporting environments. During the chaos, she also found her passion. Cunningham has built her career as a freelance reporter covering conflicts, human rights, the environment and gender issues in various — sometimes dangerous — settings.
Having known she wanted to be a journalist from the time she finished secondary school, Cunningham began her career with student radio in France. Now she's worked in London, Paris, Mumbai, Kabul and recently, Lagos. 
"I got on the news treadmill and I started out right at the bottom as a researcher in news programs, and then just kept chipping away bit by bit by bit," said Cunningham, whose work has appeared in CBC, TRT World Now and France 24. 
Through IJNet, Cunningham was offered a Pulitzer Center reporting grant, which she unfortunately never completed due to injury. The delay, however, eventually led her to publish another project with Undark Magazine on air pollution in Nigeria.
Cunningham hopes to set an example for young women interested in the industry. "Twenty years ago, and even now, our industry was dominated by men. I don't think I had a female boss until much later," she said. "When it came to actually getting yourself on the air, it was a lot of hard work to prove yourself as a woman and I think that is still the case now in journalism." 
As the wife of a fellow journalist and a mother of two, she wants to show other women that a fulfilling career in journalism and a family can coexist. Cunningham made the decision to transition into freelance reporting because the flexibility in location allowed her to prioritize her family. 
During lockdown Cunningham also launched a podcast "The Checkpoint" with a fellow journalist and mom Linda Freund to give mothers around the world a platform for discussing issues they faced as parents during the pandemic.
We spoke with Cunningham about her path to becoming a freelancer, her experiences as a foreign correspondent and advice she has for young journalists.
IJNet: Why did you choose to pursue a career in foreign correspondence?
Cunningham: I spent 10 years at BBC and worked my way through local radio news and regional news into what we call "network news," and then moved on to the World Service. I did one of the most powerful and moving interviews I've ever done in my career in Afghanistan, and when I did that, it really struck me that this is the field that I want to go into. 
I was visiting a women's feeding clinic where they were bringing newborn babies from villages far away, and it was about an hour or so drive outside of Kabul. We were driving down these roads, or dirt tracks, and we were going to cross a river bed when somebody opened the sluice gates to the dam. This wall of water just came down towards us and nearly washed away but the driver very quickly got us up onto higher ground. 
All the men got out, and there was one woman in the car [with me]. She lifted up the veil of her burqa and said, "I have to tell you my story." She told me about her life during the Taliban, how she lost her daughter and husband, that she was a teacher and that she had needed to hide. I thought, "Wow, this is journalism. This is real journalism." The point of the job that we do is to give other people a platform, and particularly these women whose voices have been so repressed over the years — and to a greater extent still are in various areas of the world. 
That was my kind of first taste of being what we call a foreign correspondent.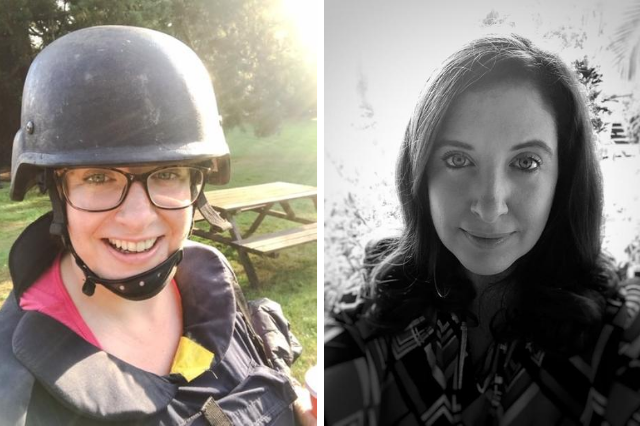 How has working as a freelancer influenced your work covering conflicts and human rights internationally? 
The first thing that really has to be tackled when you're freelance is that you have to accept and acknowledge that no story is worth your life. There are dangers and risks, and those dangers have certainly increased over the years. 
When you're young and you want to be a foreign correspondent, the temptation is to pack your bags and go somewhere remote. Reporters used to just go where nobody was reporting, gather great stories and people would commission their work. Now, many editors will not commission you unless you have undergone hostile environment training. 
You have to recognize that as a freelancer, editors are going to view you as riskier because you're not staff and therefore, you're not under their insurance cover. But if you have a great story, you can prove that the story is worth telling and you have the training, then it is still possible to get the commission.
How has COVID-19 impacted your current projects?
It's been really interesting because I moved back to the U.K. after 10 years overseas as a freelance foreign correspondent. With the pandemic, I think every freelancer has really been hit hard. We've seen that freelance budgets were the first to go, and staff jobs are going as well. 
I've done some brilliant, interesting interviews with women working with independent midwives about how the pandemic has affected women giving birth, and I couldn't get a commission for it at all.
I've taken a step back from being in the field reporting because I have to juggle being a mother as well. I've taken up some freelance work as a news presenter on the radio in the U.K. with Times Radio. It is freelance, but it gives me stability knowing when my shift starts and when my shift ends, which I've needed having my children out of school [due to the pandemic]. 
What is your advice for young women in journalism?
My first advice to young women starting out is don't give up! If this is really what you want to do, and you accept it will never be a 9-5 job, then keep going. Yes, we still work in a male-dominated industry but that won't change unless you are the change. Accept rejection if it comes your way but don't give up. Somewhere I have a whole pile of rejection letters. They are all from the one broadcaster who I ended up having a staff job with for 10 years and continued to work with ad hoc since going freelance.
Multi-task. Be prepared to be everything to everyone. Skill up. It's especially handy if you want to set up overseas. If right now you want to hop on a plane and go to the middle of nowhere to start working as a freelance foreign correspondent, and that is not possible, then just get experience anywhere. Have something to show for your passion in this career, even if it means currently you self publish. It's a start and helps brush up on your skills.
I was once asked how do I juggle motherhood and being a journalist and one who sometimes goes on dangerous assignments. The reality is it is a juggle, as a parent your responsibilities and priorities change but it doesn't mean you can't do your job. My husband is in the same line of work so over the years we have made it work and balance it out. You weigh up the risks, filling in lengthy risk assessments, proof of life forms and wills all sounds very ominous, but these things are necessary when you go on some assignments. You make your decisions, and ultimately there are times when you do decide the risk is not worth it.
---
Chanté Russell is a recent graduate from Howard University and a programs intern at the International Center for Journalists.
All images courtesy of Anna Cunningham. 
---