After graduating with a degree in electrical engineering from the university, Farhad Babaei discovered his love for photography. He learned photojournalism on his own 12 years ago and gradually became interested in doing it professionally. Babaei has worked with many publications, including USA Today, Der Spiegel, and Le Monde, and is currently the official Iranian photographer for laif Agentur für Photos & Reportagen in Germany.
As COVID-19 hit Iran particularly hard, Babaei was on the frontlines capturing the pandemic. We got in touch to ask him about his work during the crisis.
Read IJNet's interview with him here:
IJNet: How did you come to find yourself photographing Iran's coronavirus crisis?
Babaei: I was photographing Iran's flooded areas between late February and early March and covered other developments afterward. Those days, the public was somewhat unaware — or in denial — of the fact that the virus had reached us here in Iran.
In late March, I was visiting my family in Babol in Mazandaran Province (by the Caspian Sea), for the Iranian New Year, when the Coronavirus crisis turned into a national scare. It prevented me from leaving Babol, a COVID hotbed. I was able to obtain a license to work for laif in Babol from the Ministry of Islamic Guidance. [Editor's note: Such permits are necessary for collaboration with non-Iranian news or photo agencies.] 

How did you prepare yourself for appearing in dangerous environments, and how would you protect yourself, particularly given the shortage of protective gear?
I brought my own protective gear to the hospitals I visited and photographed, since masks and gloves were quite rare in Iran during the first few weeks of the crisis. I believe a photojournalist must always have his or her own gear and be able to appear on site without any outside help. I've had safety blankets, masks, gloves, disinfectant, and first aid kits stored for emergencies — tucked away for these kinds of situations — for a long time.
What is your advice to photographers who are active in health centers and clinics during the current crisis?
A photojournalist must be in his best physical and mental state to be able to overcome the elements and perform in the best possible way. Photographing while wearing protective gear is incredibly difficult, because masks make it hard to breathe. When you work under such circumstances for a long time, there is a high likelihood of dizziness, confusion and headaches. Before entering a hospital or clinic, make sure you've eaten and drank enough to tide you over for several hours, because you won't have an opportunity to eat or drink while you're busy working in a hospital or clinic. Try to rest up in advance so you have enough energy, and definitely use the restroom before leaving your home so you won't have to go in the hospital, if possible.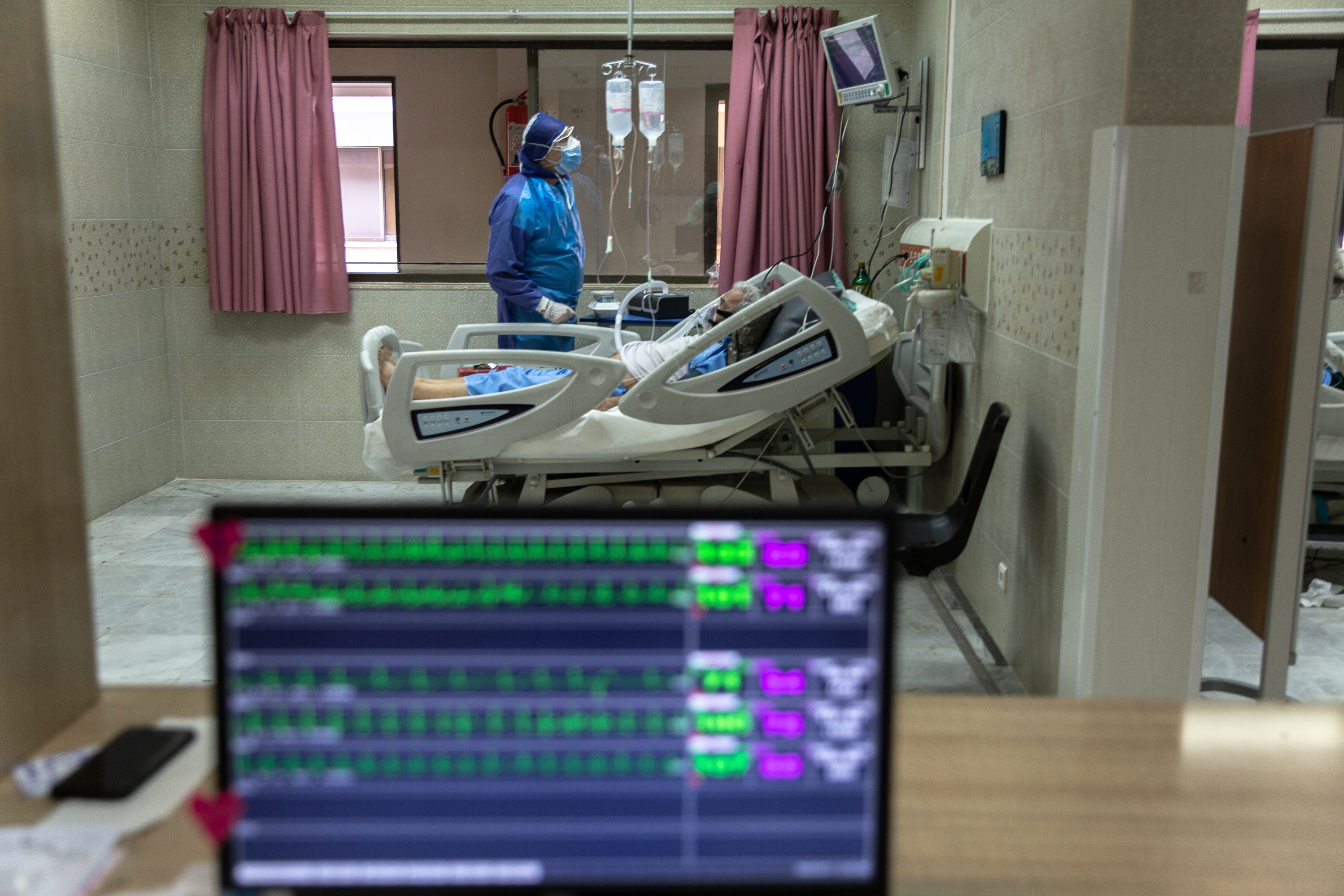 How would you protect yourself while photographing in the hospital?
I covered my camera with cellophane, covered all slots and openings on my clothes with duct tape, and wore two masks; a surgical one and a filtered mask on top. Upon entrance, I would wave to the patients in each room and ask for permission to photograph every patient if their eyes were open. Otherwise, I would leave the room.
How do you view the reporting situation in Iran during the COVID-19 crisis?
Photographers and reporters are less active in Iran these days, and one of the reasons is that they don't have access to sufficient protective gear. There were, however, a lot of photojournalists who were quite active in the early phases of the crisis. Even now, I can see a lot of eagerness and enthusiasm for photography and reporting — more so than before the crisis began.   
---
All photos in this article are of COVID-19 patients and caregivers in Iranian hospitals, taken by Farhad Babaei, and published with permission from laif.
---