On social platforms, the "stories" format has dominated strategy.
The appeal of stories on most platforms is that the content is ephemeral, often lasting for less than 24 hours before disappearing, and users have the ability to mark up or draw on the vertical content along with adding multimedia stickers to content, including question stickers or links. 
Though Snapchat was one of the earliest pioneers of the format introducing vertical story content in the early 2010s, many platforms have found success duplicating the format, including Instagram Stories and, eventually, Facebook Stories.
Yet, the stories format hasn't been a success for every social platform. Twitter invested briefly in the format with "Fleets," hailed as a way to offer a "lower-pressure, ephemeral way for people to share their fleeting thoughts," while LinkedIn introduced LinkedIn Stories as a way to "enable members and organizations to share images and short videos of their everyday professional moments." Both companies sunsetted the feature, with Twitter citing a lack of users and LinkedIn expressing a desire to reimagine the video experience. 
Still, on platforms where stories have found success, most notably Instagram, the feature is widely used. According to Instagram, there are over 500 million daily active Instagram Story users, with over 70 percent of all users watching stories daily. In addition, 86 percent of users also post to stories. 
The format is also appealing to companies as well: Over 36 percent of businesses use stories to promote their products and services, while 25 percent of Gen Z and millennial users utilize stories to find goods and services.
These data points make a compelling case for why news publishers should also use the stories format. 
Here are five ways to elevate your journalism while using the stories format: 
1. Stories as a community response tool 
Among the most popular features in stories are the various stickers that each platform offers. Instagram offers location stickers to filter geographic content, caption stickers to transcribe audio, and various gif and music stickers. Though all the stickers are valuable to storytelling, one that can increase community engagement is the questions sticker.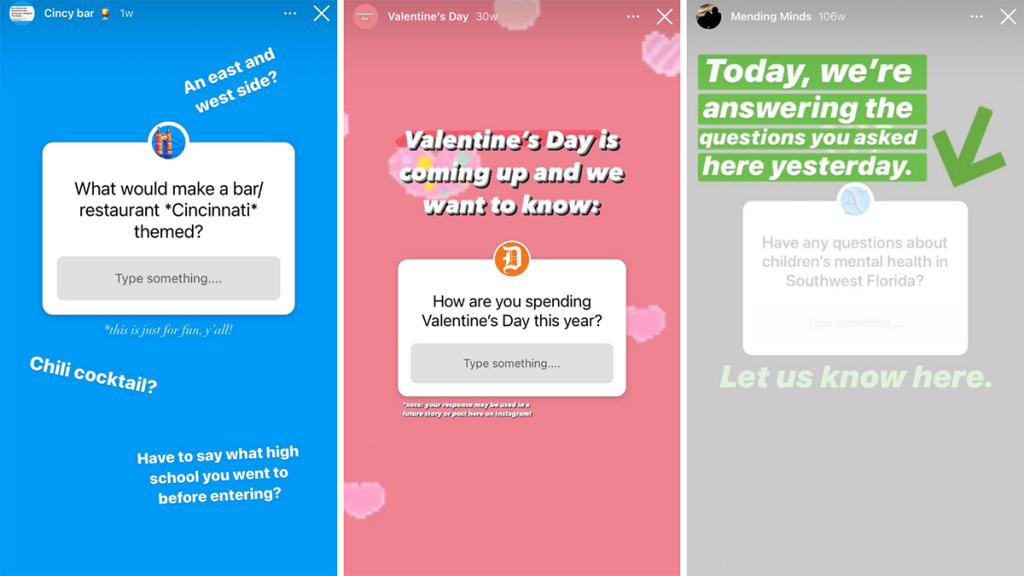 The sticker allows a user to solicit responses from users. The responses, though initially visible only to the account holder, can be shared publicly with stories without the respondents' photos or usernames shown. 
For newsrooms, this tool can be used to answer questions that readers have on various coverage areas or even help to frame future reporting or social-first stories. 
2. Stories as a newsletter lead generator 
One of the biggest gripes from publishers is the lack of traffic that Instagram brings to websites. Instead of putting the focus primarily on driving clicks, stories can also be used as a way to drive newsletter subscribers.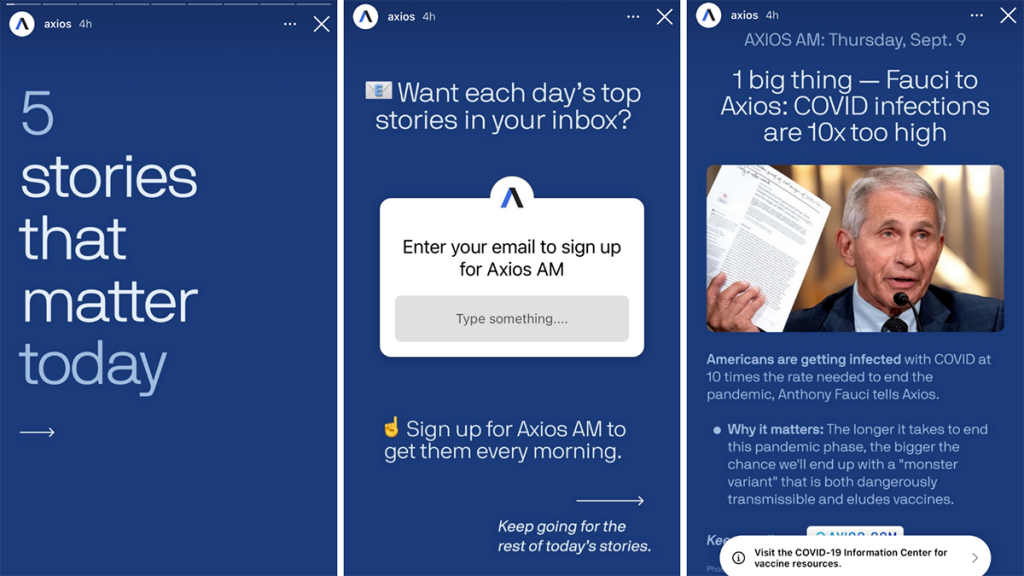 Consider using the sticker tool to have readers send their emails to you to opt into newsletters, or use the swipe uplink. The stories themselves can also serve as a sneak peek into the newsletter. For example, at Axios, Instagram stories are used as a way to highlight the morning newsletter with links along with a sticker to subscribe to the newsletter. 
3. Stories as a peek behind the curtain 
One of the distinctive features of the stories format is that it is designed to be organic and unedited. With stories, readers want to see the day-to-day of the people and companies that they follow. Publishers can use this to their advantage by giving contributors in the newsroom the keys to the account to share the behind-the-scenes details of their stories and reporting.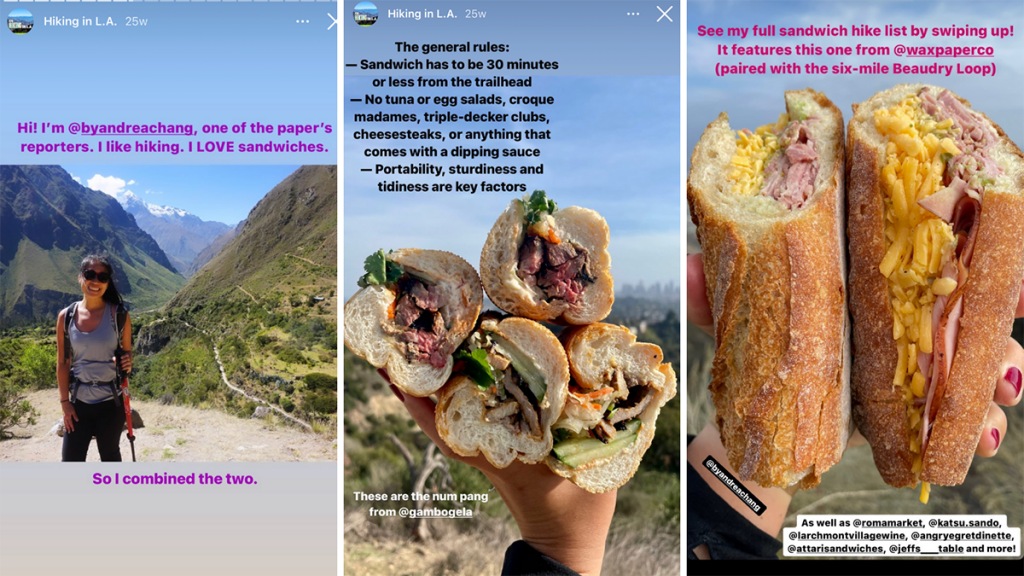 At the L.A. Times, reporter Andrea Chang took over the company's Instagram stories to share more information on an article she wrote about the best sandwiches to enjoy while hiking in Los Angeles. Her stories included photos from the various hikes along with more commentary that was relevant and native to the Instagram platform. It's a way to give readers personal access to reporters in a way that they often do not. 
4. Stories as a way to increase readership 
While most publishers feature some sort of "link in bio" as a way to send Instagram users to their site by clicking the link in their account, it rarely is a large traffic driver, for many reasons. Getting to the Instagram profile account requires a variety of steps that add too much friction to the user experience, and many users do not want to leave the platform to read the article.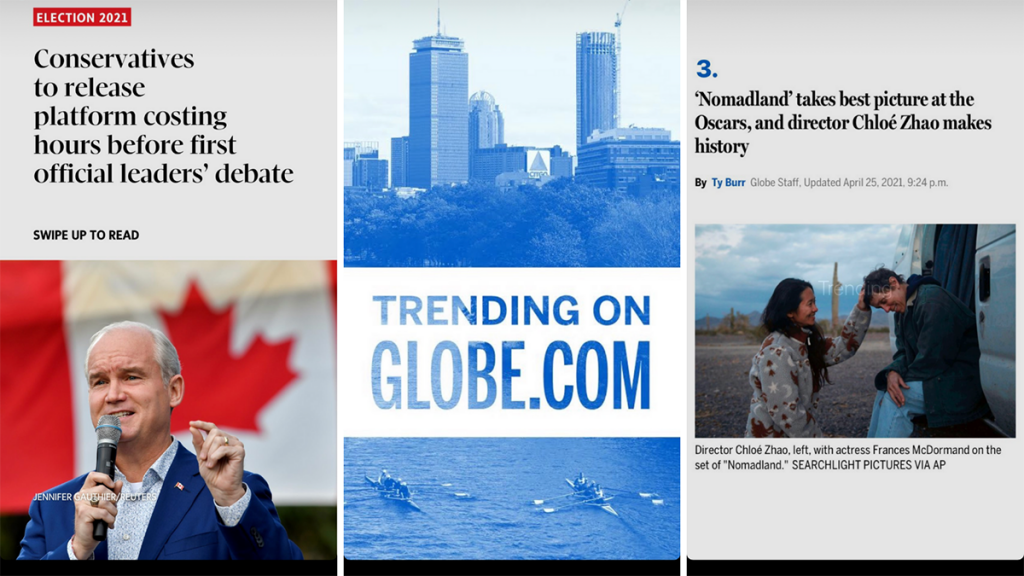 With the link stickers and swipe-up options, stories can help to alleviate that friction by requiring only one swipe-up to view a full story. With this feature, publishers can select four to five of their best pieces of journalism each day and add them to the stories with the intention of getting users to swipe up to learn more and increase referrals from the platform. 
5. Stories as a way to share audio content 
Audio is one of the trickiest types of content to share on a visual platform like Instagram. While there are no explicit built-in audio features for Instagram, those with podcasts hosted on Spotify can use Spotify's share to Instagram Story feature. The feature allows users to "share content to IG Stories with a clickable link that directs followers straight to Spotify." To do this, simply visit the podcast page on the Spotify app, open the share menu and click Instagram Stories.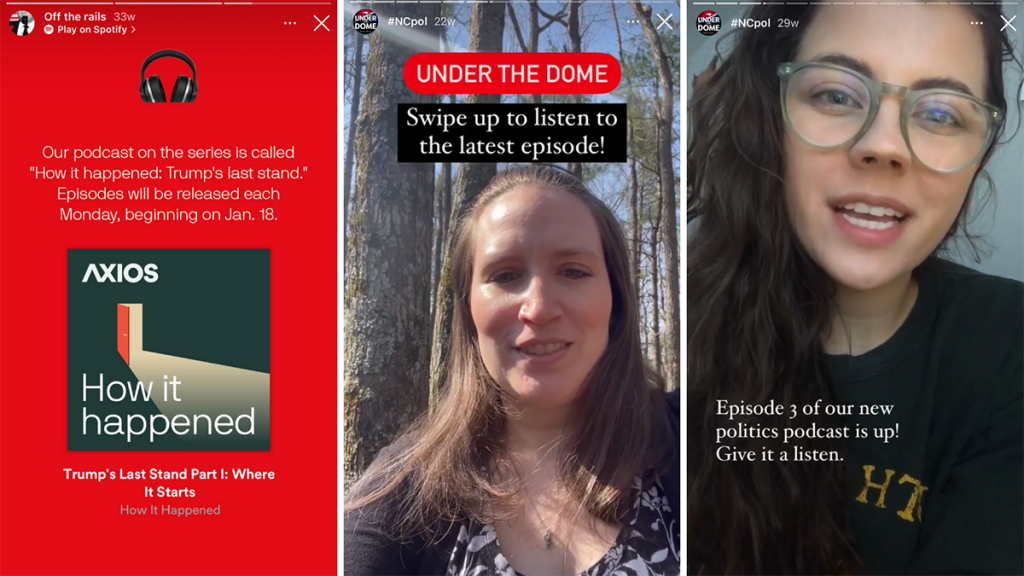 This will then create a new Instagram Story with the cover of your podcast as a sticker that will drive users to the Spotify app. And, just like the other stickers on Instagram, you can add text, gifs or any other multimedia elements to the story. Those without the Spotify integration can also use the swipe-up feature to the audio and add context, similar to what the News & Observer team did for its politics podcast. 
---
Photo by Solen Feyissa on Unsplash.
This article was originally published by the Reynolds Journalism Institute and is reproduced here with permission.