The media industry moves at a rapid pace, with new methods of storytelling and content delivery popping up constantly. When it comes to academics, however, journalism curricula have a hard time keeping pace. 
In an effort to sync these two fields, six journalism professors from colleges and universities with large black and Latino student bodies participated in ICFJ's Back in the Newsroom Fellowship. Fellows spent nine weeks at news industry titans The Wall Street Journal, Washington Post, Los Angeles Times, USA Today, Univision, ProPublica, BuzzFeed and WNYC.
They learned the latest digital media practices to bring back to the classroom while opening up pipelines between their colleges and these newsrooms that could lead to greater diversity. 
In a recent roundtable discussion of their experiences, these professors identified key takeaways that they plan to add to their curricula in the near future. Here are just a few examples.
The shifting world of video
Michael Fairwell, a professor at Claflin University who worked with The Wall Street Journal this summer, found that video accompanies around 10 percent of the Journal's text articles, but that number is expected to increase soon. As such, it's important for journalists to be able to produce videos in a quick and professional manner, a lesson Fairwell plans to share with his students.
Fairwell and the other five fellows noticed that newsrooms are moving to Adobe Premiere for video editing. Newsrooms like its drag-and-drop editing and greater flexibility. Several of the fellows now plan to incorporate Premiere into their teachings.
Engaging the audience
When people want to learn about a particular story, often they will Google the subject to find stories from news outlets that way. Milton Kent of Morgan State University was surprised that when he looked at The Washington Post's traffic, more than 80 percent came in "sideways," from people searching for the subject online or finding it on social media.
Because of this trend, it's vital for journalists and web editors to learn how to make their headlines and stories more visually appealing and social media friendly, showing new readers that they have a unique perspective on the story.
Santa Monica College's Saul Rubin noticed that the Los Angeles Times was editing its videos to conform to sites like Facebook and Twitter, attracting an audience that way. Both Kent and Rubin plan to revamp their editing classes to include a greater emphasis on design and editing for digital media.
Don't underestimate the phone
At USA Today, Russell Motley was struck by the interns' confidence in and experience with mobile technology. The Florida Memorial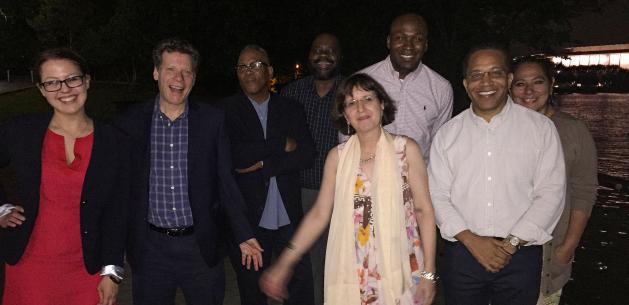 University professor watched interns shoot high-quality video and photographs on their phones, edit them on the spot and send them back to the newsroom where they were posted virtually as is. Back at FMU, Motley will emphasize to his students that even if they are strapped for cash, they don't need fancy equipment to capture newsworthy events.
St. John Fisher College professor Marie Villa was especially taken with Univision's innovative use of Periscope, a phone app that allows the user to live-stream video to the entire world. Villa plans to teach her students how to use this technology to their advantage.
Embrace your inner mathematician
The 2015 Back in the Newsroom Fellows noticed that their host news outlets were investing in data journalism. 
Rubin was impressed by the innovative approach the LA Times took to report on homicides. The Times aggregated statistics for each homicide and located them on a city map, allowing readers to highlight certain areas or look at key factors such as gender, race and age.
Kent says that if students want to make a living as journalists, they will have to learn how to work with data. He plans to add a data-driven assignment to his sports journalism coursework, possibly asking students to explain the salary cap in football or basketball.
These professors will use the tools and trends they have discovered to better prepare minority students for the modern newsroom.
Main image CC-licensed by Flickr via Derek Bruff. Secondary image of the fellows with ICFJ Deputy Vice President of Programs Elisa Tinsley courtesy of ICFJ