Since the start of the pandemic, COVID-19 stories have appeared on the homepages of publications around the globe, making health stories mainstream. As the beat gains popularity, reporters new to health reporting can fall into avoidable pitfalls, such as failing to put research into meaningful context. 
In a recent ICFJ Global Health Crisis Reporting Forum webinar, Nigerian health journalist Paul Adepoju shared tips to help reporters old and new incorporate data and expert sources in their health stories. 
Don't rely on data to tell the whole story
Typically, the first question a journalist asks when examining data is "How many?" For example, "How many children are affected?" "How many women have died?" or "How many new cases have there been?" Adepoju suggested going beyond these simple questions. "What data can't tell you, you must get elsewhere," he said.
Follow-up questions will improve your reporting. For example, if cases have tripled, ask yourself, "Why?" That follow-up question is crucial to establishing the direction the story will go. Moving beyond simple datasets and conducting further research will allow you to uncover new findings that could change your story entirely, and even uncover more consequential storylines. 
If possible, go into the community and ask questions. Community members, researchers and other experts will provide information that you won't find in the numbers. 
Avoid bias
Some journalists choose the angle of their story before looking into the data, which creates bias. Some journalists even write their story, then find data to support it. "Whatever you are looking for, data will support it," said Adepoju. "Be careful." 
To avoid bias, approach research with an open mind, looking to find trends in the data. Your findings might be completely different from what you thought you were looking for — that's okay. 
"We need to move from using data to verify what you already have in mind," Adepoju added. "Instead, use data to give direction."
Locate the data you need
Data is the starting point of a great story, said Adepoju. But where can you find relevant statistics for your region?
To start, check out the Google interface that allows users to see real-time statistics on new cases and mortalities by region.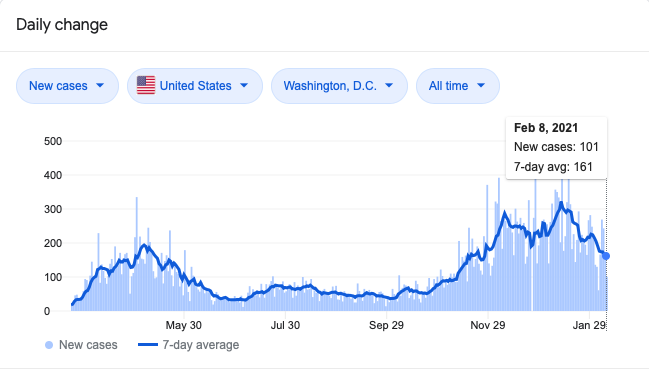 Here are additional worldwide resources for extracting data:
For more in-depth numbers in your area, check local platforms. 
Adepoju suggested using graphics or visualizations to "bring your story to life, and ensure you are interactive." Adding graphics can also help your audience better grasp the information by visualizing it. 
Even when you find the data, the story might not be right in front of you. Learn to use basic software such as Excel or Google Sheets to import, sort, analyze and create graphs for datasets. 
Adepoju demonstrated how he used COVID-19 case statistics in Nigeria to produce reporting that looked into which state in the country was experiencing the highest COVID-19 mortality rates. The data he was using didn't explicitly demonstrate this; he used Google Sheets to analyze and shine a light on this reality. A journalist must be curious to "expose the possibilities of what you can do with data," Adepoju said.
 When you can't splice the data to discover a new angle, don't give up. Instead, look into another resource. Consider conducting interviews with experts to start a dialogue about information that is missing, or explore other software that will help you examine the data in new ways. 
"Data is something people can expand to generate and write stories," Adepoju said.
Verify expert claims
Just because someone with a lab coat tells you something doesn't mean it's true. Fact-check quotes with data, research organizations and/or other sources in the field. "Health journalism is now mainstream, and journalists should never be caught in a web of fake news," said Adepoju. 
Before interviewing an expert, research them. Use scholarly databases to see what you can find on the researcher. "If there are no results or the person has not published anything, then you can start to have doubts," said Adepoju.
COVID-19 is the most prevalent health topic today, so make sure to present your audience with new, interesting information — you can incorporate these tips to help avoid common missteps and ensure your health stories are comprehensive and well-reported. 
---
Naomi Ludlow is an intern with IJNet.
Main image CC-licensed by Unsplash via Mufid Majnun.