Traditional structures that have long dominated the news media are disappearing as new technologies rapidly alter the journalism landscape. Meanwhile, media professionals around the world race to keep up, employing a wide array of approaches to varying degrees of success.
A new survey from the International Center for Journalists (ICFJ), IJNet's parent organization, sheds light on these trends. 
ICFJ surveyed more than 4,100 newsroom managers and journalists from across 149 countries, about newsroom staff and structures, integration of new technologies and more. The 2019 "The State of Technology in Global Newsrooms" survey updates and expands on the 2017 survey, allowing readers to make comparisons and measure change over time.
Among the findings, the survey shows that more newsrooms are adopting digital technologies, as security concerns have emerged front and center. 
"There is a major shift afoot as news outlets come under attack digitally and physically," said ICFJ President Joyce Barnathan.
In 2017, less than half of journalists used cybersecurity techniques. That number has jumped to more than two-thirds in 2019. The most popular online security tools by far are secure messaging apps, trailed significantly by email encryption and VPNs.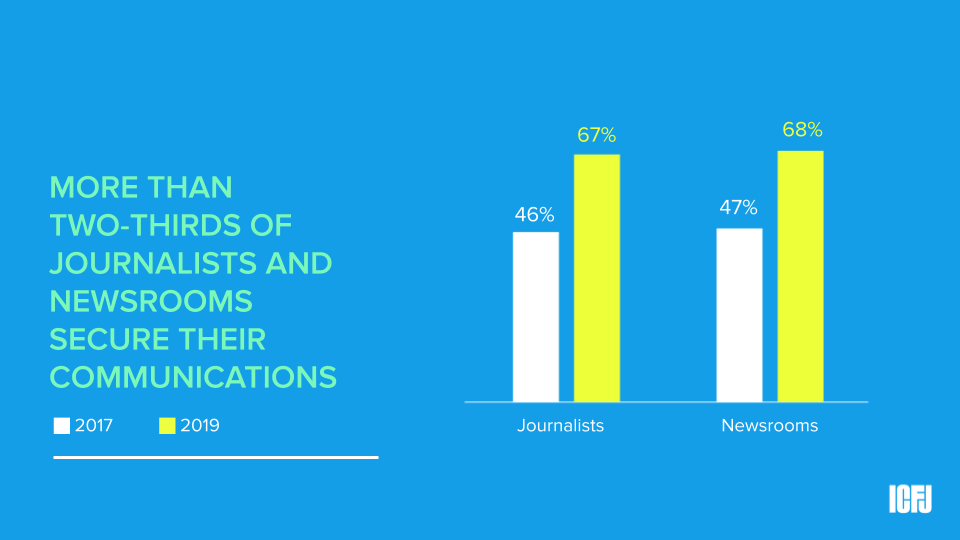 Journalists are also adopting digital tools for use in their reporting. More than twice as many journalists (25%) use social media verification tools in 2019 compared to 2017, and significantly more journalists today, 61%, use data skills weekly, versus 36% two years ago.
Training and hiring, however, have not kept up with growing digital demands. Across all categories — including social media, data journalism and general technology skills such as audiovisual training — newsrooms aren't meeting  journalists' needs and calls for training.
At the same time, newsrooms aren't investing any more in tech or digital staff than they were two years ago, despite technology's increased prevalence.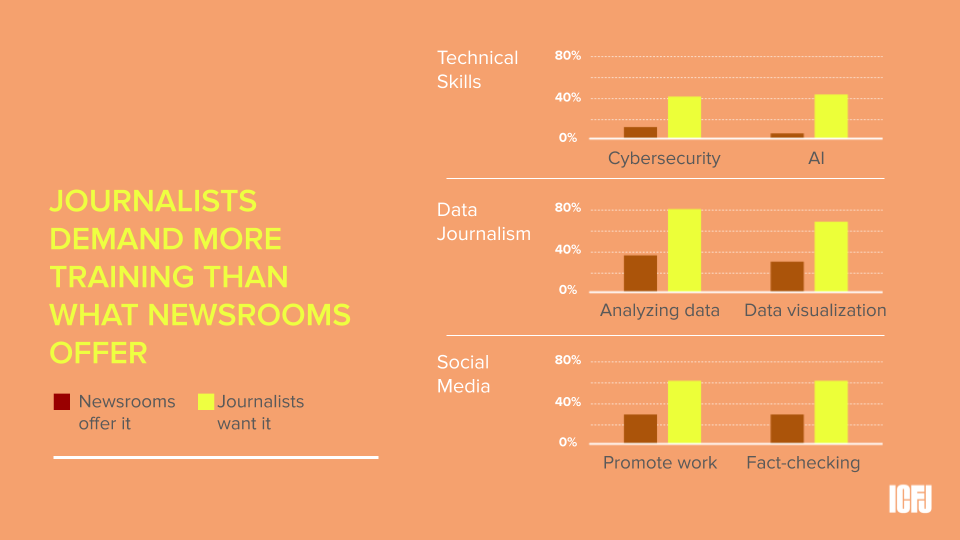 The adoption of technology across the news landscape also means that fewer news outlets can rely on traditional sources of revenue. Advertising, for example, is not the largest revenue source for a majority (54%) of newsrooms, as they work to diversify their funding sources. Large newsrooms (more than 26 employees) are notably more reliant on advertising than smaller ones. 
Newsrooms in Europe are the most optimistic about attracting diverse revenue streams in the coming year, expecting to rely on a relatively equal combination of philanthropic contributions/grants (30%), sponsored content (30%) and traditional advertising (25%). 
More than one-quarter (27%) of newsrooms anticipate online subscriptions and memberships to be their top revenue source in the coming year, even though only 4% now say it is their most important funding stream.
The majority of newsrooms around the world report shifting revenue models as their leading concern, followed by the introduction of artificial intelligence into the newsroom and attracting advertisers. 
ICFJ's 2019 survey highlights other important trends:
Digital-only newsroom growth is flat or down everywhere except in East/Southeast Asia, suggesting that fewer online startups are launching. The biggest decline in digital-only news outlets has been in North America and Eurasia/former USSR.  
Women are making significant headway in the newsroom. They hold half or more of newsroom management positions in four of the eight regions we surveyed: Eurasia/former USSR, North America, Europe and Latin America/Caribbean.
More than 50% of journalists surveyed say they regularly use digital tools to fact-check information.  
Thirty-three percent of news organizations have dedicated fact-checkers on staff. Additionally, 44% of newsrooms and 37% of journalists have engaged in more fact-checking activities over the past year.  
Smaller newsrooms are twice as likely to report on local/community news as larger outlets. Worldwide, only 15% of newsrooms and 13% of journalists report on local news.
View the full report, and see highlights from the survey. 
---
Georgetown University's Communication, Culture and Technology program helped to administer the survey, which was supported by Google News Initiative and Fusion.
---