Wildlife trafficking is thriving. Its criminal gangs are acquiring panache and sophistication as internet access creates a corridor for wildlife traffickers to commit heinous eco crimes. Yet, the area is under-reported, and it poses daunting challenges for investigative journalists probing the dark alleys and vast cells of the crime. 
Concerns about illegal wildlife trade are growing among environmental practitioners and bio diversity enthusiasts in the face of the half-hearted commitment of many governments around the world to combat the crime. However, there is a recommitment on their part to improve their various approaches. 
Currently, illegal wildlife trade is estimated to be worth about US$23 billion annually, demonstrating its impact on the world's economy. And the impact which wildlife trafficking crime could have on health may be startling, especially as some reports suggest a possible link between Pangolin trafficking and the origin of coronavirus. 
In a virtual session of the Africa Investigative Journalism Conference 2020, I had an opportunity to listen to Fiona McLeod, founding director of investigative environmental journalism organization Oxpeckers. She introduced tools that journalists could embrace while investigating wildlife crime. 
The aim of the tools, she added, is to track and expose criminals and syndicates in Africa and beyond. She pointed out that Oxpeckers has developed comprehensive databases of eco offenses and is working with partners to tell stories and make resources available to the public. 
"We know that illegal wildlife trade is happening, so our objective is to make data more accessible," said McLeod. "By keeping this data exclusive or under wraps, there's no accountability, there's no understanding by the public, and there's no buy-in to what we're doing." 
Below are some tools, developed by Oxpeckers, to help journalists interested in investigating illegal wildlife trade.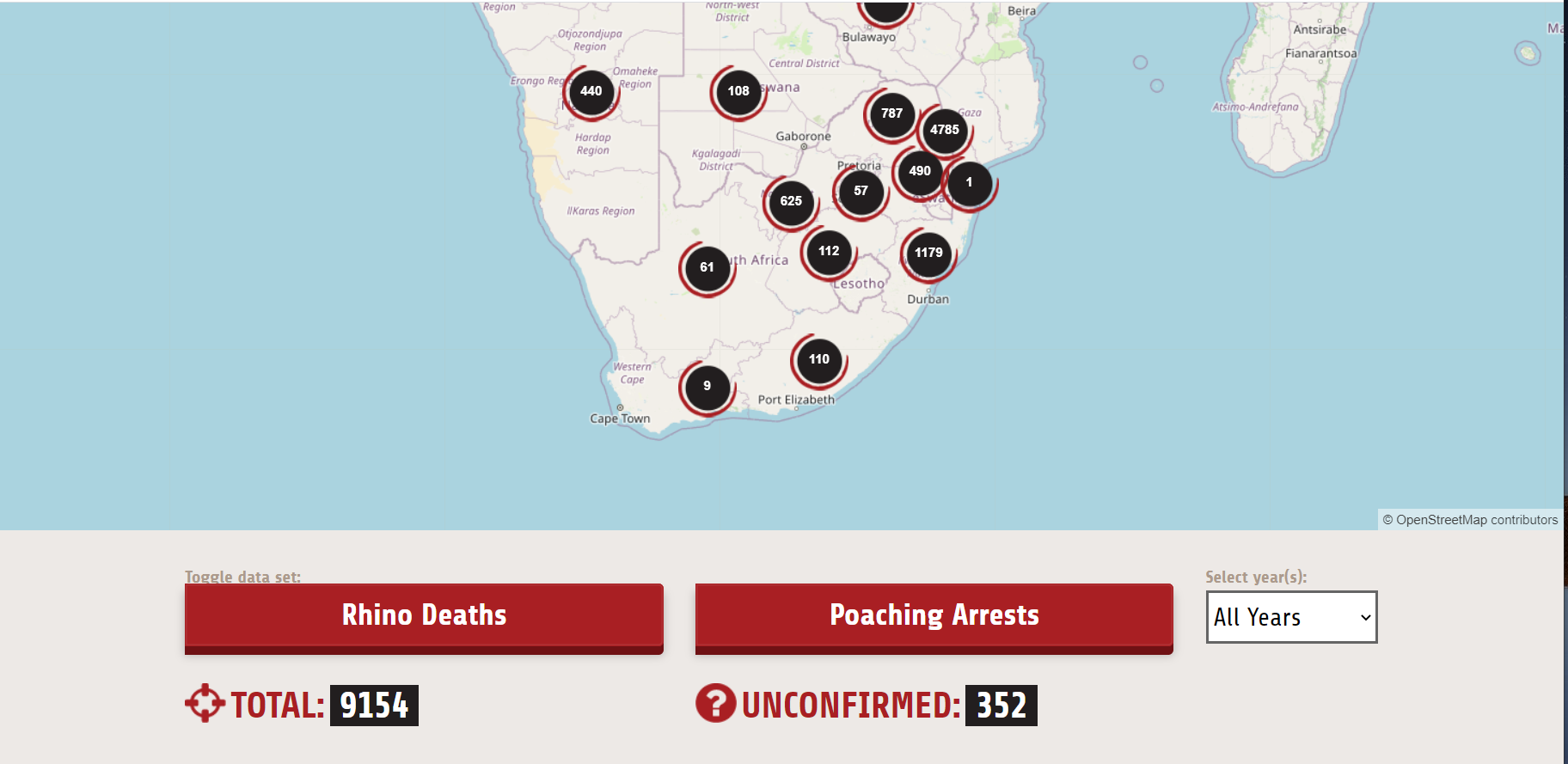 At the click of the button, this tool unveils statistics on rhino poaching incidents in South Africa, specifically of rhino deaths and poaching arrests in the country as far back as 2010. The tool is based on original data collected from courts, law enforcement agencies and web scraping by Oxpeckers, which is aggregated and filtered to present it in an interactive and accessible way.
Oxpeckers launched the tool in South Africa, filling the gap after it became clear that the government, which previously provided the statistics, fell short and could no longer do it regularly, creating a void of accessible accurate and timely information. 
This tool aggregates data on rhino poachers' court cases across southern Africa. After developing a tool that tracks rhino deaths and arrests (above), Oxpeckers thought it was a good idea to develop another tool to track court cases, so users can see poaching arrests through the tracker. The data to fuel this tool is collected by Oxpeckers by aggregating existing datasets stored in different places.
A data savvy journalist could use this tool to unearth information for storytelling, while government officials and advocacy groups can make use of it as well.
There are two versions of this tool: #WildEye Europe and #WildEye Asia. These tools tracks seizures, arrests, court cases and convictions relating to wildlife crime across the respective regions. Users can filter the maps based on different categories of data and search for specific countries, animals and dates. If interested in a particular case, users can subscribe to alerts to receive updates.
Both tools are open source, which means they are publicly available, and can be accessed and used by anyone. #WildEye works by allowing the user to request, share and develop stories. The data comes from court records or freedom of information requests, and it is vetted by a team of investigators assembled by Oxpeckers. 
Using the tools 
Journalists around the world have been using these tools to tell their environmental investigative stories. Indonesian journalist and editor of Haluan.co, Rezza Aji Pratama, together with her colleague Wan Ulfa Nur Zuhra, a data visualization expert and executive editor of the Indonesian Data Journalism Network, investigated how a heavier penalty in the country's new legislation could deter wildlife crime. They used #WildEye to make the investigation possible, and the story was published on Oxpeckers.
In another example, Chinese journalist Bao Choy, a member of Environmental Reporting Collective, analyzed the 2019 and 2020 data available in #WildEye to explore the kind of sentences Pangolin smugglers received in China. The reporting revealed that Pangolin trafficking offenders in China received light sentences unlikely to deter the illegal trade. 
Choy hoped that the story would trigger action on the part of Chinese authorities and courts to take stricter measures against Pangolin smugglers post-COVID, but nothing was forthcoming.
---
Wole Elegbede is a Multimedia journalist and Project Director of Press Attack Monitor, a platform that exposes press freedom violations in Nigeria. He was chosen by the Journalism Program (Wits Journalism) of the University of Witwatersrand, Johannesburg, South Africa, as a fellow of the African Investigative Journalism Conference 2020 hosted by Wits Journalism.
Main image CC-licensed by Unsplash via Kevin Folk.
---