In late January, when most people around the world viewed the novel coronavirus as a remote medical crisis, I realized that my professional and personal life was going to be changed significantly.
As co-director of Global Business Journalism, a master's degree program created by the International Center for Journalists (ICFJ) and Tsinghua University in Beijing, I knew that we would need to plan to conduct our spring semester virtually through an online platform, rather than in the classroom in China. Like many of our international students, I was outside China and unable to return to the locked-down campus.
For my program, this crisis became an opportunity, and Global Business Journalism began its spring semester on schedule and with all students in attendance via Zoom — an online video conferencing platform. Now that COVID-19 is understood to be a global threat, many other  universities are responding similarly. More than 200 U.S. universities, and more than 1,000 globally, switched from in-person to online classes in the first two weeks of March.
This unanticipated disruption need not be a burden, if you are adaptable and innovative. "Online education is an opportunity to make coursework more customized and flexible," writes journalist and educator Lisa Waananen Jones.
Here are 10 tips to make an online learning experience more rewarding:
(1) Pick the right learning platform           
Before launching your online class, consider your needs, and determine an online learning platform that will best support them. Your online learning site must be able to handle the number of people in your classes or meetings, how long you plan to use it and more. 
Many platforms cost money, especially for "premium" plans, so consider your budget and whether you are willing to accept the limitations of free sites, which usually cap the number or participants or limit the time of your sessions. Different sites offer different features, including chat capabilities — for the full group or individual members — and group meetings taking place at the same time inside of the class session. 
In addition to Zoom (which I'm using), other platforms recommended by TechRadar include Docebo, Udemy, Skillshare, WizIQ, Adobe Captivate Prime and SAP Litmos. Other choices with free options include Moodle, ezTalks Webinar, Fastmeeting and Articulate Storyline. Some platforms are offering discounts to schools and nonprofit organizations, which may make the expensive options more accessible.
(2) Beta test your platform
As I was working with my Tsinghua School of Journalism and Communication colleagues to set up our virtual classrooms, the Iowa Democratic caucuses demonstrated to the world the risks of adopting new technologies without sufficient beta testing. We moved quickly with small-scale beta testing of several platforms, which is why we chose Zoom. We followed up with a beta test of five staff members and then our first-year graduate students. Each was successful, so we were ready for our official launch — all within a week. 
(3) Focus on your community
If you don't already have a social media chat group for your class, create one. My Tsinghua class uses WeChat, but WhatsApp, Facebook, Slack and other platforms can work for you. I interact with my students far more often during this period of online class than when we were on campus together, answering quick questions and offering tips and suggestions.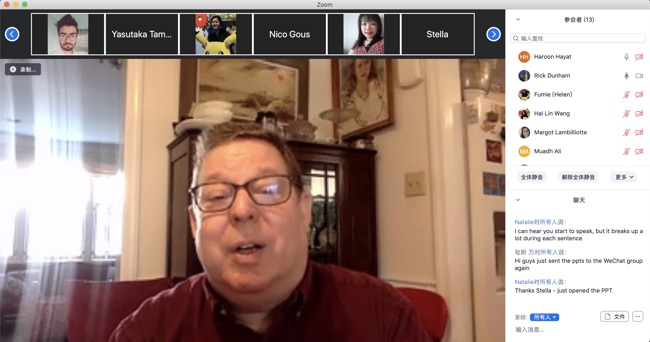 (4) Think visually
The most boring way to teach is to be a talking head, so it's important to add visual elements to your class. I started with my virtual classroom set. As the son of a scenic designer for Broadway and opera, I created a backdrop for my lectures. On a more substantive note, I vary the images on the screen at any one time — whether still shots or videos. Most video conferencing platforms allow you to share your screen, so I scroll through examples of best practices, and have even conducted live searches of online databases. 
If you need help designing innovative content, Torrey Trust, from the University of Massachusetts at Amherst, put together a Google Slide deck with innovative ideas, links to visual technology platforms and other advice for online teaching.
Of course, there's always a risk that one of your visual exercises could go awry, but that's part of the excitement of live TV.
(5) Lower expectations
Inevitably, something will go wrong in real time: the streaming video, someone's audio, someone's internet connection, the live chats or something you haven't even considered. Patience is important. As long as your students understand that this virtual classroom might not be perfect, everyone will be a bit less anxious if they experience any type of malfunction.
(6) Tailor your lecture materials
Don't just transfer your lecture notes or PowerPoint presentations to an online format. You need to communicate differently than in class. Online there is no natural interaction of professors and students, and students online don't raise their hands or give you a non-verbal clue that they'd like to participate in a discussion. Instead, you need to invite them into the discussion through simultaneous social media chats or online surveys.
(7) Forgive your students' complications
My remote teaching experience is unusual as my students span 22 time zones. My class begins at 9 a.m. on the east coast of the United States, which means 10 p.m. in Japan and Korea, 5 p.m. in Oman, 3 p.m. in South Africa and so on. Some students, cloistered in their parents' homes, have to whisper so they don't wake sleeping relatives, and I have allowed some students to present "oral" reports through the group chat function.
 Remember: it's not the students' fault that our spring semester has become so complicated.
(8) Give your students individual attention
It's important to build or maintain relationships with everyone in your class, which becomes particularly important when you cannot engage in the basic social interactions of a classroom setting. Instead of having my regular weekly office hours, I offer virtual office hours at times that I pre-arranged with each student. Because some students are shy, I reached out to schedule meetings in advance of major assignments. At the end of every lecture, I leave a few minutes for students who want to hang around in the virtual classroom and ask me any questions on their minds. 
I also respond to social media messages or emails from my students within the day — or sooner, if practical — because I believe it's important to show students that you care about their learning experience and progress. This isn't always doable, depending on class size, but prioritize your students needs and respond as quickly as possible. 
(9) Remain physically active
Over the first few weeks of online teaching, I felt lonely or irritable. I was accustomed to the interactions with students, and the social camaraderie of my office. To cope, I make sure to exercise regularly. Others in China and Italy have developed much more creative coping mechanisms during their weeks in quarantine. Those of us free to move around in our hometowns must act responsibly, but we don't want to cloister ourselves and live in a world of irrational fear.
(10) Rely on your teaching assistant or office staff
Teaching remotely requires more work than teaching in the classroom. It requires more coordination, communication and logistical planning than normal courses, and it can be challenging to keep up. Empower your teaching assistant or office staff to remind students of upcoming assignments, guest lectures and schedule changes, and always remember to say "thank you" to the staff that helps you.
None of us are in this alone. Amherst College President Biddy Martin was speaking for me when she informed her students and staff on March 9 of a temporary shift to online education.
"It will be hard to give up, even temporarily, the close colloquy and individual attention that defines Amherst College," she wrote, "but our faculty and staff will make this change rewarding in its own way, and we will have acted in one another's best interests."
Additional resources:
---
Rick Dunham is co-director of the Global Business Journalism program and a visiting professor of journalism at Tsinghua University in Beijing. A Washington reporter for 29 years and former president of the National Press Club, he is author of the new journalism textbook "Multimedia Reporting" (Springer, 2019).