Several years from now, we may look back on 2015 as the year in which virtual reality (VR) journalism went mainstream for the first time.
This year, major news outlets recognized VR as a viable storytelling medium, particularly for its ability to inspire empathy in a way that text and photos can't. And thanks to the spread of Google Cardboard and other low-cost VR viewing devices, we got to witness some of the year's biggest news stories as if we were witnessing them firsthand, from the refugee crisis to new discoveries on Mars.
This medium is showing no sign of slowing down. By 2020, the virtual reality market will be worth an estimated US$70 billion.
Here's a look at some of 2015's best examples of virtual reality journalism:
The Displaced, The New York Times
After sending 1 million Google Cardboard headsets to its subscribers in October, The New York Times introduced "The Displaced," its first NYT VR project. The VR experience gives viewers an unfiltered glimpse inside the lives of three refugee children around the world: an 11-year-old Ukrainian boy named Oleg, a 12-year-old Syrian girl named Hana and a 9-year-old South Sudanese boy named Chuol. By taking the viewer directly into these children's everyday lives, The New York Times' VR team helps illustrate the gravity of a larger crisis. Today, some 30 million children worldwide have been displaced from their homes.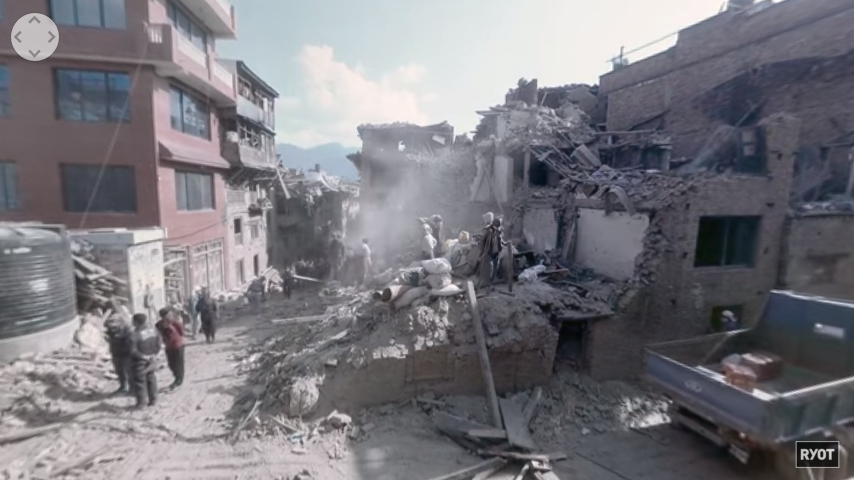 The Nepal Quake Project, RYOT VR
Production company RYOT VR's Nepal Quake Project depicts the aftermath of the catastrophic earthquake that hit Nepal in April. The project was filmed about a month after the earthquake — when international aid workers had begun their departure and media coverage of the disaster had long been over — to show how much work still needed to be done. In the span of three minutes, viewers take a walk through Bhaktapur and the Sindhupalchowk district, the areas hit hardest by the quake.
Inside North Korea, ABC News
In addition to covering humanitarian crises and natural disasters, VR has also been used to transport viewers to other cultures. In this case, ABC News and Jaunt, a VR equipment producer, teamed up to take viewers inside Pyongyang, the capital of North Korea — or at least the parts of Pyongyang that foreign visitors are permitted to see.
"Those who visit North Korea, including journalists, just don't get a chance to see anything truly secretive," Bob Woodruff, the short's narrator, wrote.
Despite these limitations, the project is able to bring people around the world a little bit closer to North Korea, a country many may never visit in their lifetimes.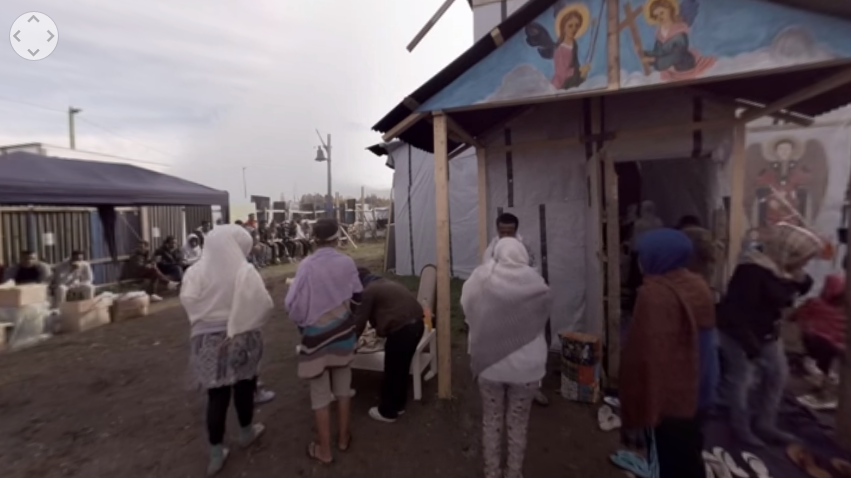 Seeking Home, The Associated Press
Nearly every news outlet provided on-the-ground coverage of the refugee crisis this year in a wide variety of ways. To mark its first steps into VR journalism, The Associated Press produced a 360-degree video documenting conditions at Calais, the refugee camp in Northern France. The camp, where refugees stay before voyaging across the English Channel, becomes more permanent for its residents every day. The AP's video takes the viewer directly inside the camp for a close-up view of refugee life.
Discovering Gale Crater, The Los Angeles Times
VR journalism isn't just for human interest or natural disaster stories — it can also be a great way to bring amazing scientific discoveries to life. In October, The Los Angeles Times produced a VR project that depicts the inside of Mars' Gale Crater. In a guided VR tour, viewers can see evidence of water on Mars up close and personal.
Main image CC-licensed by Flickr via Nan Palmero.
Secondary images are screenshots of the Nepal Quake Project and "Seeking Home," respectively.