Like the rest of the world, the media industry in Latin America faces its share of challenges today. News deserts, censorship and threats to journalists' safety all stifle information from reaching the public. Amid this backdrop, entrepreneurial journalism is alive and well in the region — and receiving a boost.
On Wednesday, 10 digital startups from across nine countries in Latin America received much-anticipated news: they are the recipients of grant funding and expert consulting through the Velocidad accelerator. The International Center for Journalists (ICFJ) program, run together with SembraMedia and funded by Luminate, aims to promote the sustainability of the respective media initiatives.
The selected newsrooms reflect the diversity of today's media landscape in Latin America, both in terms of editorial approaches and the entrepreneurs and journalists leading the efforts. Seven of the outlets were founded by women, and they report on issues ranging from human rights and the environment, to corruption, culture and the economy, among other topics.
What can you expect from these media ventures? Here's a snapshot of the 10 newsrooms selected: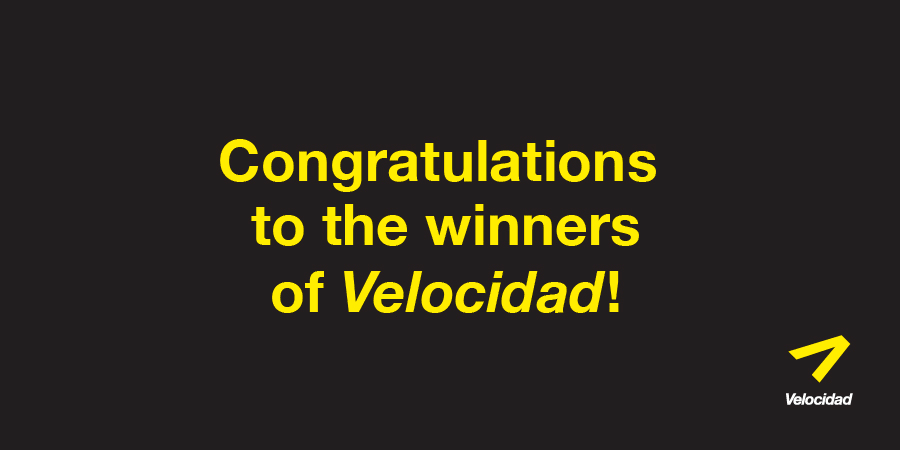 Colombia
Cerosetenta was created by the University of the Andes in Bogota, Colombia eight years ago. Run primarily by students, readers turn to the publication for social and cultural news, including coverage of human rights in the country. Cerosetenta boasts a growing network of podcasts, one which has collaborated with NPR's Radio Ambulante in the past.
Chile
This investigative journalism outlet is the cohort's oldest, founded in 2007. From the start, the nonprofit newsroom has been internationally recognized for its investigations. Underpinning its success is CIPER's commitment to using investigative journalism to scrutinize both public and private powers to help uphold democratic norms and values in Chile. 
Peru 
Convoca launched in 2015 with its involvement in the cross-border SwissLeaks investigation, which it carried out with the International Center for Investigative Journalism. Since this first investigation, Convoca has continued to collaborate with news outlets across Peru, Latin America and beyond. They've put together investigative series and multimedia specials, and experimented with different formats like comic books and video games to engage audiences.
Venezuela 
In Venezuela, where 32 radio stations and newspapers have closed over the last 20 years, El Pitazo was born in 2014 to offer independent news coverage. The publication has been internationally recognized for, among other efforts, its role in the collaborative reporting on human trafficking in Venezuela amid the country's economic crisis. In November, El Pitazo helped launch Rebel Alliance Investigates together with two other independent media outlets in Venezuela: Runrun.es and Tal Cual. 
Paraguay
Have you heard of "scrollytelling," the art of turning a longform story into an interactive experience to engage readers? Well, now you have. This Paraguayan startup reaches young audiences often ignored by mainstream outlets through visual, mobile-friendly approaches like scrollytelling. They cover issues ranging from health and the environment to education, technology and human rights. 
Cuba
By focusing on human rights, political participation and citizen empowerment, El Toque aims to increase space for dialogue around social issues in Cuba. Since its launch in 2012, the digital platform offers balanced content with in-depth reporting, analysis and opinion coverage targeting young readers, between 20 and 35 years old.
Mexico
Lado B strives to "tell the other side of the story." This Mexican newsroom is able to report on pressing issues like the environment, corruption and immigration while also delving into stories that receive less attention, about Cumbia DJs called sonideros, bus drivers and wrestling, for example.
Brazil 
The lone Portuguese-language outlet on this list, Ponte Jornalismo was created in 2014. The digital-first publication reports on human rights, justice and public security in Brazil in an effort to strengthen democracy in the country. Ponte Jornalismo strives especially to amplify the voices of society's most vulnerable groups.
Argentina
Since it launched in 2014, Posta has become Argentina's lead producer of podcasts, featuring more than 50 original series. The podcasts cover topics like innovation, technology and pop culture, in a variety of formats and styles — conversations and interviews, documentaries and fiction series.
Argentina 
This list's second media initiative from Argentina, Red/Acción focuses on implementing what it dubs "human journalism" — a unique approach that borrows elements from solutions journalism as it aims not just to understand reality, but to change it. The outlet was founded in 2018, and provides coverage of many of today's most pressing issues, including poverty, incarceration, sustainability and health, among others.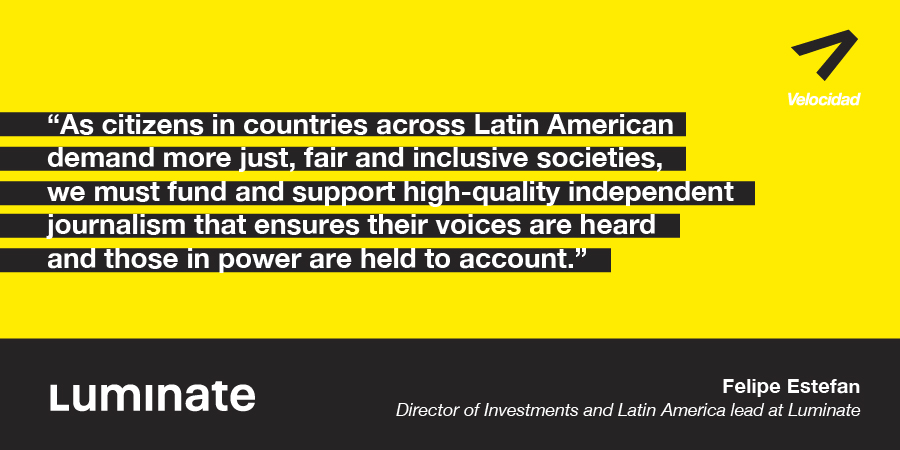 ---
Velocidad was established with funding from Luminate and designed by ICFJ and SembraMedia to support the important work of independent media outlets.
SembraMedia was co-founded by ICFJ Knight Fellow Janine Warner.
---