Mexico's journalists need good news. After a decade of seeing an increasing number of their colleagues killed for their work, they need a sign of good things to come — could the country's present moment of presidential transition be that sign?
In December, the leftist Andrés Manuel López Obrador (AMLO) will become Mexico's president after the biggest election in the country's history. With 30.1 million votes, AMLO received the most votes of any candidate, ever. But with AMLO's popularity has come some wariness of the change ahead. For journalists on dangerous assignments, this uncertainty is particularly high-stakes. While it's too early to know AMLO's impact on journalists' security with any certainty, international organizations and their Mexican counterparts have begun to speculate and offer recommendations to the incoming president.
Mexican journalists are among the world's most at-risk. According to the Committee to Protect Journalists' (CPJ's) Impunity Index, Mexico is ranked sixth, behind countries that are currently active war zones; ninety percent of the nation's crimes against journalists go unpunished. As of 2017, 21 Mexican journalists had been murdered with complete impunity in a mere decade. Most of those targeted are local journalists in drug cartel-dominated states, reporting especially on crime, corruption and politics.
It is important to note that many of these murders are carried out with the knowledge and even participation of public officials, says Jan-Albert Hootsen, Mexico correspondent for CPJ. "The line between organized crime and public officials — especially on a local level — can be very blurry."
The context of this year's landmark election exacerbated these tensions. International watchdog Reporters Without Borders (RSF) and its Mexican partner Propuesta Cívica monitored the lead-up to AMLO's win, registering 45 attacks on journalists from January through May 2018. Candidates, political party supporters and candidate campaign teams were the main perpetrators, and several were seeking positions of power: "The eight candidates who perpetrated attacks [were] running for mayor, governor or senator."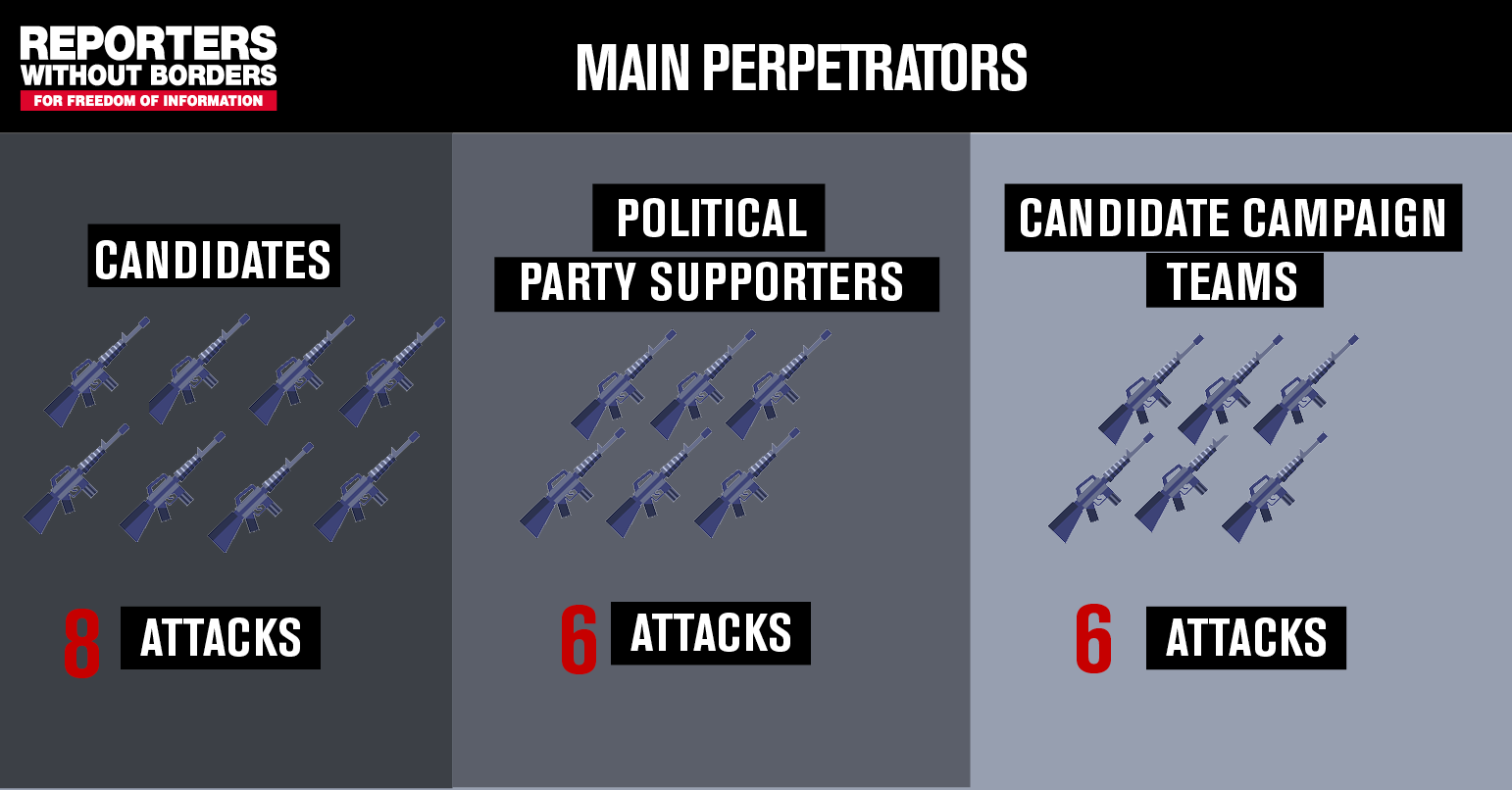 Mexico already has an institutional and legal framework in place to protect journalists from attack. However, says Hootsen, "The sheer number of deadly and non-deadly attacks against reporters tells us that this framework isn't working."
If AMLO's statements earlier this year (and his supporters' confidence) are any indication, his administration could signal a sea change. "We are going to take care of journalists because they are under a state of extreme threat. They can no longer write freely because they are so under threat. Under [a Morena] government, they will have full, complete freedom," said the then-candidate in January.
Previous administrations have expressed similar sentiments, without taking any concrete steps to support the Mexican press. The question now is whether AMLO's assertions are campaign rhetoric, or emblematic of real policy.
"He has spoken about [press security], but like many of the president-elect's policy proposals, they're long on broad terms and very short on details," said Hootsen. "I think it's too early to express either optimism or pessimism about AMLO's intentions."
To a certain extent, curbing violence against journalists is only achievable via curbing general violence; according to CPJ's research, the two rise and fall in parallel. However, on May 28 of this year RSF, CPJ and Article 19 Mexico submitted a document to AMLO's campaign staff. It expressed their security concerns and made concrete policy recommendations to mitigate threats to the press.
"Mexico's next president…will need to make this policy a major element of the administration's program if the deadly trend is to be reversed," RSF's Latin America bureau head Emmanuel Colombié is reported as saying.
Elements of this recommended policy include reinforcing the federal mechanism for protecting journalists and combating impunity — especially via giving the Special Prosecutor's Office for Crimes against Freedom of Expression (FEADLE) more resources to investigate and solve these crimes.
It also includes new and standardized procedures for investigating crimes against journalists, as well as improved mechanisms for monitoring the psychological dimension of threats to journalists. On a related note, the report emphasizes the importance of coordinating with the Executive Commission for Attention to Victims (CEAV) to evaluate risk on a nationwide scale.
There was no mention of press security in "Proyecto de la nación," AMLO's 461-page document laying out his plans for his presidency.
Hootsen also notes that AMLO has indicated that he will not move forward with a proposed constitutional reform that would make the Attorney General more independent, which is concerning, says Hootsen, "because one of the reasons the impunity levels are so high is that Mexico doesn't really have an independent judiciary."
However, when it comes to changing the status quo for journalists, the weeds of policy are perhaps less significant than the Mexican public's general attitude toward their country's future. Mexicans are more concerned than ever about rooting out corruption, and making it a priority was a major part of AMLO's campaign. Should he make the strides he has promised, the local journalists who have been doing that work for decades — and their safety — would be invaluable to that progress. It is too early to know AMLO's impact for sure, but many Mexicans remain cautiously optimistic.
"I think there is major change coming," said Professor Gaston Melo, former vice president of Televisa and former government advisor. "We have had 50 years of civil society trying to break the walls of oligarchy and change the status quo, but I think this is a very rare, very singular opportunity for this country, both for the journalists and for the government."
Lisa Martine Jenkins is a journalist currently based in Mexico City. She covers international relations and environmental issues. Find her on Twitter. 
Main image CC-licensed by Wikimedia Commons via ProtoplasmaKid. Graphic courtesy of RSF.