Amid all the news about how Facebook and Google are devouring the world, I would like to sound a note of optimism for digital news media. But first, let's acknowledge the bad news.
It is true that the munch munch munch you are hearing is the sound of the internet giants biting off big slices of the digital advertising pie. However, much of that has been at the expense of traditional news media. There is an opportunity for digital-only news media to fill the gap in local coverage. 
In the short term, this is not something to celebrate, since the decline of newspapers in particular has led to a big loss in watchdog journalism on the local level. The chart below, which has been published widely, shows the rise of Facebook and Google's advertising revenue concurrent with the decline in newspaper ad revenue.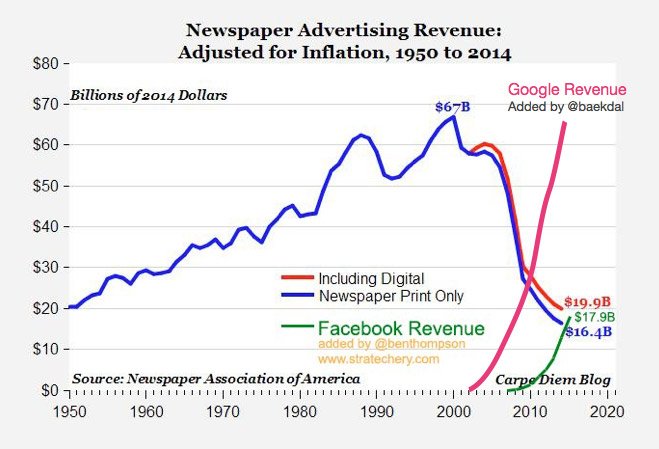 Newspaper advertising declines accelerated into the double figures at several newspaper companies recently, as Ricardo Bilton of Nieman Lab reported. 
The really bad news is that a financially weakened Fourth Estate, a key institution in democratic societies, is vulnerable to legal actions taken by powerful corporate and political interests, as the recent case involving Gawker illustrates. A small media organization, even one on the right side of the law and practicing journalism of the highest standards, could be bled to death in a prolonged legal battle with a well-financed libel plaintiff. Digital news media need protection.
The following two graphics, from eMarketer's Digital Advertising Snapshot show how Facebook and Google will have 57 percent of the digital advertising in the U.S. this year (top) and Facebook's dominance of social media ad spending (bottom).
 
The opportunities for digital news media lie in the gray part of the top graphic, the nearly 30 percent of digital ad spending that is not going to these major outlets.
Relationships, not scale
While the big players are all trying to benefit from scale — reaching as many eyeballs as possible through the internet's network effect — smaller media can capitalize on being small. They can also use the Internet to get closer to their audiences and sponsors.
Many advertisers and publishers are deceiving themselves by focusing on the big numbers — total page views, total users per month — rather than the level of engagement and loyalty.
Better measures of engagement and loyalty are frequency of visits to a site (daily, weekly, monthly), time spent on an article or video or interactive graphic, time spent on a site per visit, page views per visit, scrolling activity on a page, recommendations, shares, likes, comments and other signs of interactivity.
Local media know the local issues better than media giants. They understand the nuances of the local political issues. They understand the significance of local businesses, leaders, language, sports teams, arts organizations, charities, events, media, and on and on.
All of this knowledge and all of those personal relationships have value to consumers and sponsors at the moment when they are deciding how to spend their money.
As mentioned in a previous blog post, the Dutch journalism platform De Correspondent launched in 2013 with the promise of being an advertising-free independent outlet of analysis and in-depth investigative reporting funded by annual subscriptions of US$66. Almost 20,000 people responded to the initial crowdfunding campaign and generated US$1.7 million, enough to hire a staff of 24. The publication has grown to 40,000 paying members at US$66 apiece, which adds up to US$2.6 million a year, prompting publisher and co-founder Ernst-Jan Pfauth to argue that journalism can create value and earn the public trust by divorcing itself from advertising.
As Eldiario.es of Spain and The New York Times have demonstrated, even if only a tiny percentage of users agree to pay for editorial content, that revenue can  be enough to finance a significant part of an editorial operation. 
And as I have noted before, there are many ways to monetize a digital news audience beyond the standard advertising and subscription models. In the short term, the decline of traditional media has left big gaps in coverage and accountability journalism. But there are good reasons to believe that in the long term, digital media can fill those gaps. They just need to adopt different measures of success and different business models.
This post originally appeared on James Breiner's blog News Entrepreneurs and is republished on IJNet with permission.
James Breiner is a former ICFJ Knight Fellow who launched and directed the Center for Digital Journalism at the University of Guadalajara. Visit his websites News Entrepreneurs and Periodismo Emprendedor en Iberoamérica.
Main image CC-licensed by Flickr via speakout.de.