When the COVID-19 pandemic and subsequent lockdown hit the world, the livelihoods of people reliant on the tourism industry suffered. The repercussions were amplified for people living in rural India, where digital communication tools are scarce.
To address this, nonprofit media platform Voices of Rural India found a way to turn the COVID-19 crisis into an opportunity by upgrading digital skills among rural storytellers to create alternate livelihoods. 
"Digital technologies made it easier for us to survive during the lockdown in urban areas, but the same privilege wasn't being extended to the rural areas," says co-founder and travel writer Shivya Nath. "Even with the recent access to smartphones, people are consumers of content more than they are creators. To that effect, there are no real opportunities or tools to develop those skills. This digital divide became very gaping." 
That's how Voices of Rural India was born. The organization aims to support and empower the authentic voices of rural storytellers through digital media. They're currently working with rural communities in Ladakh, Himachal Pradesh, Uttarakhand, Kerala, Maharashtra and Gujarat.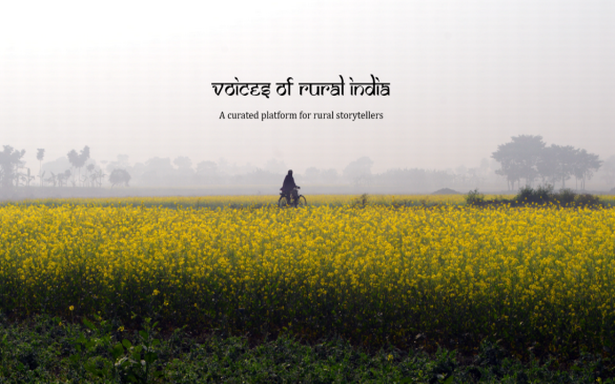 Through partnerships with on-the-ground community-based tourism organizations, Voices of Rural India trains local communities on digital storytelling skills. Anyone who has a story to tell – from travel guides to sherpas and long-term residents – is trained on the best narrative practices and encouraged to record the story through audio or video. These stories are then translated and published on the website in both the regional language as well as English. By doing so, they can create a virtual travel ecosystem of sorts, one where the oral tradition of sharing local folklore finds a new life. 
The other co-founder, Malika Virdi, is herself part of a rural community. She lives in a village called Sarmoli in Uttarakhand and runs a  responsible tourism organization called Himalayan Ark in nearby village Munsiari. In fact, Voices of Munsiari was the first joint training and content creation initiative, which was created by Virdi and Nath in 2016. At that time, Nath conducted a basic Instagram and photography workshop, and since then the community has been actively leveraging digital tools to showcase more of the local culture. 
"The power of storytelling is so intrinsic to our culture and community," says Virdi. "We asked ourselves, why don't we harness the power of storytelling and share them with the rest of the world?"
Ishita Khanna, the founder of Spiti Ecopshere, one of the partner organizations working in Spiti Valley in Himachal Pradesh, echoes the sentiment: "Storytelling and travel-tourism are interlinked. Travel guides are excellent storytellers and offer incredible insights into the local culture." 
These initiatives help the local community to own their folklore and retell these stories with pride. "Retelling stories is an exciting prospect because the deeper you delve into stories, the more you familiarize yourself with your own heritage," says Virdi.
Documenting stories from India's rural communities
To kickstart the initiative, Voices of Rural India received funds from Digital Empowerment Foundation (DEF), which is a nonprofit organization that works on solutions to bridge the digital divide in the country.
In the future, Virdi and Nath have plans to fund the initiative through donors and crowdfunding. The entire revenue goes into payments for community storytellers. It starts with a payment of INR1,000 for the first story a community member produces. For the next story, the creator is encouraged to create a richer story using visual and auditory elements, and they are paid INR1,500. From the third story onwards, creators are expected to meet higher standards, and are paid INR2,000 per story.
Voices of Rural India has shared 19 stories so far — in line with their goal to publish 10 stories each month. The site has found a steady readership in travel enthusiasts, with 12,900 views, 112 email subscribers more than 1,800 Instagram followers. Readers have been very supportive of storytellers, amplifying their voices on social media and reaching out to join as volunteers.
The short-term goal of Voices to Rural India is to create an alternate revenue stream for people affected by the lockdown, especially those that traditionally receive funding from tourism. 
The second goal of the platform is to stay connected with travelers. The targeted audience for these stories is the group of travellers who'll take an interest in these stories and flock to these places once it's safe to do so. In the process, Voices of Rural India also safeguards the authenticity of the stories and preserves oral traditions, local folklore and the culture of rural India by documenting them in the voices of their community members. 
Most importantly, the founders' vision is to use this time and platform to train the community in digital storytelling skills.  
Imparting digital storytelling skills
"People have a lot of stories, information and knowledge to share," says Khanna, "The challenge lies in putting those stories down in a specific manner — structuring the narrative, providing background context, capturing such context and landscapes visually." 
To equip them with these skills, the team at Voices of Rural India is sharing virtual training modules with the rural storytellers, which teach them the fundamentals of storytelling, such as brainstorming ideas, selecting a hook for the story, choosing the best medium, recording the audio and video and using basic smartphone photography. 
As the initiative progresses, the storytellers will also be trained to use social media and to leverage online tools to their advantage. 
In all these efforts, the Voices of Rural India team is helped by a network of virtual volunteers based all over the world – from India to the U.S. – who help with editing, translating, proofreading, housekeeping, social media and search engine optimization. If volunteers have a highly specific and specialized skill-set, they can consider creating or designing training modules for the community. For example, a self-taught photographer shared a module for easy mobile photography and a professional filmmaker has offered to create a training module on shooting videos. 
For Rekha Rautela, the daughter of a farming family from Munsiari, Uttarakhand, the barley grains had always been a matter of intrigue and cultural pride — one she decided to share through the platform. "Telling that story [and] editing it...was challenging," she says. "But I'm glad I got the opportunity to share this pride with the world."
---
Main image courtesy of Rekha Rautela, from her story "A Culture in a Grain." 
Kritika Narula is a writer, digital media strategist and communications consultant.
---