This is the fifth article in a multi-part series by SembraMedia on how independent news sites can achieve financial stability. See part one, part two, part three and part four.
A new study, based on interviews with dozens of media entrepreneurs across Latin America, reveals how online news sites are sustaining themselves financially in this region, findings that could help other digital news outlets around the world refine their business models.
SembraMedia, a nonprofit organization dedicated to supporting Latin American digital journalism (founded and run by ICFJ Knight Fellow Janine Warner), published the study on July 20, compiling their findings after surveying 100 independent news sites in Colombia, Brazil, Argentina and Mexico. The study was done in partnership with the Omidyar Network.
The report found that the online news startups mostly likely to become sustainable and profitable are those that combined multiple ways to bring in revenue, mixing advertising with crowdfunding, training, event planning and so on. Meanwhile, those dependent on just two or three sources of income are either struggling or stagnant.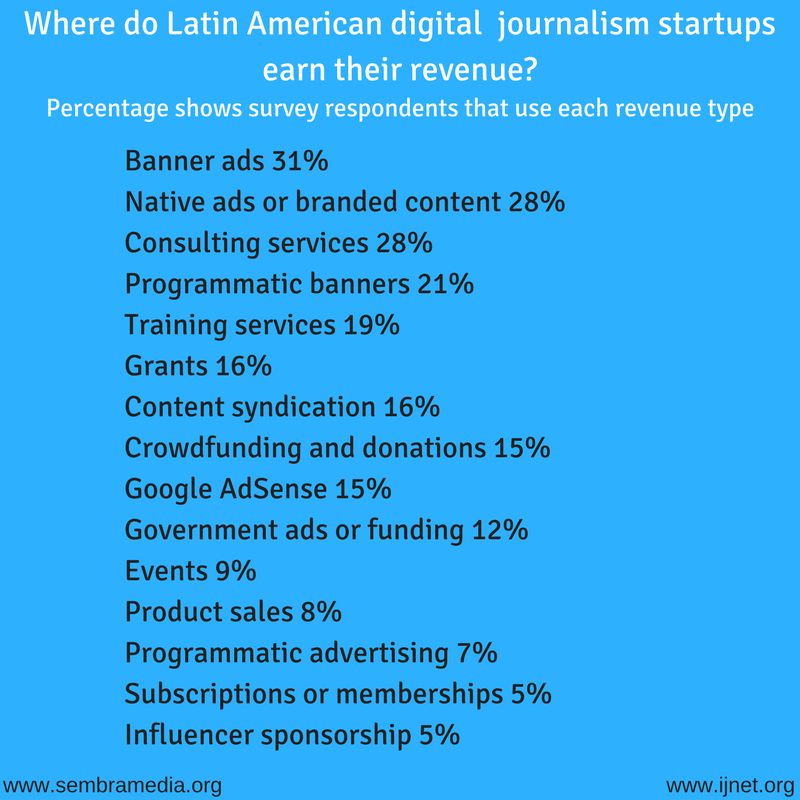 "We found two paths to growing revenue: building audience to drive traffic and advertising, or leveraging the loyalty of your audience to earn revenue with crowdfunding, training, events, and other sources," the SembraMedia report stated, adding, "These paths are not mutually exclusive."
The primary source of funds for independent Latin American news sites remains advertising — specifically, banner ads and native advertising.
Of the digital sites that have US$500,000 or more in annual revenue, 56 percent of these funds comes from advertising, SembraMedia found.
Notably, the Latin American sites that are bringing in the greatest revenue are also keeping up with the latest online advertising trends, including using ad exchanges and demand-side platforms (DSP).
This is an untapped area for digital journalism entrepreneurs trying to build profitable media projects, SembraMedia argues.
Even those with operating with a tiny staff and budget could benefit significantly from these advertisement formats, if their website is attracting enough visits. That's one reason why it's more urgent than ever for journalism entrepreneurs to be able to educate themselves in how to best use ad exchanges and DSP.
The ongoing importance of advertising as a source of income is also why those looking to build sustainable, independent news sites shouldn't under-invest in their business teams, the report said. The websites that hired at least one person to work in ad sales saw huge benefits versus those that didn't — on average, the digital teams that had at least one sales person on staff brought in US$117,000 in revenue per year. Those that didn't brought in a median revenue of just US$3,900, the report found.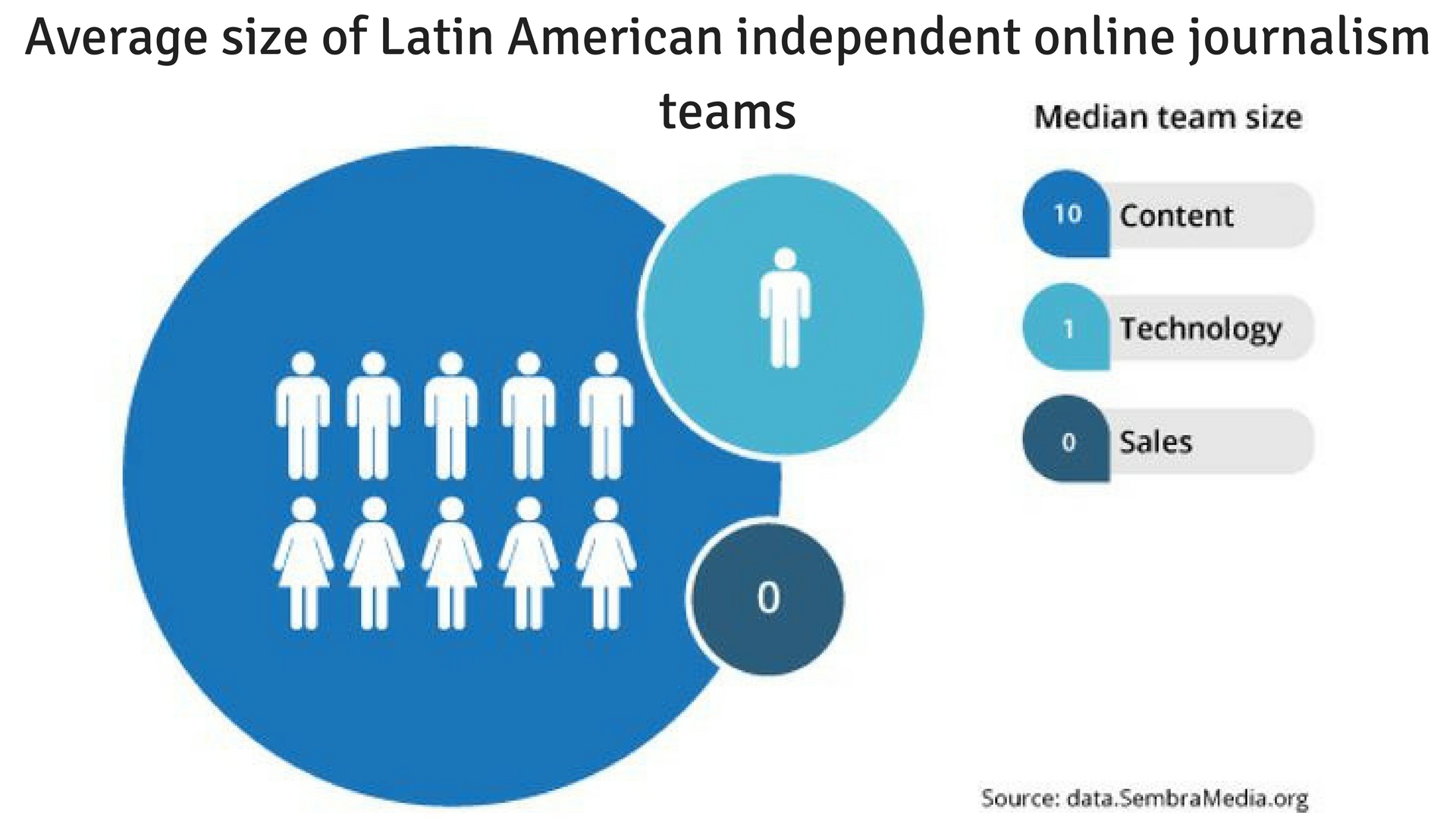 However, the reality is that most of Latin America's online news startups don't have anyone on staff working on sales (as the image above shows). As a result, typically the founder of the website is the same person trying to raise money for the organization, and few of them come from a business background. Thus, news projects that can't expand or diversify their staff would have a greater chance of becoming financially sustainable if their founder receives business training.
The SembraMedia report also advises independent online journalism sites to seek out ways to collaborate with other media organizations. Not only have these types of collaborations led to multiple examples of groundbreaking, innovative reporting, but they can also help smaller websites build up their audience and establish their credibility (especially if the story gets picked up by international media outlets). While these kinds of collaborations will probably be easier in regions that share a common language — such as Latin America — seeking to connect with peers is nonetheless a wise business decision for any online news startup.
Read the full report in English, Spanish or Portuguese. 
SembraMedia's founder and executive director is ICFJ Knight Fellow Janine Warner, who is an expert at helping digital media entrepreneurs implement sustainable business practices and generate new sources of revenue online. Learn more about her work as an ICFJ Knight Fellow here.