Devastating forest fires ravaged Indonesia throughout 2015. The fires and concomitant haze have been an environmental, economic and public health disaster for the region.
ICFJ Knight Fellow and data journalist Jacopo Ottaviani traveled to Southeast Asia with filmmaker Isacco Chiaf to observe the aftermath of the fires. Their 2016 longform multimedia project Lungs of the Earth highlights the threats to environmentalism in the region as well as what conservationists are doing to protect local forests and wildlife.
In an interview with IJNet, Ottaviani talked about the process of creating the different components of Lungs of the Earth as well as tips for journalists interested in working on longform collaborative projects.
IJNet: Where did the idea for this story come from?
Ottaviani: Forestry is a hot topic nowadays because we're going through climate change, and forests, as well as oceans, are crucial to combat [it]. I've been spending my time on environmental reporting in the last three years, among other things, and Lungs of the Earth came after this interest in the environment. This year we had the COP22 [Conference of the Parties] in Marrakech, so climate change has been in the center of public debate in many parts of the world. In 2015 there was a huge fire that killed millions of hectares of forest in Indonesia, so that's why we decided to go there and to explore the field. The idea came from the combination of these contexts.
What about the particular components of the story? It's broken up into four different sections, each dealing with a different facet of environmentalism in the region.
Lungs of the Earth started with the idea of covering solutions as well as problems. We show how technology can be used and developed to protect forests. The constructive approach is integrated in the whole longform as well as explanatory elements such as data visualizations that let readers understand the topic from a global perspective. The data visualizations are not just about Indonesia and Malaysia but about the world.
What were some of the project's challenges?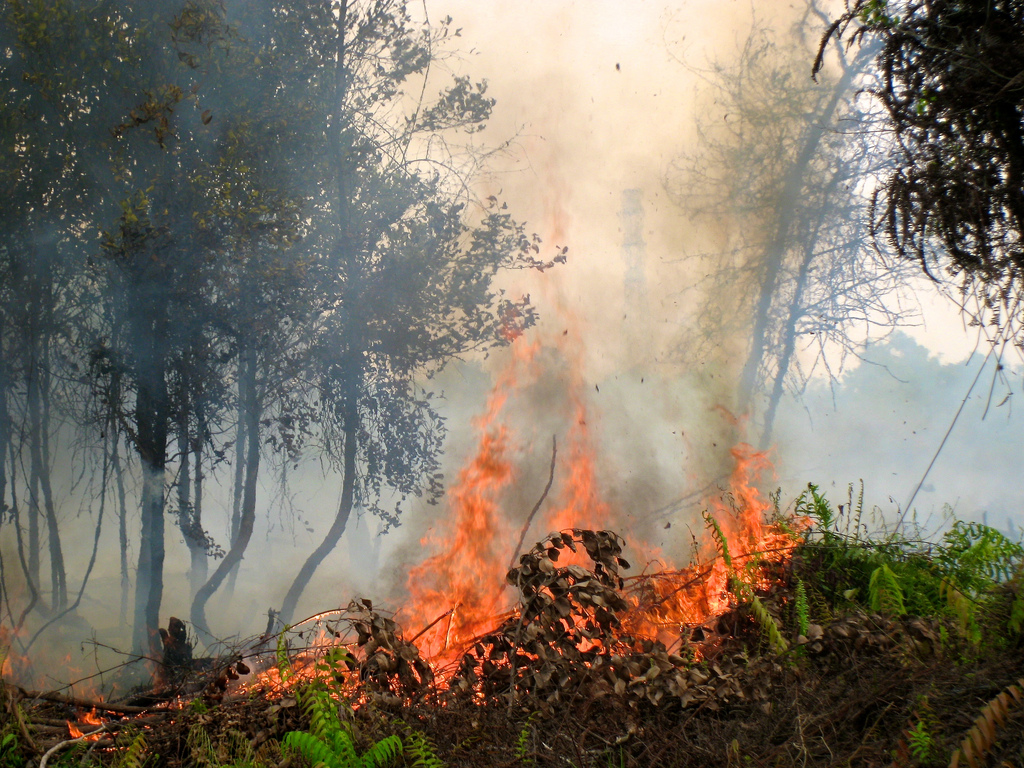 Connecting data to reality is always a challenge. The idea is that you tell human stories in order to trigger an emotional impact on people who are consuming your data visualizations. I'm a data journalist and I'm fully aware that pure data visualizations without a human element don't really work. That's why we decided to spend a relatively large amount of time in the field and give such a big space to putting our videos in the center.
We know that people often don't have time to watch a 20-minute video, so we minimized the length of our videos and built this format that can be distributed in multiple languages on multiple media. [It] can also be seen as a modular structure that can be packaged and repackaged as a series of stories or longform. For example, in Italy the project was published by Internazionale in two forms: weekly series of independent episodes and finally as an interactive longform. 
While Lungs of the Earth was produced by a relatively small team, many of your projects have been produced by large cross-border teams. What are the strengths and weaknesses of working in a cross-border collaborative group like this?
The positive side of it is that you are combining multiple knowledge backgrounds and multiple skillsets. The [challenge] comes from the coordination point of view. It's quite complicated to project manage a team of 10 people, or five or seven people from multiple time zones.
Having a leader is very important even when the team is small. You are exposing yourself to many things, so you need to make it very clear who is responsible for what. It's good to have a clear structure and define the areas of responsibility, both in small teams like this one where we already know each other and know how to work together and for new projects with 10, 15 members.
Do you have any advice for journalists looking to work on these longform collaborative pieces?
They should try to develop a variety of skills. The pure journalist who only writes or the pure photographer who only takes pictures is becoming a rarity. Since these projects are multidisciplinary, they require journalists, but also filmmaking, design, programming, data, project management, so it's good for a journalist to expand his or her skill set in a way that can cover as many roles as possible.
Expanding on that, how do you suggest journalists diversify their skills?
There are so many free courses online, and conferences often upload their workshop materials online. I think now with the internet we have access to everything so I would suggest going online and finding materials such as the Data Journalism Handbook or the Verification Handbook published by the European Journalism Center if you want to know more about verification.
Do you have any plans to continue with the project?
The idea is that this project will cover all rainforests of the world one day, especially the Congo Basin and the Amazon, including the Colombian and Peruvian Amazon. We basically built an infrastructure that can embrace new stories and ideally we will go to the field again and plug the new stories into the platform.
Jacobo Ottaviani is a journalist and computer scientist who specializes in cross-border data journalism projects and data visualization. Learn more about his work as an ICFJ Knight Fellow here. 
Main image CC-licensed by Flickr via fdecomite. Second image CC-licensed by Flickr via CIFOR.