Despite high levels of support for democracy across the continent, Africa lags behind other continents in implementing policies that promote freedoms around human rights, the economy and more.
"The majority of the governments we have in Africa are dictatorial and authoritarian. The institutions here are weak because they are either controlled by one person or a cabal," said Ibrahim Anoba, African Liberty's managing editor.
To raise awareness on issues facing democratic institutions in African countries, Anoba launched the African Liberty Writing Fellowship. Through the initiative, students learn to write about and debate solutions to pressing issues affecting the continent. 
Writing fellowship
When Anoba launched the fellowship in 2018, he wanted to ensure that participants would learn concrete skills. Before students are accepted as fellows, they participate in a five-week online training, in which they learn about op-ed writing and article structuring.
"Simplicity and proper articulation are essential when presenting an argument. Compared to other forms of writing, [the] op-eds we accept for publication must be clear and easily understood. We expose the fellows to this truth through the training," said Anoba.
Upon completion of the training, top-performing applicants are inducted as fellows into the one-year program. Over this period, fellows identify human rights-related issues affecting Africa and submit pitches to the program's editorial team for review. The completed articles are then pitched to mainstream media organizations for publication.
Previous fellows have reported on government activities and policies in Malawi, Nigeria, Ghana, Uganda and Zimbabwe. Topics they've covered include food insecurity, gender inequality and restrictions on freedom of expression, among others.
Ensuring that fellows' articles are published in media outlets is one of African Liberty's core objectives, but not its only focus, said Nicholas Aderinto, the fellowship's former assistant editor and a 2022 alumnus.
"The major aim [of this program] is [to ensure] that our fellows develop their writing skills. That's why our editorial processes are tough, right from the acceptance stage," said Aderinto. "When you write and we pitch your articles out, we want to be sure that you are learning the basics and not just sending articles to us."
Live interviews and networking
Fellows are also trained on how to perform live interviews. For example, Jeremiah Enoch, a graduate student at the University of Oxford and a current African Liberty fellow, appeared on TVC in 2022 to discuss the outcome of the election in Angola and its impact on the country's economy. 
Meanwhile, 2021 fellow Riaan Salie appeared on Newzroom Afrika to discuss how the South African government could curb the spread of COVID-19.
"After the multimedia training, I had to keep abreast of happenings going on in Africa, because we can be given [short] notice before [the interview] starts," said Salie. "Being prepared ahead gave me leverage to provide insight on the topic I was invited [to speak on] when the opportunity finally came."
For alumni of the fellowship, the international student network, Students for Liberty, organizes workshops and other events on issues related to human rights.
"With support from the international network, fellows can access mentorship and other opportunities to advance their dreams of becoming impactful libertarian advocates in Africa, even after the end of their participation in the fellowship program," said Anoba. 
Impacts
The fellowship has equipped students with important reporting skills, while also providing them with access to professional opportunities to advance their careers. 
"I racked up bylines in national dailies, which gave me much visibility as a writer. The experience from this fellowship helped me secure another fellowship almost immediately, " said Ope Adetayo, a 2021 fellow and a freelancer with bylines in Al Jazeera and the Guardian UK, among other outlets.
Participating in the fellowship helped Ibraheem Abdullateef become a better communicator and writer, which later helped him get appointed by the Kwara state governor as a special assistant in communications in 2022. David Marii, a current fellow from Kenya, was recently invited to present at the African Students for Liberty East Africa Regional Conference on issues relating to human rights. 
"African Liberty has allowed me to interact with a broader audience and ask the fundamental questions that affect society and provide solutions," said Marii. "Most importantly, the fellowship has allowed me to gain the confidence to write on issues that other journalists, especially in my country, may avoid."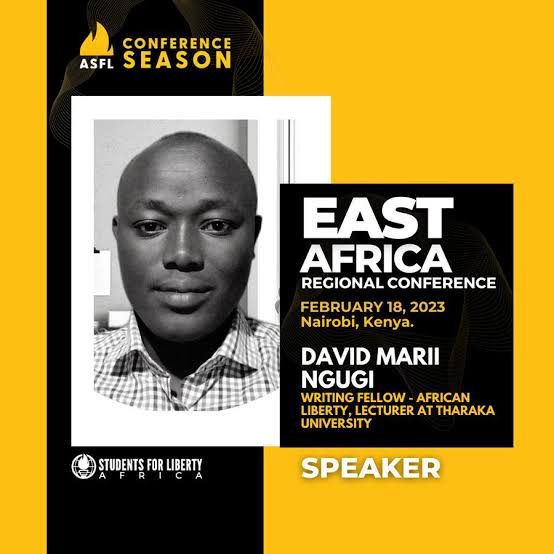 The future of Africa
Cultivating Africa's next class of journalists is rewarding, but it's not without its challenges. Trying to improve students' writing is one area Anoba and his team have identified as a primary challenge. 
"You are dealing with a diverse group of people with different writing skills and you want to ensure that they all achieve a transformed state," said Aderinto. 
By having young journalists like Marii and his peers push for human rights protection, he believes better living conditions for Africans and African journalists will be promoted. 
"Through advocating for liberty, the youth will enjoy better job opportunities and reduce the high levels of unemployment prevalent in Africa," said Marii. He also sees the work of students after the fellowship as contributing to improved governance and accountability in Africa.
Like Marii, Anoba has high hopes both for the fellowship and Africa's progress generally. 
"We can only be hopeful because Africa is the most promising continent, but economic development can only be actualized when the structures are right," he said. "If freedom is respected and human's rights [are] recognized, we'll prosper."
---
Photos courtesy of Phillip Anjorin.
---