One year ago my Syria-based outlet Tiny Hand, which reports on children living in war and crisis zones, teamed up with another independent media agency I founded, Frontline in Focus, which covers human interest stories in similar settings, to help journalists better report from the frontlines of conflict. 
Using a combination of virtual reality (VR) and augmented reality (AR) — both of which fall under the umbrella of "extended reality," or XR — this June we launched Frontline in Focus XR. A recipient of the Google News Initiative's Middle East, Turkey and Africa Innovation Challenge last year, Frontline in Focus XR uses 360° video to transport journalists from around the world to war zones and other hard-to-reach settings to help them report stories and conduct interviews. Our team of local journalists assists with the work along the way. 
It's not just journalists working on a story who can take advantage of this initiative. Humanitarian workers interested in visiting refugee camps, or archeologists wanting to visit a heritage site, are just a couple examples of who may be able to use the technology.
In a world in which digital skills are increasingly in demand, journalists would be wise to learn how to produce stories using technology like extended reality and 360° video. Many companies today are creating apps for the metaverse, a network of 3D virtual worlds focused on social connection and live interactions through user avatars. Recently unveiled by Meta CEO Mark Zuckerberg, the metaverse connects the physical and digital worlds. Zuckerberg predicted that in the next five to 10 years, the company would develop immersive virtual realities that integrate the senses of smell and even touch.
This all will affect the way people consume news, and how journalists prepare and publish their stories. It's about creating wider and more realistic engagement, which will in turn have more influence on target audiences.
What does it mean to produce a story using VR technology?
Virtual reality entails the creation of a 3D environment that simulates real life. It allows audiences to interact with this environment, and feel as if they are actually there; instead of experiencing the story from the outside, they become part of it. This can be done in many ways, most commonly through a VR headset that allows users to watch video from all angles.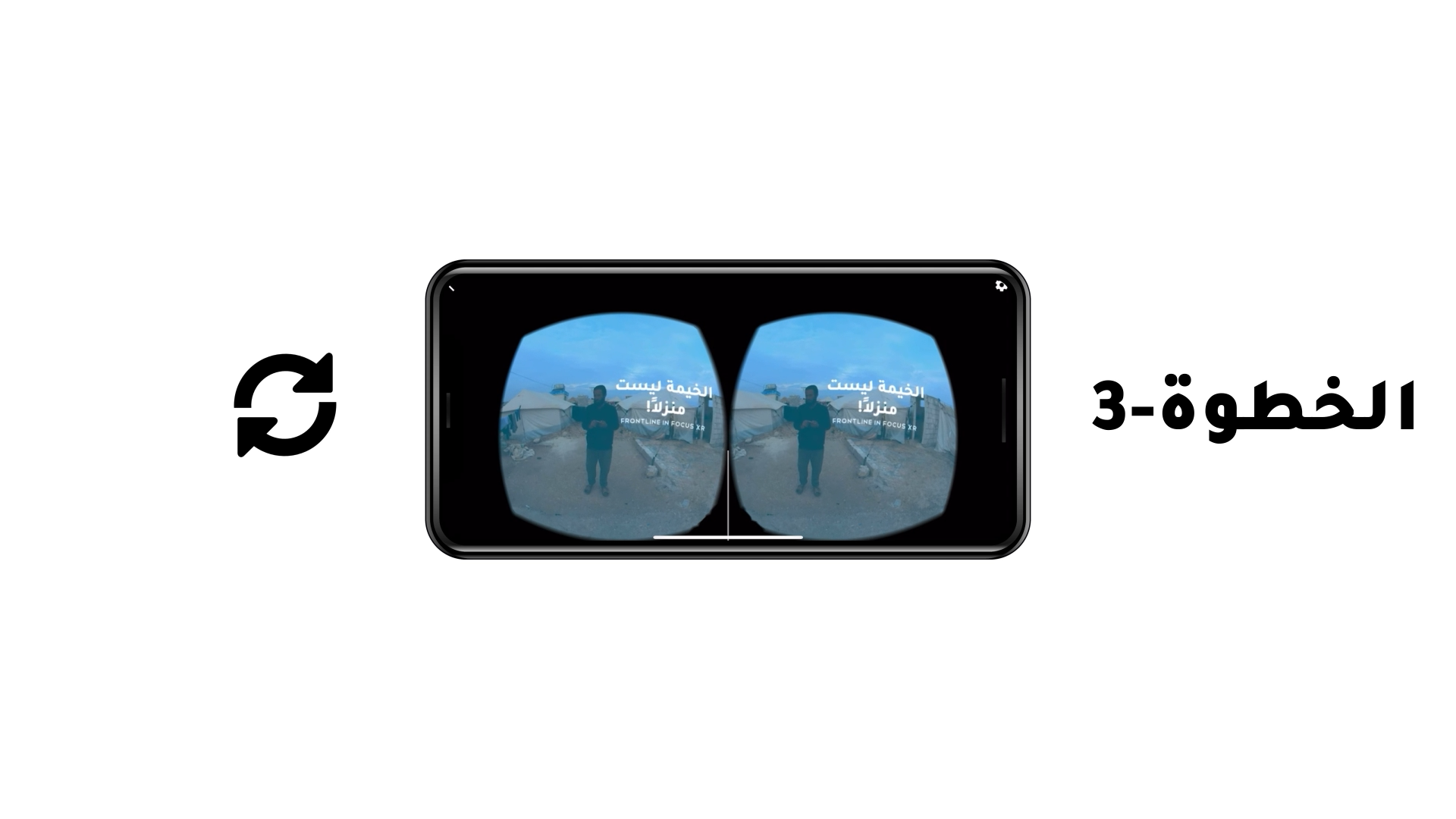 YouTube also has a VR feature. You can click on the VR headset icon on videos, and use your phone to be immersed in them. This story, for example, takes you to the streets of Idlib in Syria, allowing you to roam around with a displaced Syrian named Abu Ibrahim who lives 300 meters away from his home in the town of Tadef, just east of Aleppo. Ibrahim tells the story of how the war prevented him from returning home, instead forcing him to live in a friend's destroyed house. To produce a similar story, all you need is a 360° camera and a microphone.
When we chose to move towards VR in our reporting, we asked ourselves the following questions:
What platforms will display this work?
Who is the target audience? How many are they? What devices do they use?
What topics are they interested in?
How do we approach the technical aspect?
Does the budget cover what we're trying to produce?
How are we going to promote this story once completed?
Tips for producing XR stories
Direct the viewers' attention
Keep in mind that viewers may sometimes miss important details. In one of our stories, for instance, "24 hours in a tent," we used a narrator to explain the details for the viewer. At the 01:47 mark, we direct the viewer to look around and explore the details of the refugees' tent.
In another example, the narrator of this report addresses the viewer at the 00:24 mark, asking "do you see that blue door in front of you?"
The key here is to use audio-visual cues so viewers don't miss what you want them to see.
Give the viewers some freedom
Directing the viewers does not mean taking away their freedom. VR stories are an opportunity to explore the place in which you want viewers to be immersed. 
You'll need to both give audio and visual cues, and allow your viewer to explore on their own. This is where opening shots come in: you should give the viewer space before beginning the narration in each shot.
Provide helpful on-screen text
Remember that 360° videos rotate in every direction, so you need to address the issue of on-screen text. Our Frontline in Focus XR stories feature text on opposite sides of the screen, allowing viewers to read captions or subtitles wherever they look.
This is what we did in this story about Heba, a 12-year-old girl living in a refugee camp in northern Syria with her family after being displaced. They live in a tattered tent that doesn't protect even from the slightest wind, leaving them exposed to the elements. Heba tries to reinforce the seams of the tent using thread, hoping to keep the cold out.
Additional tips
Link scenes in a proper sequence
Send a clear and strong message
Show, don't tell
Skills and tools to help journalists produce XR stories
If a journalist wants to edit their own story they can use their 360° camera to do so, as in this example of video editing software from insta360
Choose the right platform to promote the story. YouTube, for instance, supports VR videos, while Facebook allows you to upload 360° photos and videos
Take into account the following for your reporting: 

Identify the right leading characters, who will show the audience the details of their lives
Determine the setting in which this character will lead the story
Ensure your reporting is available across all devices
If you want your story to create an impact, it must be easily accessible to your audience. Viewers who do not own VR headsets can watch the story through 360° videos published online using any device.
There are three types of VR headsets:
Smartphone-connected headsets, such as these cheap, easy-to-use cardboard VR goggles from Google. These are the most common.
Internet-connected headsets, like the Oculus from Meta
Headsets that connect directly to video gaming platforms
---
Photo courtesy of Frontline in Focus.
This article was originally published on our Arabic site. It was translated to English by Nada Ramadan Ahmed.
Hadil Arja is a Syrian journalist and the founder of Tiny Hand. She was part of the 2020-21 IJNet Arabic Mentoring Center program. Arja is also the co-founder and lead editor of Frontline in Focus and a member of the Marie Colvin Journalists' Network.
---