For a year, journalist Hanna Valynets has been a reporter in exile.
In 2020,  mass protests erupted across Belarus following the re-election of longtime President Alexander Lukashenko – an election labeled as "not transparent, free or fair" by the Organization for Security and Co-operation in Europe. A year later, Valynets took a vacation to escape independent media repression by the government. 
"That year was difficult for me, for my mental health. I was having problems with sleeping, from waiting every day to see if we might be arrested in the morning. So I decided to take one month and a half of rest abroad," she said.
While on vacation, the editor-in-chief of Belarusian independent media site Green Network, as well as a member of the administrative staff, were detained by the police. As vice-editor of Green Network, Valynets had to ensure the website was not taken down in her editor's absence.
"I had to change all passwords, manage all social media. We had a checklist of security links for such cases," she said. "The team had to [figure out] what we would do next, what we would do if our editor-in-chief was in jail for a long time, not just a few days."
In the end, Valynets stayed abroad to ensure that at least one member of the team was free from the threat of the Belarusian government. Today she is living in Lithuania, where she reports as a freelancer for multiple publications, including IJNet. She has covered stories ranging from Novaya Gazeta's coverage of Russia's full-scale invasion of Ukraine to how Belarusian journalists are reporting from exile.
Why did you decide to become a journalist?
To learn how to speak with people. [Journalism is] an instrument to learn the world, to discover the world, and to get right into asking people strange questions about things I'm curious about.
What has been the most challenging story for you to write?
In Belarus in August 2020, [following the presidential elections] we had a huge wave of violence, detentions, tortures [and] some murders by police. I wasn't ready. Nobody was ready. That amount of cruelty was unexpected for everybody.
One day, maybe a few weeks after protests started, I saw one of my old university friends write on social media, "Thank you, everybody, I'm back. It was a very unusual experience, I'll write to all of you in a few days." I saw that and I realized that he [had been] in jail, where 30, 40, 60 people were staying more than 24 hours without being able to sit. I couldn't imagine somebody who could do such things as him, this very kind and smart person. 
I asked him for an interview. Afterwards, I interviewed more people, but this time about the torture in the first days [of the protests]. All of [the people I interviewed], there were four of them, were guys of 25, 30 years. All of them were saying, "Almost nothing happened to me. There were a lot of people who got worse." After those four interviews I couldn't do any more. I didn't even publish one of them.
As I learned later, you might be scarred when working with other people's trauma. It took me a few weeks to [go back to normal]. I was working very slowly because I was in shock.
[The writing] I did later wasn't so difficult because I remembered that it was important not to try and insert yourself in the place of those people. You can be sorry, but you shouldn't mention that [this could] happen to you, or that it could happen with some of your relatives.
Now I work on similar things. Not as hard, but similar. But that's okay. I love this work. It's very important to me. Maybe I cannot fix my country, but I can tell more about what is happening with people, and how they manage to live with that.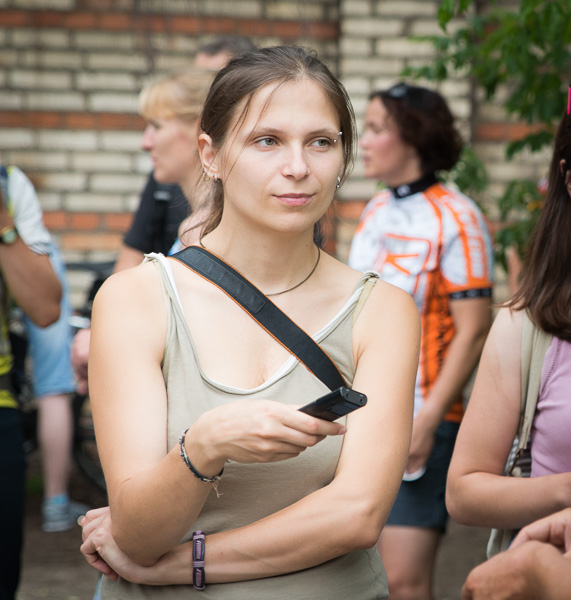 Right now, you have a series on IJNet about reporting in exile. Why do you think it's important to spotlight these stories?
[Exile] is the experience of many media trying to work in unsupportable circumstances. As a journalist or editor from a country where the government is completely against you, you have to transform journalism from being your job to being your duty. And it's not easy.
At the same time, it's not easy to get [information about] other people's experiences. It's not quite clandestine knowledge, but such communities are closed-off because of security. They are under threat, and that is why they cannot speak loudly about their experience. They have relatives inside of their countries and they are afraid.
Reporting gives an opportunity to speak with them, and to get the parts of their experience that can be published without [endangering] their relatives and friends. But at the same time, [reporting on these organizations] might give hope to another group of people who, more recently, need to leave their home and organize their media elsewhere.
Do you think you will be able to return to Belarus?
No, I don't think so. If you're an independent journalist from Belarus and you write about human rights, war, media, and especially if you use your own name as I do, it's only a matter of time until you're detained. And there's no way to know what consequences you'll receive. You might just be fined, and that's it, or you might have to spend a lot of years in prison. You cannot choose, of course.
So now I am living 100 kilometers from my hometown, from my family. But it's better for me not to visit them.
What is something you think it's important for journalists to know?
When you work as a journalist, it's very important to get that the world is non-binary, meaning there's no completely good or bad people, completely good or bad ideas. 
[For example,] I don't like war, and I'm sure that violence shouldn't exist, shouldn't be done. But at the same time, the people fighting wars in the world can't be considered pure evil or pure goodness. They have their daily lives, too. 
 
---
Photos courtesy of Hanna Valynets.
---