Naeemah* was among more than 43,000 people who reported being raped or sexually assaulted in South Africa last year. She struggled to leave her house in Cape Town for two weeks. Both reporting the rape and receiving a forensic examination are experiences she describes as second, and then third traumas.
These kinds of experiences are why South African media outlet Health-e News has launched a texting tool that allows survivors of rape to share their stories, access counselling services and sign a petition calling for change.
The project is among those recently awarded funding from impactAFRICA, a Code for Africa and International Center for Journalists (ICFJ) initiative that supports innovative journalism across Africa.
Survivors can use the tool, known as Izwi Lami (My Voice), to receive a list of support services from the comfort of their own home, giving them the information they need to better assess their options going forward.
Health e-News worked with GroundSource in order to develop the texting platform, which is free and anonymous for users. Survivors across South Africa can text "endrape" to 38006 to engage in an automated but monitored conversations where they can leave words of encouragement for other survivors in South Africa. They will also receive a list of nearby trauma support services (known as Thuthuzela Care Centres).
"The truth is I would have loved a tool like this," Naeemah said. She is among a group of rape survivors who worked with Health e-News to test the tool, in collaboration with a Cape Town organization, Rape Crisis, which supports victims of sexual trauma.
The tool was developed as a response to the high levels of rape reported in South Africa. Official statistics show tens of thousands of rapes are reported every year, and that's only for cases that have been reported — the actual number is likely much higher.
Additionally, local media coverage of rape often only focuses on the most graphic and extreme cases, with little deeper analysis on why sexual violence has become an endemic problem in the country.
As part of Izwi Lami, Health-e News has also partnered with different media organizations, conducted multiple radio interviews, addressed police commanders from across the country and distributed educational posters to clinics, police stations and schools. More in-depth stories on the sexual violence crisis in the country have been written, while directing survivors towards the texting service.
Those are a few reasons why the heart of this campaign is about service journalism. It is not just about the need to produce more and better coverage of rape survivors, it is about facilitating their ability to connect with one another. Survivors are able to leave words of encouragement for other survivors which are then shared via social media.
These testimonies help humanize the rape statistics that we read about so often, and will hopefully help other survivors realize that they are not alone in their journey towards healing.
Health e-News has also worked with survivors to pushing for policy change. The Izwi Lami tool is accompanied by an advocacy campaign — those who use the tool can sign a petition, calling for all 24-hour health care facilities to provide care packages to all survivors of sexual assault. This means that survivors in rural areas should not have to travel far distances to access the emergency services they need.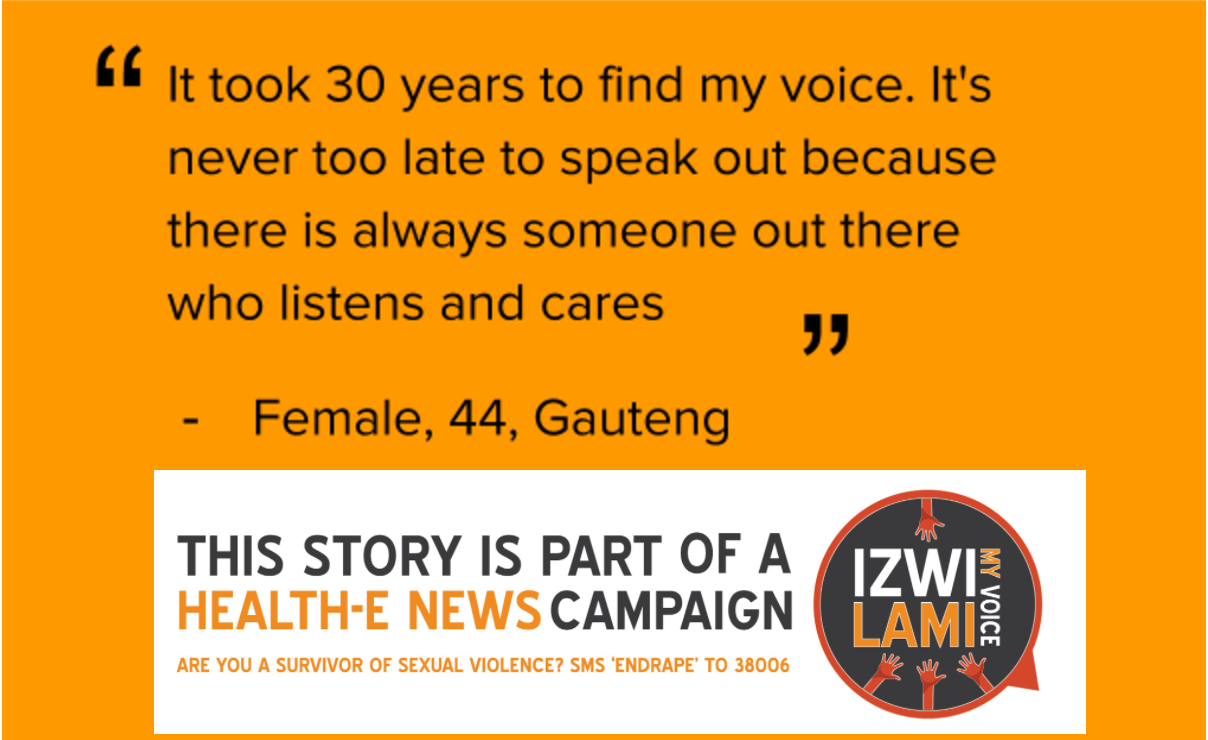 This care package would include counseling, antiretroviral drugs, tetanus and hepatitis vaccines, the morning-after pill and a full forensic examination. Health-e was inspired to start this advocacy campaign after reading a 2016 report by Doctors Without Borders. The report found that, of the estimated number of women who are raped every year in South Africa's Rustenburg municipality, 95 percent do not seek help from a health professional. It is both access to, and knowledge of health services, that Health-e has tried to promote in their posters distributed around the country.
Health-e's long-term aim is to potentially partner with a government agency or a non-governmental organization, in order to continue maintaining Izwi Lami as a resource for survivors. Research is currently underway to build a map for the website which will show where rape care centers are located, and will allow survivors to rate the services that they received there.
Ultimately, at the heart of the Izwi Lami campaign is the urgent need to invite survivors into a national conversation on gender violence, and to give them the tools they need to heal.
Naeemah's words of encouragement for other survivors speaks to the core of the campaign: "You can be a tree, and they can cut you down, all your branches and your stump, but you will grow back again. Those roots are still there."
*Last name withheld due to privacy concerns.
Kim Harrisberg is a multimedia journalist for Health-e News in South Africa. Her report on South African households headed by grandmothers for Al Jazeera received the "Best Audience Engagement" award in the 2017 impactAFRICA data journalism initiative.
Main image CC-licensed by Flickr via Michael Scheinost.