Journalists tend to have their phones closeby to stay in touch with sources, or call for interviews. But what happens when they use text messaging to interview?
French magazine Néon is trying a new interviewing approach and format, the "text interview." Started about a year ago, it first appeared on the pages of its print magazine and was soon transformed into videos so audiences can see the interview unfold as texts are exchanged.
In one of their most popular videos, Armelle Camelin, one of their staff journalists, had just introduced herself to her interviewee when she shared a selfie of her disheveled hair on a Sunday morning.   
"Hi Julien," reads the text sent to a famous French singer. "It's Armelle, the journalist from Néon and this is my head when I'm barely awake."
With the tone of the interview set, the singer follows with a funny remark about his own hair. Over several days, the two exchange texts and photos touching on his daily life, from TV shows to his empty fridge, but also his work, his relationship with his fans and his new album.
"We wanted something unconventional," says Julien Chavanes, managing editor. Néon had already tried an "Instagram interview," where interviewees answered with photos. In a newsroom meeting, they decided to go further with the experiment and try a "text interview."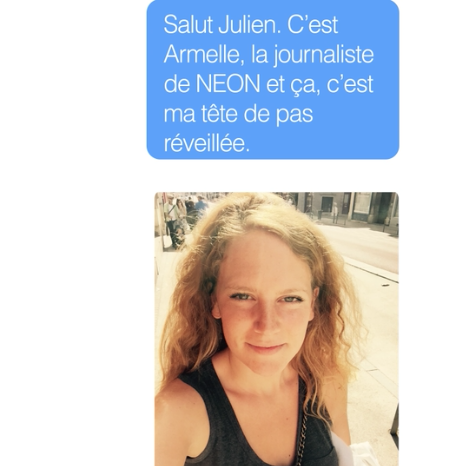 The idea was hard to implement at first. It had never been done before in France, and personalities and their press officers were wary and had trouble understanding the concept.
"Some wanted us to do the text interview with the press officer's cellphone because they felt it was complicated to give the personality's phone number," he explains.
Until now, Néon has focused on singers, actors and internet personalities. But with the French presidential campaign unfolding, Néon journalists began to contact politicians, especially those who they felt had a strong online presence — but according to them, none answered.
"I think it's a bit too unconventional for them, and I think they have trouble understanding [the concept], even though when you see Melenchon [candidate for an extreme left party] or Macron [independent center-left candidate]'s digital campaigns, you feel like [they should]," says Chavanes. "[It's] a format that could be hyper-adaptable, even to have a conversation about politics."
Néon's newsroom is young, with most journalists between the age of 20 and 30, according to Chavanes; its target audience skews similarly.
Interviews through texts using emojis, selfies and "text" expressions such as LOL ["mdr" in France] are part of a new language that a younger generation has adopted. While Néon edits the exchanges for brevity and fixes typos, they leave the punctuation and emojis as they are.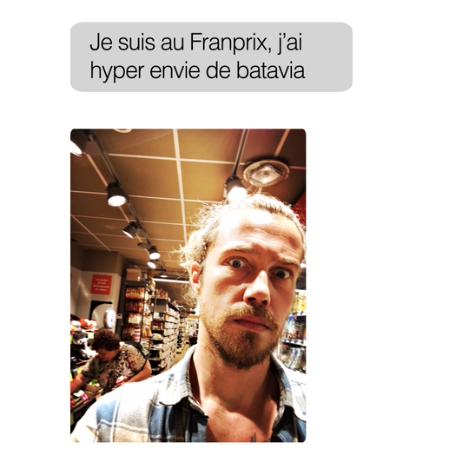 Interviews done through writing such as email interviews generally tend to come off as very controlled and formal, with little to no sense of the person's emotions and personality, but text interviews don't seem to fall into that category.  
"It's an exchange that could appear as minimal, but it is actually very intimate," says Chavanes.
"We text when the celebrity is at home, having dinner with friends or family or before he goes to bed. They don't necessarily share very intimate things, but the moment when we exchange generates intimacy."
Some interviewees have found these interviews a bit intrusive, but Chavanes says they are also in control of what they say and when they answer, which can be complicated for journalists. Some interviewees take very long to answer to the first text and journalists have to be ready to engage even when it's while they're out drinking with friends or at home late in the evening.
Even though this interviewing style leads to unusual and original content, there are several challenges including potential misunderstanding because of the format.
"Texting is a particular language and it's complicated to add subtext," says Chavanes. "Connivance has to be created through words, and not body language, looks or gestures, and it's not so simple to create that language with the [interviewee] when you don't know nor have met him before."
To create a sense of trust and casual banter, journalists at Néon also have to be open to talk about their personal lives — or their disheveled hair on a Sunday morning like Camelin did.
"The idea is to give a bit of ourselves too, because if it's only one way, you go back to a typical interview and mostly, you don't trigger this level of intimacy that we're looking for," says Chavanes.
Néon is not the only media outlet that understands the new opportunities for journalism with changing communication formats and the widespread use of text, WhatsApp or Facebook chat. Innovations in journalism, from chatbots to vertical videos, are all trying to cater to younger audiences who have grown with different technologies.
Main image CC-licensed by Flickr via Michele Ursino. Screencaps from Néon's text interview with Julien Doré.