Just about any documentary shot with a film crew and expensive equipment can make waves, but when you film award-worthy material solely on a mobile phone, that's a feat.
Winners of the non-fiction category of the Original iPhone Film Festival prove journalists don't need much to tell great stories.
These budding filmmakers used a variety of techniques to address the limitations of the hand-held, low-cost equipment.
First place winner Michael Guhil of the Philippines had never used an iPhone to film a story, much less for a non-fiction piece of work. Using the self-described "mobile studio in his pocket," he tackled a real issue with a phone that wasn't even his.
It was the glaring imbalance of truth and reality that provoked Guhil to borrow an iPhone and examine where he grew up, a kalapukan or "mud place," a "reality that might be considered unique to the eyes of the people from overly civilized and developed countries," he said.
What some would depict as a bold trip to an exotic destination, Guhil shows as the genuine day-to-day life for the people in this Filipino village in Dinas: the raw reality of wading through thigh-deep mud pits, planting crops by hand and a girl dressed in jeans, blouse and purse being rowed across a shallow pond to not get dirty. In the film, Guhil calls this simple type of living a "recollection of the root of life."
Kalapukan (Mudplace) Non-Fiction from The Original iPhone Film Fest on Vimeo.
A journalist with the Agence France Presse, Prashant Rao nabbed third place with this depiction of an Iraqi tradition, Mheibes. After sundown and a day of strict fasting, Iraqi men gather to play this popular staple of Ramadan entertainment.
Rao's film provides a rare glimpse into Iraqi society because only men are allowed to watch and participate in the game.
Rao went along for the ride with a bundle of AFP reporters to conduct what he called an experiment. This was his first time making a short film.
Using a combination of a Canon 550D SLR and his iPhone, he collected an hour of footage that he said wouldn't have been possible if he were working on a wire story as well because of the amount of focus it requires to keep a steady eye on the visuals.
"You're not taking everything in that you would as a text reporter and it's harder to make notes in the moment," he said. "I don't think it would be possible to do both at the same time especially on spot news. It would have to be a feature like this with less time pressure."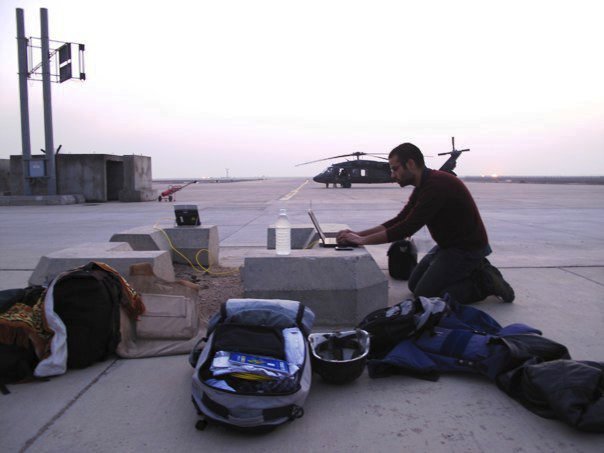 Reporting from Iraq since 2009, Rao was used to the typical news report from Baghdad - violence, politics and the like. So he viewed this as an opportunity to show a lighter side to the city and used just the background ambiance of the city at night to show it, using only subtitles and no voiceover.
"I thought this was sort of a neat story on the side. I figured these sort of noises of Baghdad were just something kind of interesting that people don't get to experience."
Both filmmakers battled a few limitations during the filming. Guhil coped with the iPhone's "jitters and instability" but he said he usually employs simple equipment despite the setbacks.
"There might be obvious differences on the quality and presentation but what is important is the message you want to convey to the minds of the audience," he said.
Rao shot a 3-minute film on his SLR on the same topic that he admits came out better than the iPhone video, but he doted the phone as a "tiny little thing that people aren't too afraid of" that makes it easier for journalists to go unnoticed and be less intrusive.
He also had to deal with the loss of sound if he held the camera at a "wonky angle," heeding the need for a tripod or some form of stability.
Mheibes - Non-Fiction from The Original iPhone Film Fest on Vimeo.
Once Guhil secures an iPhone of his own, he said he plans to make more short documentary films because "truth is often more compelling that fiction."
To journalists aspiring to pick up video cameras, Guhil suggests knowing "what equipment best suits your needs without compromising your budget, taking advantage of the revolution that we have now in terms of technology."
"Carry your iPhone everywhere," Rao insists. The device doesn't even work as a phone in Iraq, but he views it as a "glorified camera and video camera" used to capture breaking news on the spot.
Now that Rao as a print journalist jumped on the film bandwagon, he doesn't plan to turn back.
"I'm a little less weary now of going to stories and turning on the video function on my SLR or using the video app on my iPhone, whereas previously I thought it was just a waste of time and I wouldn't be using it in the future," he said. "Now I can see the value, and it's not just because I won this little prize."
Founded by Matt Dessner and Corey Rogers, the inaugural Original iPhone Film Festival featured big-name sponsors like Macworld, Maroon 5, Red Giant and more. Check out the founder's blog for updates on the 2012 festival.