In the days and weeks following the November terrorist attacks in Paris, the media furiously attempted to understand the people behind the brutal violence. It was a gargantuan task: the attackers came from France and Belgium; some had met in Syria. Others had been involved in previous attacks.
Reporters at French daily newspaper Le Parisien had never had to deal with visualizing such a network of terrorists. Though they initially used a point-and-click widget to show all the attackers on a single page, it began to look messy and chaotic. In the weeks that followed, as the web of suspected jihadists grew even more, the visualization became still larger and more complex (pictured below).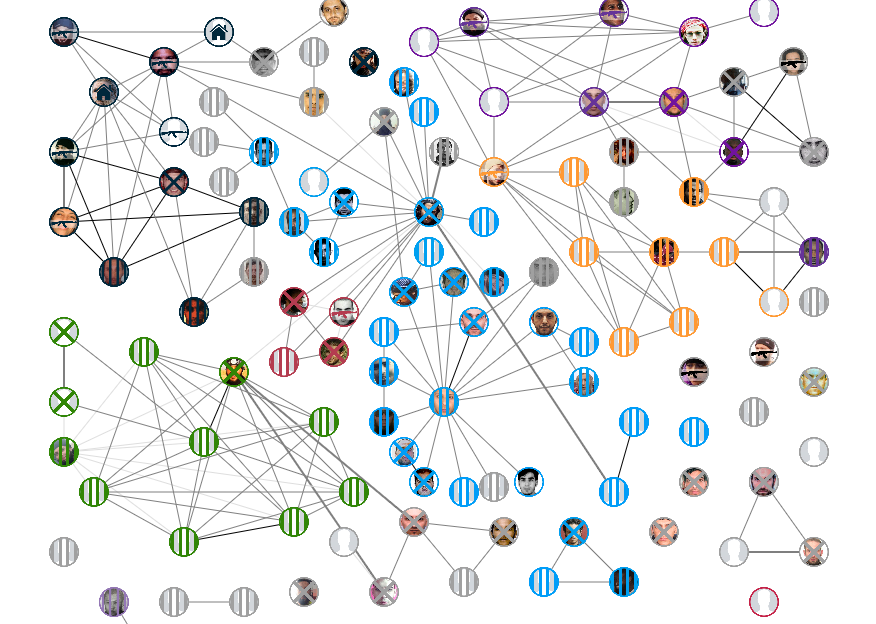 So in March, a team of journalists, data journalists and techies sat down to brainstorm a next-level way to visualize the attackers and their involvement. After three weeks of coding, they launched La Galaxie Djihadiste, the Jihadist Galaxy, in April, a visual database of suspected jihadists linked to terrorist attacks in Europe since 2012. Each suspect has a profile, and each terrorist attack features the profiles of those involved and their connections with one another. So far, it's been very well received by readers.
"Sometimes in newsrooms you spend a lot of time trying to make something beautiful, but not a lot of people use it," says Stanislas de Livonnière, who works on data and innovation at Le Parisien. "We've made something practical. It works, it makes sense, and people are spending time on it."
Over the past few years, French journalists have been adapting their reporting to the changing nature and complexity of terrorist attacks in Europe and elsewhere. In 2012, when self-styled jihadist Mohammed Merah killed seven people in southern France, he was characterized as a lone wolf. That story, in some ways, was simple to report.
But Le Parisien's Tanguy de l'Espinay says the Paris attacks in January and November 2015, and the Brussels attack in March, showed the opposite — that protagonists of jihadism are increasingly linked, working together in cells and groups. Even more disturbing, many of the involved jihadists had long been known by authorities. All those unwieldy, complex connections have been challenging both for law enforcement and the media to explain.
"It's really new for us in France to have these big attacks with many suspects," de l'Espinay says. "You've got different groups, events and guys, and investigations growing bigger and bigger, with more names and more links between them. People want to understand it."
With data on about 100 jihadists and relevant events, de Livonnière, de l'Espinay and a small team of journalists and coders sat down in March with a massive spreadsheet organized into a number of categories — attackers' current status, involvement, etc. — and began to create a new way to visualize the story.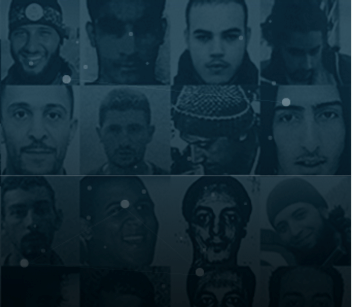 La Galaxie Djihadiste, an easy-to-navigate interface within the Le Parisien website, shows just how complex the "nebula" is. Each jihadist gets a "profile," showing facts like birthday, nationality and status (i.e. dead, imprisoned, in Syria). Below, that person's connections are organized into a "web" connecting them with other terrorists. It also shows all the groups and events they were involved in. All the data is based on verifiable journalism, whether from lawyers or prosecutors.
"It looks like what it is, a social network," de Livonnière says. "People with profiles cannot use it, but in terms of the user interface, the social network idea is pretty relevant."
Indeed, the Galaxy shows that many implicated terrorists have multiple, overlapping connections, and that French-speaking ISIS fighters from France and Belgium tend to fight together. For example, Belgian-Moroccan Abdelhamid Abaaoud, the suspected organizer of ISIS' Paris attacks, is connected to Frenchman Foued Mohamed-Aggad, one of the Bataclan killers. Mohamed-Aggad and Abaaoud allegedly met while in Syria.
Users can also filter by event to visualize the people involved in each terrorist attack. The November 13 Paris attacks implicate 36 people so far.
According to de Livonnière, the product has been very well received by the public. Because of its depth of information, people spend an average of two minutes on the site — a relative eternity compared to the time spent interacting with normal infographics. Four specialists, two web journalists and three techies are working on the Galaxy.
"People are digging inside of it," de Livonnière says. "They want to know more and more."
And journalists in Le Parisien's wider newsroom are also using the Galaxy for reporting. Any journalist can embed a Galaxy profile into an online story, to give readers the opportunity to learn more about the characters and events referenced in a story.
Just as any complex journalistic story evolves over time, so will the Galaxy.
"The project is alive," de Livonnière says. "It wakes up each time we have a new piece of information on these guys. And lately, every day you have new revelations."
Main image and secondary image are screenshots from La Galaxie Djihadiste.