Fighting disinformation in a crucial time like an election is not something that can be done by a single news organization alone. Enter CekFakta ("check-facts" in Indonesian), a coalition of Indonesia's 24 online newsrooms and one NGO, founded to combat mis-/disinformation spread during the election in the world's third largest democracy.
As an International Center for Journalists TruthBuzz Fellow in Indonesia, I was a part of this coalition's battle against misinformation during the 2019 election. My role was to amplify their fact-checking efforts and strengthen their presence on social media.
During this fellowship, I was initially partnered with Tempo.co and Tirto.id, both newsrooms are part of CekFakta, which was launched during the Trusted Media Summit 2018 that took place in Jakarta last May. Twenty-two media organizations, and one nonprofit fact-checking organization, Mafindo, signed a collaboration agreement.
The editor-in-chief of Tempo.co, Wahyu Dhyatmika, invited me to join the initiative, considering this year's election was to be the most complicated in the world. Indonesia had 809,500 polling stations to elect more than 250,000 candidates for over 20,500 legislative seats at five levels government, and one president — all in a single day. In addition, the campaign period started six months before the election, leading to an onslaught on misinformation.
Live fact-checking from the debates to election day
The coalition began live fact-checking initiatives during the presidential debates. There were five debates between incumbent President Joko Widodo and the opposition, Prabowo Subianto, with their respective running mates, Ma'ruf Amin and Sandiaga Uno. At the first debate, all of the newsrooms worked separately from their own office. Realizing that working separately was not as effective, the the coalition decided to gather in one place to do the live fact-checking for the second debate, and each subsequent debate.
Around three dozen journalists and fact-checkers assembled in a room for nearly three hours to verify candidates' claims in real time.
The coalition also brought together experts from nonprofit organizations to the debate, each one specializing in topics such as the economy, education, human rights and more. The journalists were able to consult them on the spot for information about the topics being debated.
These live fact-checks during the debates were were the first and largest of such events ever done in Indonesia.
There's no data yet on how this effort impacted Indonesian voters' knowledge and dispelled misleading or false information. However, we do know that the coalition's website got hacked two days after the second presidential debate, signaling that people were starting to acknowledge us.
Another impact was when one of the candidates, during a conversation with a journalist involved in the project, told her that he was less likely to make untrue claims because he knew that journalists would debunk them on social media.
Online metrics and analytics also signaled success. For example, social media engagement soared during the debates, and pageviews on the website were three to six times higher during every presidential debate than compared to daily readership.
The final round of the live fact-checking event took place April 16-17, ending the day of the election. The coalition partnered with Pop-Up Newsroom, a project by Meedan and Dig Deeper Media, to use their open-source technology for an automated social media verification platform, Check. The two-day event also welcomed a much bigger party, including journalists and university students from 15 regions in Indonesia and university students, to identify and debunk misinformation spreading on social media in the critical hours of the election.
Within two days, the coalition debunked at least 40 false claims about the election.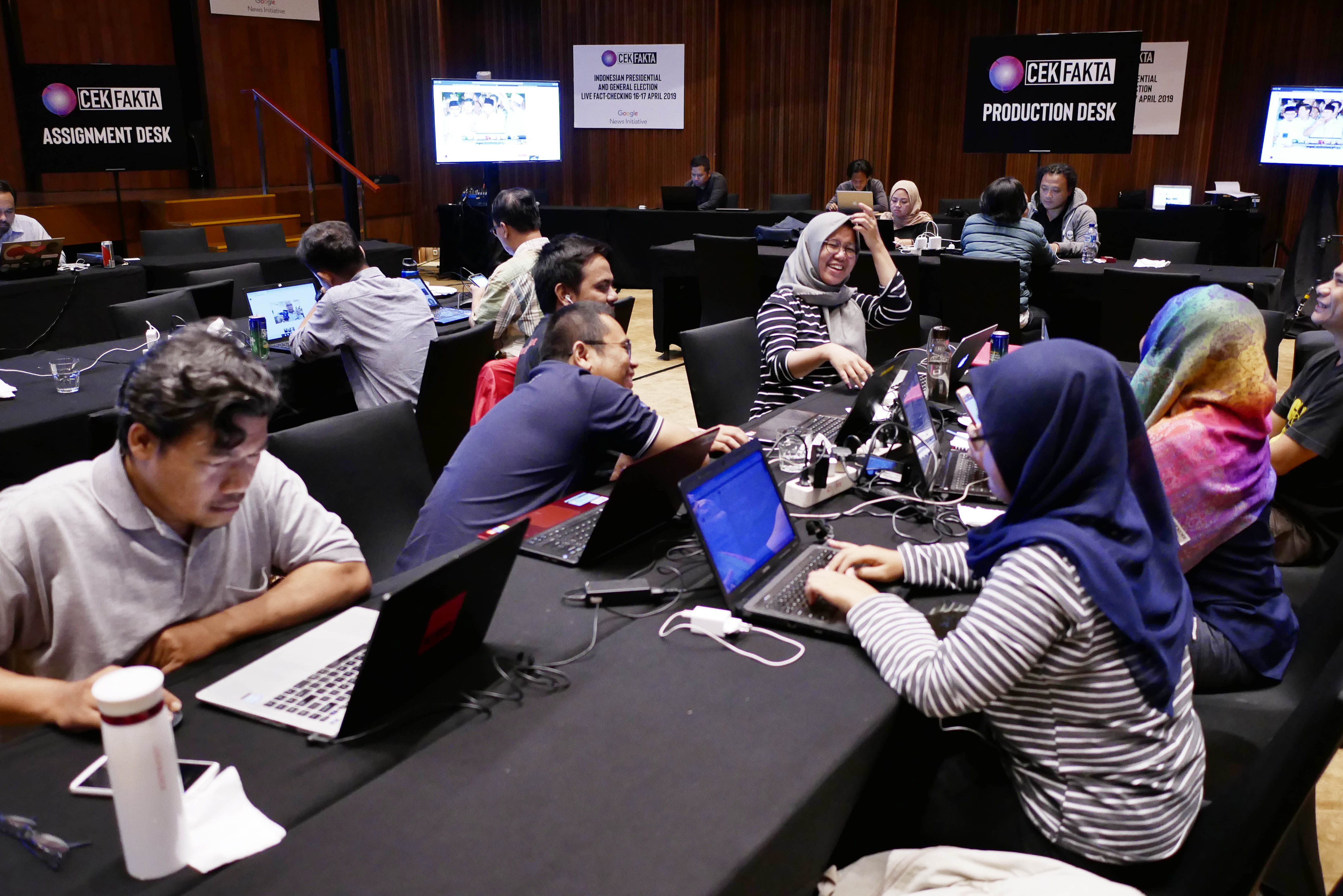 An ambitious project, with a clear workflow 
It is natural for newsrooms to get competitive, which made the project seem ambitious in the first place.
However, seeing collaborative efforts successfully done  in other countries — CrossCheck during France 2017's election, Comprova during Brazil 2018's election, among others — members of CekFakta were optimistic that they could achieve the same success by working together in Indonesia.
The collaborating members launched a joint website, CekFakta.com, on an API operated by Mafindo, an Indonesian NGO. All the newsroom members can contribute by publishing verifications on the website in an effort to stop the spread of false information and increase public trust in media.
This website also allows Mafindo to collect and build a database of verified contents. This database is used for other projects related to the spread of mis-/disinformation. One of the projects using this data is Kalimasada, a WhatsApp tip-line operated by Mafindo. When people send inquiries through the encrypted platform about a piece of information they suspect to be false, or need fact-checked, a bot will crawl the database and generate an automated answer.
The same database is also being used as research for a social media literacy project by a consortium of teams from the University of Notre Dame, IREX, Moonshot CVE and Geopoll. CekFakta is now a collaborating partner in this project .
In order for the coalition to work long term — not just at the 2019's election period — members of CekFakta developed a publishing system that will help the coalition without hurting the individual newsroom members. Instead of forcing each newsroom to prioritize their verifications for CekFakta, they publish their fact-checks to their own websites first, and then re-publish them on CekFakta's website immediately after. All the other members are encouraged to re-re-publish the articles on their sites and social media channels.
The system is working well in Indonesia, where many regional newsrooms simply don't have enough resources to form a fact-checking team on their own.
This model can also provide inspiration for other countries facing their own mis-/disinformation problems. Although mis-/disinformation will likely continue to spread in Indonesia, we believe that the only way to combat the problem is through collaboration.
---
Learn more about Ajengrastri and the Truthbuzz Fellowship on ICFJ's website. You can also follow her work — and the work of other fellows around the world — on Twitter using the tag #Truthbuzz. 
Main image credit: Ismail Pohan.