To tell the stories of the parents whose children had gone missing from their college in rural Mexico a year before, American photojournalist and teacher Scott Brennan could have simply dropped into town, shot a few photos and dashed off to his next assignment.
Instead, Brennan spent most of this summer getting to know the families and documenting their stories. The result is a series of portraits that capture the parents' heartbreak--and their resolve to continue demanding answers about their children's disappearance.
The students went missing in September 2014 from Iguala, a city about 80 miles (about 125 km) from Ayotzinapa Normal School (Teacher's College) in southern Mexico's Guerrero state. The BBC and Amnesty International published a selection of Brennan's photos to mark the one-year anniversary of the students' disappearance. Brennan recently talked with IJNet about the project and his approach to deep-dive photojournalism.
While his work has appeared in publications such as The New York Times and Time magazine, Brennan pursues photojournalism as a sideline. He depends on his income from teaching at a Guadalajara private school to cover expenses, while devoting his free time to in-depth reporting. (He has master's degrees in both fields.)
Brennan fell in love with photography as a child looking through National Geographic magazines. Photojournalism is "a way to try to understand something that you would like to understand," he says. "It gives you an excuse to be somewhere you might not belong otherwise."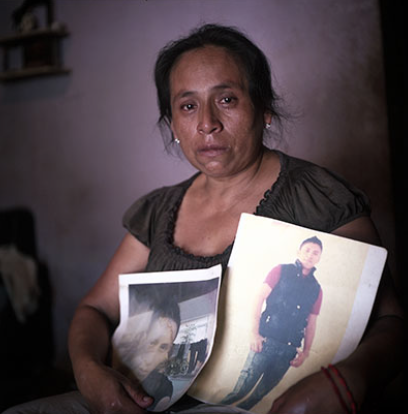 After freelancing in Nicaragua and El Salvador and earning a master's in photojournalism from The University of Arts London: The College of Communications in 2006, he was based briefly in his native New York state. There, he would save money from local photography assignments and bartending jobs so he could travel to other countries on reporting trips. Now based in Guadalajara, "I can pursue photography stories from the country, instead of saving, saving, saving every damn penny in order to plan a trip that's going to last maybe three weeks, and would be just me parachuting in and leaving," Brennan says.
Brennan is publishing a book about environmental and social justice issues in the the village of Cherán in the central state of Michoacán, Mexico. He was able to make multiple reporting trips there over the course of four years, which "shows in the work," he says.
This approach also shows in his Ayotzinapa portraits. In June, as the first anniversary of the disappearance approached and the case remained unsolved, Brennan decided to try to get photos of the parents during his summer break from his teaching job.
First, he had to make his case to the families. He traveled to Ayotzinapa, where for the past year, the parents "have been sleeping on mattresses at the university on the floors," Brennan says. Sometimes, "the husband will stay on for a month, and then they'll switch, and then the wife will come in."
He arrived during a weeklong meeting of the parents, who have created a movement to pressure the Mexican government for the truth about the disappearances. (A team of international experts has disputed the government's assertion that narcotraffickers killed the students and burned their bodies at a dump.)
Brennan, who is fluent in Spanish, befriended a couple of the parents. "Spanish is key. I couldn't have done this without it," he says. "I had a group of people I was always hanging out with, which helps you get access everywhere else." These new friends supported his project idea and helped him refine a pitch, which he presented in Spanish to the full group at the end of the week.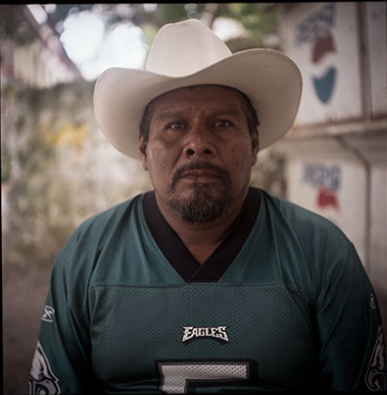 "Throughout the entire world, the parents of the 43 [students who went missing] are famous, but nobody knows individually who they are, who their kids are, what they look like, what their thoughts are," he told them. "You're starting this movement that is really confronting a lot of injustices that are going on in Mexico, in Latin America, and even elsewhere. These photos can give a face to the movement."
When he finished pitching his idea, several parents told him, "Let's start right now."
Although he typically shoots with a digital camera, he took the portraits in natural light on medium-format film, which he says is more expensive but also more sensitive than digital photography. He used the same film for a series of portraits of Mexican migrants.
As a college photographer, Brennan developed a preference for taking portraits with a waist-level camera. "It's cool because you look down into it. So you're looking at [your portrait subject] through the lens, but they think you're just making adjustments to your camera," he says. The result is a more candid, less posed shot.
He managed to get photos of a parent of each of the students except one, a mother who simply didn't want to be part of the project. He also photographed a mother whose son was murdered the night of the disappearances.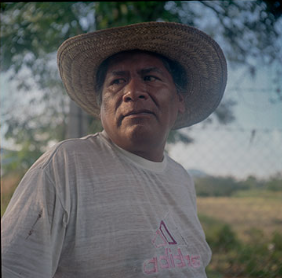 After his initial three weeks with the families, Brennan returned home to Guadalajara, intending to process his film and then take a planned trip to Cuba. When he looked at the developed images, he says, "I realized, 'I've got like 33 awesome portraits, but I've got to go back.'" The remaining ten were blurry, had been mangled by the photo lab, or were not as aesthetically interesting, he says. He canceled his Cuba trip, and boarded a pre-dawn bus back to Guerrero, where he spent several days taking new pictures of parents in their villages. He used the remaining weeks of the summer to capture additional photos and interviews. 
Some of the most powerful reporting came during his trips to the families' communities. Brennan interviewed one father outside at his farm. "My son came out here and worked with me every single day until he went to Ayotzinapa," he said. "And now when I'm out here, and the wind is blowing and the leaves are rustling through the trees, all I hear and feel is his silence and absence. And I wait every day for him to come back."
Portraits of parents of the missing students courtesy of Scott Brennan:
Hilda Legideño Vargas, mother of Jorge Antonio Tizapa Legideño

Oliveria Parral Rosa, the only Ayotzinapa parent with two missing children, Jorge and Dorian Gonzales Parral

Elucadio Ortega Carlos, father of Mauricio Ortega Valerio

Rafael Lopez, father of Julio Cesar Lopez
---